Each month, we post a series of blogs around a common topic. This month, Lee Hinson-Hasty is curating a series identifying books that Presbyterian leaders are reading now that inform their ministry and work. Why are these texts relevant today? How might they bring us into God's future? We invite you to join the conversation on Facebook and Twitter!
by Nanette Sawyer
"Even before I knew why she was criticizing me, I knew I disagreed with her…" This line got a laugh when I recently quoted it in a sermon. Perhaps people could identify with it; if I'm honest, I certainly can. No one likes to be criticized.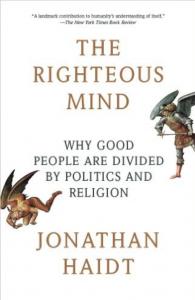 Author and moral psychologist Jonathan Haidt wrote these words in his book, The Righteous Mind: Why Good People Are Divided by Politics and Religion. He was describing the day his wife asked him to not put the dirty dishes on the counter where she prepares the baby food. His disagreement with her came before he even knew what she was going to say, because he wasn't reacting with his rational mind, he was reacting with his instinctive need to self-protect. In a light tone he admits that he realized on that day that he was a chronic liar.
He's not alone, of course; Haidt was using himself to explain the human tendency to want to defend our reputation or the reputation of our "group," whatever that group may be in any given situation. It could be a sports team, a political party, a family, a religion — any group of which we are a part and which defines some aspect of our identity.
One of Haidt's major points is that our sense of being right, our sense of moral righteousness, comes not from our rational mind, but from an instantaneous "intuition" or intuitive cognition. Our intuition is like an elephant that we ride — it's large, powerful, and in control. Our strategic reasoning is like a small rider being carried around on the elephant trying to explain why the elephant is right (even when it's not).
It's easy to say that other people's deeply held beliefs are irrational, but more difficult to admit that mine are irrational, too. Irrational doesn't necessarily mean wrong, it just means that our moral judgment, our sense of what is right and wrong, happens instantaneously and unconsciously in a flash of intuitive cognition, influenced by prior experience and beliefs.
This changes how we might think about discussing religion and politics with people who differ from us. Giving people more and better "reasons" as to why our opinions are better than theirs will generally not lead to either party changing their perspective. To effectively engage with people who disagree with us means befriending the elephants, theirs and our own, and accruing new experiences so that our intuitions change.
In addition to recognizing that there are both elephants and riders in the room, Haidt outlines moral foundations theory and shows that self-identified liberal and conservative people make moral judgements based on different types of criteria. Six classic moral foundations are:
Care / harm
Fairness/ cheating
Loyalty / betrayal
Authority / subversion
Sanctity / degradation
Liberty /oppression
You can take a free test (start with the Moral Foundations Questionnaire) and see how you measure up at www.yourmorals.org.
Haidt's book is smart and well-documented, but grounded in story telling that makes it easy to read and understand. I have found it incredibly helpful as I try to wend my way through complex relationships with people who disagree with me and with each other in profound ways. Jesus said, "how can you say to your neighbor, 'Let me take the speck out of your eye,' while the log is in your own eye?" (Matthew 7:4). Haidt's book helps me take a look at the log in my eye.
---

Nanette Sawyer is a Presbyterian pastor who leads faith formation and small group ministries at Fourth Presbyterian Church in downtown Chicago. Nanette was the founding pastor of Grace Commons, a small emergent church formed in an art gallery on the west side of Chicago. The author of Hospitality the Sacred Art (Skylight Paths, 2008), she feels called to guide people in spiritual practices that prepare us to be deeply rooted in God's love and brave in extending that love to others.
https://media.myworshiptimes31.com/wp-content/uploads/sites/55/2017/03/29174518/featured-righteous-mind.jpg
200
398
Linda Kurtz
/wp-content/uploads/sites/55/2016/01/NEXT-Logo-FINAL-Horizontal_lato-1030x229.png
Linda Kurtz
2017-03-27 10:45:51
2017-03-29 10:29:46
Fighting About Politics and Religion: Why Do We Do It?