Each month, we post a series of blogs around a common topic. During September, Leanne Pearce Reed is curating a month of blog posts exploring stewardship of all creation. Join the conversation here, on Facebook, or Twitter!
By Allen Brimer
About a year ago, I stumbled across an inspiring idea in the writings of Dietrich Bonhoeffer. He writes to Eberhard Bethge on 30 April 1944:
What is bothering me incessantly is the question [of] what Christianity really is, or indeed who Christ really is, for us today. The time when people could be told everything by means of words, whether theological or pious, is over, and so is the time of inwardness and conscience – and that means the time of religion in general. We are moving towards a completely religionless time; people as they are now simply cannot be religious anymore… How can Christ become the Lord of the religionless…? Are there religionless Christians? If religion is only a garment of Christianity… then what is a religionless Christianity?[1]
Bonhoeffer's question arrived in my lap at almost the same time the idea of Farm Church did. My co-planter, Ben Johnston-Krase, dreamed that he took a call to a church sight-unseen. He arrived and people were worshiping in a barn on straw bales and pumpkins and calling themselves 'Farm Church.' He called me the next morning and shared his dream to which I said, "That's it!"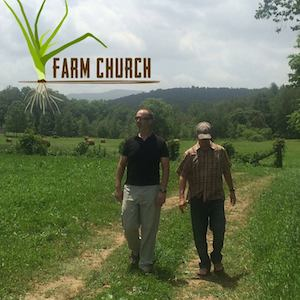 Since then, we have both left stable pastoral positions in traditional churches to start Farm Church. Everywhere we go, people both in church and out react with enthusiastic curiosity about Farm Church. Time after time, people have said, "I want to see what Farm Church looks like! I can't wait to come visit! I want to be a part of something that looks like that in my own life!" Some people have even pulled out their checkbooks on the spot and asked, "How can I donate?" – sometimes in large amounts! It is encouraging, affirming, and exhilarating to have received a calling that people are genuinely excited about! It gives me hope that there is something about Farm Church that is answering -however intuitively – Bonhoeffer's question(s) for those who sense the same things that he did.
On the other hand, I am also challenged and humbled by the vision of Farm Church and its demands. Challenging, even upsetting news is coming to us in a steadily increasing flow from ecological and agricultural sectors. Given the threats before us, I ask myself Bonhoeffer's question: Who IS Christ for us today? What do a church, a community, a sermon, a liturgy, a Christian life mean for a people facing such potential threats?[2]
How can the church address these kinds of questions meaningfully? How can a church on a paved city block with a 200 year old, multi-million dollar building to maintain get its congregation onto soil to form spiritual community around the basic elements of light, life, rain, and seasons so that they come into contact once again with the very elements that gave birth to religion? How can the church of today with all of its institutional baggage release that which is weighing it down in order to dig deeply into the basic areas of human affairs where it might influence humanity spiritually instead of religiously? Could this be what Bonhoeffer meant?
Farm Church is perhaps a new model – a model of church that seeks not to organize itself around buildings and grounds apart from the nit and grit of human affairs, but immersed in them. This model of church can happen, indeed needs to happen in the other sectors of human affairs. What if there was a Corporate Bank Church or a Capitol Hill Church or a Conflict Mediation Church for Reconciliation? I have marveled at groups like Alcoholics Anonymous who have managed to reach broken people spiritually in the very context of their brokenness. What if every church did that?
Bonhoeffer's prophecy certainly has played out in Europe, where cathedrals and churches stand largely empty. We can clearly see that the same pattern is slowly playing out in the United States as well. Is it because the church has set itself apart from daily life? And who is Christ for us now? What is the Church in a post-religious Christianity?
---
Allen Brimer is co-planter of Farm Church
www.facebook.org/FarmChurch.org
[1] Bonhoeffer, Dietrich. Letters and Papers from Prison. ed. Eberhard Bethge, Enlarged Edition (NY: Touchstone, 1997), 279-80.
[2] Ibid., 280.
https://media.myworshiptimes31.com/wp-content/uploads/sites/55/2015/09/29175900/farm-church.png
300
300
Jessica Tate
/wp-content/uploads/sites/55/2016/01/NEXT-Logo-FINAL-Horizontal_lato-1030x229.png
Jessica Tate
2015-09-15 08:03:19
2016-02-18 18:51:18
Farm Church