Each month, we post a series of blogs around a common topic. This month, Don Meeks and Jeff Krehbiel are curating "Can We Talk?", a modest attempt at an uncommonly gracious conversation among colleagues who differ on matters of conscience. Can we bridge the theological differences that divide us? Can we even talk about them? Can we affirm the best in each other's theological tradition while honestly confessing the weaknesses of our own? We invite you to join the conversation on Facebook and Twitter!
by Emily Berman D'Andrea
Lewinsville Presbyterian Church is located just outside of Washington, DC in McLean, Virginia. Members are from Northern Virginia and work in all areas of government, while some work in the private sector and others for non profits. Most are immersed in the political hype and the political give and take of the Northern Virginia region. One unique aspect of the Lewinsville congregation is that it can not be pigeon-holed as leaning one way or another politically. When you think that you can label the congregation as left or right, you meet someone who defies the stereotype you have given it and you go back to the drawing board. When you think you have got the feel and flavor of the congregation figured out, you meet someone who then makes you question your thinking about lumping everyone together in the same political category. We've got folks who are interested in socially responsible investing and we've got folks who negotiate large defense contracts. We've got folks who are active in Republican party politics and we've got folks who work in the current Democratic administration as political appointees. We have Clinton supporters and we have Trump supporters.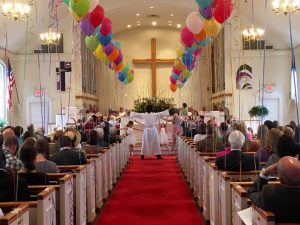 Some might say this mixture of members in one congregation just outside of Washington, DC, is a liability because you don't know where the church stands on political issues. It can be labeled "wishy-washy" or "lukewarm" on political issues, and, so the reasoning goes, "it stands for nothing." I think this mélange and mixture of political viewpoints under one PC(USA) roof is actually unique and invigorating – and I don't think I'm alone in this thinking. Our congregation has set up structures in our church community in order to give voice to and positively accentuate the divergent opinions in the church community.
I'll tell you about two structures we have set up that give voice to the divergent viewpoints at Lewinsville. First is the Lewinsville Forum. The Lewinsville Forum is an annual 6 week adult education class on current events co-led by a Republican who served in the Bush administration and a Democrat who served in the Clinton administration. The co-leaders decide which six issues they will take up and then they, in an up-front way, let class participants know their professional background and where they are coming from personally on the issue of the day. They lay out the issue and open it up for discussion. The question at the forefront of the class is: how does our faith impact this issue? Put another way, what does this have to do with our faith? In class there are 40 or so folks who gather for sometimes lively discussion on that day's topic. More often than not, the discussion is civil and nuanced.
The second structure in place at Lewinsville that allows for divergent opinions in the congregation is the Faith and Public Policy Ministry Group. According to the Faith and Public Policy Ministry Group charter, this group was established at Lewinsville "to enable church members to engage public policy issues as faithful Christians and to provide a forum for open and respectful discourse about social justice and public policy matters." The principles outlined in the charter for the group are: "discerning God's divine command; grounding in Christian love; seeking balance and integrity; and building community by practicing community." The charter states, "the group shall be co-led by two members who hold diverse political views that reflect a majority of the congregation's political interests."
Where else written into a group's charter is it explicitly stated that the leaders must hold differing political views? I think this is how the kingdom of God works. I think reconciliation happens when people with differing political viewpoints can sit in an adult education class and feel safe saying their viewpoint without fear of vilification and ridicule. I think reconciliation happens when people with different political viewpoints can worship in a space they believe is sacred. I believe reconciliation happens when people can look across the sanctuary aisle at someone who sits across the aisle in the House of Representatives or Senate, and embrace them during the passing of the peace. I believe this is the beginning of reconciliation.
---

Emily Berman D'Andrea serves as the Associate Pastor for Christian Formation at Lewinsville Presbyterian Church in McLean, VA where for fourteen years she has worked with the church's small group ministry, Stephen Ministers, mission programs and contemplative ministries. She enjoys reading novels, playing tennis, watching her children play soccer and black licorice.
https://media.myworshiptimes31.com/wp-content/uploads/sites/55/2016/11/29174920/featured-lewinsville.jpg
200
398
Linda Kurtz
/wp-content/uploads/sites/55/2016/01/NEXT-Logo-FINAL-Horizontal_lato-1030x229.png
Linda Kurtz
2016-11-16 07:58:55
2016-11-15 21:10:29
Faith and Public Policy Ministry Group as a Means of Reconciliation