Each month, we post a series of blogs around a common topic. This month will focus on the art of coaching and the practice of ministry. Some posts will layout insights or frameworks of coaching and some will be stories of coaching that transformed a pastor or congregation. We hope they will inspire you. We hope that inspiration will turn into actual movement in your own life and ministry so that we might move closer to that vision of the church we long for, closer to the vision of the kingdom on earth as it is in heaven. We invite you to join the conversation here, on Facebook, or Twitter!
by Jan Nolting Carter
My friend Mark turned to me in our small group at CREDO. I had just shared with them how I thought I had discerned what my next steps in ministry would be. Then he said, "Jan, you are forgetting something. I've watched you. You are a natural coach. You should consider exploring coach training." Was that the voice of the Spirit? That was October. Could this be how God is calling me to help others find their giftedness?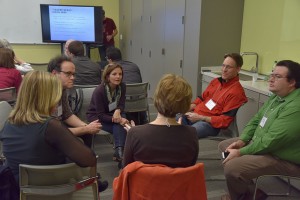 Not entirely familiar with coaching, I did some research. I thought about the arc of my experience. When I taught social studies before I went to seminary, my primary image of teacher was coach—I saw myself as the one who was charged with drawing the gifts of my students out. Later, I found myself listening and encouraging colleagues as I served on the Committee on Ministry. Now nearly twenty years later, I have encouraged, essentially coached, folks in and out of the church. Perhaps Mark's voice was indeed the voice of the Spirit, drawing attention to something that dwelled within me.
In January, I participated in a week-long residency with Auburn Theological Seminary and now I continue towards certification with 28 hours of teleclasses and 100 hours of student coaching. With some jest and a measure of seriousness, one of our teachers from Auburn closed our time together in Florida asking us to say our name and identify ourselves as coach.
"My name is Jan and I am a coach," I heard myself saying as I claimed my place among our cohort of coaches-in-training.
What have I learned? Coaching is a valuable part of a tool box that offers pastors possibilities towards transformation. In this church-world that we live in that on dark days feels very discouraging, it has the potential to help pastors and church leaders identify the gifts that dwell within, pointing towards a future that is filled with hope, covenant and promise. The fine art of asking open-ended and essential questions. Through coaching, there is the possibility of being the vessel of the message of how God is nudging people and congregations towards the future that God envisions for us.
As a pastor engaged in intentional transitional ministry, using coaching skills to help leaders of congregations discover the potential within has the possibility of turning discouragement to hope and confusion to clarity. Beyond my interim work, it has the possibility of creating a coaching practice that helps me serve the church by creating a viable tent-making ministry that is both fulfilling and vital.
But that is the interesting thing. You may have noticed, to this point, I have been using the language of potential and possibility. Future-oriented. The reality, is, however, that I already am a coach. If I am really quiet, I can turn myself over to the work of the Spirit. It's a humbling experience.
I mentioned the International Coaching Federation requires 100 hours of coaching. Three-quarters of it must be with renumeration. Peer-to-peer coaching counts—it's bartering. A number of us in our cohort are coaching one another. So far it has been a profound experience.
Just this week, when I put the phone down, I took a deep breath. The first thought that entered into my head was, "Wow. I just experienced holy ground." Through careful listening and asking open questions, my friend had experienced a kind of "aha" moment. She has found that what she says she really wants to do is not supported by the choices that she makes about her time. Journeying with her in her discovery felt sacred. By serving as a witness to the moment, I shared her wonder and her joy. Then, in reciprocity, as my friend coached me, I found a clarity about a question about direction that had eluded me. I felt a kind of certainty in my heart that had not been evident before.
At its best, coaching offers an invitation to be our best selves, to identify the giftedness that dwells within and to move us to action. I add my voice to the voices of Jessica Tate, Jeff Krehbiel, Laura Cunningham, and JC Austin to encourage you to seek out a coach and give it a try.
---
Jan Nolting Carter is a Transitional Pastor serving St. James Presbyterian Church in Mechanicsburg, Pennsylvania. She is currently engaged in Coach Training through Auburn Theological Seminary.
https://media.mywtenfold1.com/wp-content/uploads/sites/10/2016/02/29175516/coach_featured_jan.jpg
200
398
Linda Kurtz
/wp-content/uploads/sites/10/2016/01/NEXT-Logo-FINAL-Horizontal_lato-1030x229.png
Linda Kurtz
2016-02-25 08:52:22
2016-02-25 08:53:06
Experiencing and Creating Sacred Ground