Each month, we post a series of blogs around a common topic. This month, Andrew Kukla is curating reflections on being evangelical in the church. Have we connected our congregations to resurrection life? Have we taught them how to talk about it?  How to live it? How to connect others to that life-giving, life-abundant power? We invite you to join the conversation on Facebook and Twitter!
by Wyatt Schroeder
The offering plate sits in my lap. I wonder if the offertory volunteers notice my hesitation. I'm a guest at this church. I don't know well enough the cause of the congregation. It hasn't been made clear yet what problem my money is solving. Am I donating to accrue more members? Am I reaching in my pockets to address deferred maintenance? Is this assuaging my guilt? It's not that I don't understand how unrestricted dollars can impact the depth of our work; I understand all too well. I'm the executive director of a housing nonprofit in Boise, Idaho. Money fuels our mission and directly allows our case managers to end homelessness for over 200 people a year. Then why am I uncomfortable in the pews?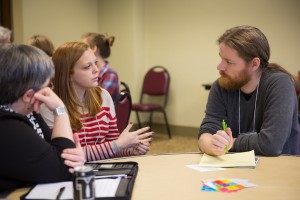 Your work in the church and my work in the streets intermingle and cross-pollinate. The New Evangelicalism, if we are comfortable with capital letters, is likely to be about causes, not creeds; to be about problem-solving and not moral rectitude. It will be about inviting a community conversation on community problems and not about creating a convert. I say this as a nonprofit professional and as a millennial. Yes, that cursed generation that is plaguing the graph of church membership and afflicting the comforting malaise of the status quo.
Often, a volunteer will shyly confess to me, "Wyatt, I'm uncomfortable asking for money." My response is simple, but culturally significant: at our organization, we should not ask people for money, we should ask people to solve problems. This builds a covenantal relationship with supporters that recognizes their strengths, recognizes the need, and will continue to grow beyond any one transaction, handshake, or capital campaign. A covenant is a language that we're familiar with—but one that seems reserved for our current congregants. Should we not have a covenant with our community at large, inviting congregants and non-congregants alike to join us in addressing community problems?
From my seat in the pew, evangelicalism became a sullied tradition because of confusion between outputs and outcomes. This is not a semantic point; instead it actualizes a severe disregard for building covenantal relationships. Our efforts, both as church and as social-justice leaders, in the old evangelical model were about bean counting: member rolls, dollars raised, dollars donated to local charities, and hours of religious education delivered. Our success was determined by the number of souls recruited. It was, to my mind, never about the outcomes that we could achieve together for the benefit of our community.
This misstep also plagues the nonprofit sector. I notice it in the 15-minute presentations to local Rotary or Kiwanis Clubs, where a nonprofit shares a three-minute story of a client's success and then details how their seven programs could use my support. At no point did they educate me on the community need. Sure, it's implied that if the organization exists then it must be addressing a need, but it's output-thinking. Instead, we should use all 15 minutes to educate about the problem that we're addressing. "Lead with the need," as one mentor used to tell me. When we share based on our intended outcomes, a beautiful thing happens: it forces a conversation about how our values are put into action. Outputs are about the mechanics of our work; outcomes are about how our vision transforms a family, a mother, a child. "Let's raise $3,000 for this month's plate partner" becomes "let's increase childhood wellness by reducing family homelessness."  
If we only implore others to join us in addressing outputs—I'm picturing your annual-fund campaign thermometer posted in the narthex—then our work will not resonate with a millennial generation that is less interested in membership than in revolutions. But if we discuss outcomes, then the offering plate becomes an invitation to community problem-solving. And in this new language of evangelicalism, we will invite a covenantal relationship that will empower people's strengths to be levied for a greater purpose.
---

Wyatt Schroeder (@wvschroeder) serves as the Executive Director for CATCH, Inc. He is responsible for the strategic management, fund development, storytelling, and program success of the organization. A native of Pennsylvania, Wyatt holds an M.B.A. from Villanova University (Philadelphia, PA) and a B.A. from Allegheny College (Meadville, PA). While serving in AmeriCorps with Rebuilding Together, Wyatt found the passion of his life: ending homelessness. Wyatt is committed to building sustainable organizations around innovative housing models, such as Housing First, while never forgetting to share the powerful stories of those we are serving.
https://media.myworshiptimes31.com/wp-content/uploads/sites/55/2016/04/29175343/featured-millenials.jpg
200
398
Linda Kurtz
/wp-content/uploads/sites/55/2016/01/NEXT-Logo-FINAL-Horizontal_lato-1030x229.png
Linda Kurtz
2016-04-13 07:35:34
2016-06-13 19:09:21
Evangelicalism as Community Problem-Solving