Each month, we post a series of blogs around a common topic. This month, Suzanne Davis is curating a series highlighting the working relationship between ruling elders and ministers of the Word and Sacrament (or teaching elders). We'll hear from both individuals and ruling elder/pastor partners reflect on the journey in ministry they've had together. How do these two roles – both essential to our polity – share in the work and wonder of the church? What is the "special sauce" that makes this special partnership flourish? We invite you to join the conversation on Facebook and Twitter!
by Barbara Cannon
Having been a member of five Presbyterian churches, I have some experience with new pastors, either my being new to the church or the pastor coming on the field of my church. There are a number of pastors and their spouses with whom I share longtime friendships and insight into the relationships they experience within their congregations. These circumstances have led me to want a close relationship with my pastor and family.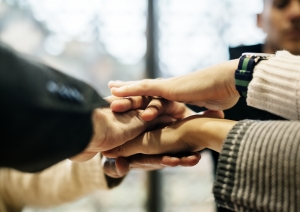 Initial meetings are important. After a period for settling in, schedule a brief appointment to introduce yourself. This is an excellent way to begin your relationship. Express support for his/her ministry and a positive attitude about the future of the church. Avoid posturing, recitation of personal accomplishments, and litanies of church problems. Ask "How can we together accomplish the mission of the church?" Don't expect the pastor to remember your name after this meeting. When you next see each other, give your name again.
Establish a personal relationship as soon as possible. Invite the pastor and their family into your home. If the pastor is new to the presbytery, use the opportunity to invite other local pastors in the presbytery or community. I have done this on several occasions and found it a good way for the pastor to make contacts that will benefit them throughout their tenure in the area.
Written or electronic notes to the family are appreciated, especially on special occasions. I send a note of thanks to the family on the yearly anniversary of my pastor's arrival at the church. Notes of encouragement or congratulations after a particularly meaningful sermon or a contentious problem are most appropriate.
Recognize the knowledge and education of your pastor. I remember asking my minister Randy Taylor, former Moderator of the General Assembly, the meaning of a word he used in a sermon. I increased my vocabulary and he recognized there were worshippers who were listening intently.
Remember the spouse and children. They are often left out of the early assimilation. On one occasion, an ex-officio position on the Coordinating Team of Presbyterian Women was created for the wife of the new minister. The pastor called to express his gratitude. She met and worked closely with a group of women in this capacity. A bond was formed almost immediately. Children can be invited for play dates or birthday parties. Their parents will be grateful for these gestures.
Encourage the pastor to fulfill his/her duties to the broader church. Often a pastor is uncertain if a congregation is supportive of the mandate for a pastor to serve in the broader governing bodies. Pastors need to be with their peers, especially if they are in isolated areas.
When you have things to discuss with the pastor, make an appointment. Respect his/her time, keeping a list of items to include in the meeting. Wait until you have several topics before you meet. If there are items the pastor needs to prepare, mention those when you make the appointment. I am often guilty of trying to give information to the pastor or ask questions of the pastor at inappropriate times (at a bereavement reception for instance). If this is truly necessary, write it down for him/her. I am working on this.
Do not be a tattletale unless you are the one confessing.
Say yes when your pastor asks you to serve the church.
All of these suggestions, simple though they be, will establish a relationship that will serve you and your pastor well. If the time comes when either of you feels a need to provide constructive criticism, you will have the mutual respect that allows the exchange.
---

Barbara S. Cannon is a ruling elder, not currently on the session, at Hopewell Presbyterian Church, Huntersville, NC. She is a former Moderator of Charlotte Presbytery, formerly Mecklenburg Presbytery. Her service to Presbytery includes serving on the Permanent Judicial Commission, Christian Education Committee, Preparation for Ministry Committee and presently the Committee on Ministry.
https://media.mywtenfold1.com/wp-content/uploads/sites/10/2018/09/29173356/featured-stacked-hands.jpg
200
398
Linda Kurtz
/wp-content/uploads/sites/10/2016/01/NEXT-Logo-FINAL-Horizontal_lato-1030x229.png
Linda Kurtz
2018-09-09 20:05:33
2018-09-09 20:05:33
Establishing/Maintaining a Working Relationship with Your Pastor 101