Each month, we post a series of blogs around a common topic. This month, Jeff Bryan is curating a series reflecting on the 2018 National Gathering in late February. You'll hear from clergy, lay people, community leaders, and others reflect on their experiences of the National Gathering and what's stuck with them since. How does the "Desert in Bloom" look on the resurrection side of Easter? What are your own thoughts of your National Gathering experience, or on what these reflections spark for you? We invite you to join the conversation on Facebook and Twitter! 
by Shirley Dudley
I am a white Anglo-Saxon Protestant, a life-long Presbyterian, and a minister's wife, confirmed over 70 years ago. I have attended many conferences through the years, especially the ones with the Presbyterian women, but this was my first time at the NEXT Church National Gathering. What struck me throughout the conference was its INCLUSIVITY. Everyone was at the table in every aspect of this conference – top leadership, worship leadership, worship space arrangements, workshop participation and leadership, worship music, entertainment, etc. Also, people were not afraid to laugh at themselves and they did not take themselves too seriously.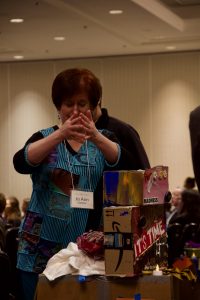 The next thing that grabbed me was the INNOVATION. It was like we were living in "the dream of our future" at this gathering. I am not only talking about the big things but the little things, too, like the cardboard box altars where people could leave mementos and congregate. I did not know that there were so many ways to get people out of their comfort zones in a church-related situation. My husband was a professor of Church and Community in several seminaries and I know he would have been stimulated, as I was, with Dr. Leong's discussion of race and place. I am in a multi-cultural downtown church with people who come from everywhere else but the downtown. It is freeing for us to have to mingle and worship together, but it requires a time commitment that we are sometimes not willing to give in order to make a dent in the crises of our city. So even if we are not bound by our individual places, we are bound by our "place" in a troubled city.
Since I returned home, I was asked to share my experiences from the conference with my session and offer some concrete ideas for our future. I described all of the above, the worship theme, the main speakers, the energizing testimonials from Baltimore, workshops, and some of the fun things that happened to me personally as I reconnected with old friends. Then they asked me for concrete ideas for our church. Here are a few of those:
We are a small church that could definitely benefit by intergenerational opportunities. There are moments when we could share in small groups with each other in the worship service itself. We have many small tasks that could be spread around and the children could be more included in decorating our sanctuary, even finding pictures for the pastors to use on Sunday morning in our screen.
We don't have to be so serious all the time. This conference seemed to give permission to "lighten up."
We work diligently with hunger problems, but digging deeper in our local community for partners in ministry would work well for us – especially as the city of Hartford is becoming a place of change and more young people.
I was also moved by the Florida groups that were supporting the students affected by the massacre. We too can take part in the efforts to win more gun control.
We also have DACA leadership in our church and they need support.
And on and on… Yes, with the help of God, we will try to do our own "rising" in a wilderness church with inspiration from a life-giving conference.
---

Shirley Dudley an 85 year-old mother of 5, grandmother of 9, and was married to a Presbyterian minister and faculty member of McCormick Theological Seminary (and Hartford Seminary), Carl Dudley (now deceased). She served as first full-time registrar and assistant dean at McCormick Theological Seminary, 1976 -1993. Shirley presently lives in an Active Life Care Senior Center in Bloomfield, CT, and attends a downtown Hartford Presbyterian Church.
https://media.mywtenfold1.com/wp-content/uploads/sites/10/2018/04/29173649/featured-altar-ng.jpg
200
398
Linda Kurtz
/wp-content/uploads/sites/10/2016/01/NEXT-Logo-FINAL-Horizontal_lato-1030x229.png
Linda Kurtz
2018-05-07 05:57:00
2018-04-13 10:59:17
The Dream of Our Future