Each month, we post a series of blogs around a common topic. This month, Bethany Benz-Whittington is curating a series that will explore the idea of different generations in ministry, and what gifts each generation particularly have to offer the church. We invite you to join the conversation on Facebook and Twitter.
by Chad Wright-Pittman
If you remove the yoke from among you,
the pointing of the finger, the speaking of evil,
10 if you offer your food to the hungry
and satisfy the needs of the afflicted,
then your light shall rise in the darkness
and your gloom be like the noonday.
– Isaiah 58:9b-10
I'll never miss a beat, I'm lightning on my feet
And that's what they don't see (that's what they don't see)
I'm dancing on my own, I'll make the moves up as I go
And that's what they don't know… mmhmm
-Taylor Swift, 'Shake it Off'
So, I'm fairly new to parish ministry… My initial call was to serve as the director of a service oriented, faith based non-profit. It was an incredible ministry and a huge learning opportunity for me. It wasn't until I got into the pulpit that I began to hear folks note with surprising regularity that I'm "just a kid" and that it "must be nice to be so young" and that soon I would "learn how we do things around here."
What's perhaps the most interesting thing is that behind each of these statements is a truth. I am young… It is nice… and I am continuing to learn my context here in a mid-sized church in a small southern city. I do have much left to discern about how 'we do things around here'. Yet, it's also interesting how those small truths are then used to quickly dismiss concerns I may have, or my hopes for our communal life together as 'too idealistic.'
First though, a couple of misunderstandings I've noticed in the zeitgeist:
All young people are not millennials. Millennials were born between 1981 and 1996. The eldest millennials are turning 38 this year. Yet, many folks who say things like, 'millennials are so…' are really describing trends they see in the generation coming up behind us (Gen Z, or Post Millennials).
Also, Millennials are not a monolith. Not all millennials carry with them the same concerns, experiences, or privileges that I've been afforded, but I do find myself to connect with the generation's noted aspirations toward diversity, inclusivity, authenticity, and transparency.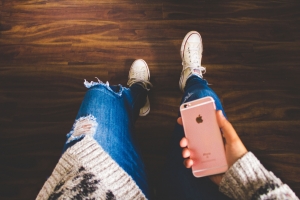 While being a millennial in ministry has already revealed some challenges, I truly believe that my experiences growing up between the economic highs of the mid to late 1990s, the dot-com bubble bursting in 2002, and the eventual market crash of 2008, has given me a real sense of how truly malleable much of our society is and how much sway folks with power and resources have over the lives of everyday folks. Couple that with a healthy dose of 'too idealistic' and you have someone who really believes they can make a difference in the world around them.
That very optimism about the malleability of the world around us – and our desire to see it left better than we found it – will be a gift to the church, I believe, as the Church hopefully continues to make space for young ministers to step into leadership. It remains to be seen how that will change as our generation runs up against the inevitable pitfalls, setbacks, and general backlash that always happens when folks start tinkering with longstanding institutional structures. I hope we can retain the energy and creativity that has brought us into the public sphere thus far.
Perhaps the primary gift that Millennial church leaders bring is our desire to have our cake and eat it too. It seems that our generation is creative enough and idealistic enough to believe that we can do it all. We also believe that the church can have a budget that reflects its values. We can create balance in our work and play. We can have work that pays the bills and is meaningful to us and connects us to our gifts and passions. The haters gonna hate, and the fakers gonna fake… but millennials seem to have a nose for sniffing out inauthenticity and stubborn defeatism and demanding that false dichotomies be turned into fruitful paradoxes. There is a win-win situation yet to be discovered. There's a way for us to have it all; for the needs of the afflicted to be satisfied, for all to be fed, for the pointing of the finger at each other to become the pointing towards unforeseen grace and generosity.
If the church wants to reconnect to its prophetic imagination and remain a relevant institution, we may need to lean into the unique outlook many millennial pastors bring. The many gifts millennials bring to the table – high expectations, idealism, transparency, and authenticity – may be the gifts the church needs to grow and adapt in this present reformation.
For me, as I grow and adapt in my new ministry context, I pray I'm able to hang on to the optimism that has brought me this far. I hope I'm able to continue to question a lack of diversity and inclusion in the pews and in leadership. I hope I'm able to continue to seek transparency and authenticity in the places where rituals and traditions have become rote. And as the pitfalls, setbacks, and backlash begin to challenge that optimism, I pray I'll have the clarity of mind to shake it off, shake it off.
---
Chad is pastor, thinker, and enthusiast; a lover of: people, scripture, coffee, action, and reflection. An M. Div graduate of Columbia Theological Seminary, he served as the director of DOOR Atlanta for three years inviting young folks to "See the Face of God in the City" and to reflect on God's call to love and serve each other.  He and his wife Lauren now live in Anderson, SC where he serves as Associate Pastor for Care and Outreach at the First Presbyterian Church.
https://media.mywtenfold1.com/wp-content/uploads/sites/10/2019/12/29172344/nadine-shaabana-GZkDM6urp4c-unsplash-scaled.jpg
1365
2048
Layton Williams
/wp-content/uploads/sites/10/2016/01/NEXT-Logo-FINAL-Horizontal_lato-1030x229.png
Layton Williams
2019-12-02 08:32:26
2019-12-02 22:49:02
Diversity, Inclusivity, Authenticity, and Transparency: Fruits of the Millennial Spirit