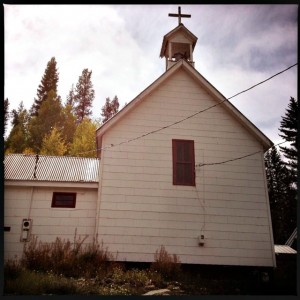 By George Chapman
I often describe small church ministry as being on the "Front Line" of American Christianity, and it's easy to see why. It can be a struggle, after all. The small church typically exists in close quarters to a plurality of Christian traditions, many of which are not "Reformed" in the classic sense of the word. Finding our distinctive voice within this ecclesiastical cacophony can prove somewhat daunting. Variable economic conditions have a drastic impact on giving and budgets. When times are tough, small churches are the first to feel the pinch, and when times are good, we are the last to experience relief. Work, play and school . . . those many obligations that distract younger persons and families from fully participating in church life are magnified among our pews every Sunday morning. Aging congregation members on increasingly fixed incomes present additional complexities for mission and outreach.
To put things more plainly, the greatest challenges facing the "next" church are being experienced by the small church in the here and now. Given their size, larger churches can prove relatively immune from such trends, but I'm certain they still experience them in some noticeable way. If they haven't yet, I can almost guarantee you, they will! And I don't say that to sound defeatist, but . . .
I do believe that our future success as a denomination will hinge upon our ability to bridge the divide between larger and smaller faith communities.
If larger churches in our denomination wish to see the future of the PC (USA), then they need look no further than the small church. There, they will observe no shortage of challenges, but they will also find countless servants wholly dedicated to the traditions of our Reformed faith, often under some pretty demanding circumstances. There, they will discover people practiced in the art of maintaining bonds within community while faithfully persevering through periods of uncertainty. There, they will encounter real friendship, true fellowship and genuine concern for one's neighbor. For such persons, the relevance of the church has never fallen into question; rather the church maintains a central and revered place in the daily exercise of their lives.
So, where is the small church in the "next" church? This is the question I posed to NEXT Church's fearless leader during a recent gathering in my native Shenandoah Presbytery. Patient and gracious as always, Jessica Tate affirmed the need for movements like NEXT Church to constructively engage small churches. At the same time, she also expressed a desire to build a more "relational" denomination with stronger connections between Presbyterian congregations of all sizes.
And I believe this is where the small church has a particular advantage, in that we are already relational! This is not an abstract ideal to which we aspire, but it is the everyday reality in which we live! Our congregation members see one another as family (sometimes literally), and are eager to respond to the needs of their brothers and sisters in Christ, often with little regard to cost. As a small church pastor, I've been blessed to see and experience this again and again and again. For this reason alone, I am wholeheartedly convinced that the small church possesses a meaningful contribution to this dialogue concerning our collective future. We have much to teach, but we also have much to learn, as we endeavor together to strengthen the body of Jesus Christ.
---
Rev. George W. Chapman III serves as a Teaching Elder at Buena Vista Presbyterian Church in Buena Vista, Virginia.
photo credit: pam's pics- via photopin cc
https://media.myworshiptimes31.com/wp-content/uploads/sites/55/2013/11/29180538/medium_8066700413.jpg
640
640
maryann
/wp-content/uploads/sites/55/2016/01/NEXT-Logo-FINAL-Horizontal_lato-1030x229.png
maryann
2013-11-08 06:57:02
2016-05-10 21:15:28
Dispatches from the Front Line