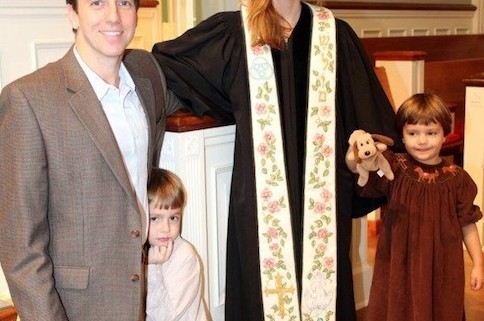 This month, we're sharing reflections from a group of pastors from the US and the Church of Scotland who recently met to talk about being the faithful church in a culture that is becoming more diverse and more secularized. We invite you to offer your thoughts in comments, on our Facebook page, or contact us here. If you like what you read, subscribe to our blog (enter your email on the right sidebar) and receive an email when there is a new blog article. 
By Lori Raible
One of my closest childhood friends was diagnosed with a brain tumor. We knew the news was bad, but couldn't believe what we heard: A glioblastoma, in the most 'elegant' part of her brain. Tentacles. Twists. Turns. Inoperable. Unstoppable. Inevitable.
The most elegant part of her brain.
Now its one thing to preach the 'Good News of the Gospel,' and another thing all together to live it.
It takes a lot of faith and courage to stare death in the face.
'Don't worry,' I said, 'Those are just numbers, you are not a statistic.'
'An experimental trial may work'
'We'll pray for a miracle.'
'You'll beat it.'
'The doctor's not that smart.'
'The doctor's wrong.'
'The doctor's a jerk.'
Denial. Anger. Fear. Disbelief. Blame.
It didn't matter how many doctors she saw, how many trials, surgeries, pills, needles, green smoothies, massages, scans, or shunts she endured.
A diagnosis is a prediction based on facts, but is it a death sentence? Sometimes.
Leaning into the truth allows space for God to do some Holy Spirit stuff. As pastors, a diagnosis allows us to assess, adjust, and go to the place where we are needed the most, even in the face of death.
Even The Scot's good-humored rhetoric could not withstand the mounding evidence of decline Diana Butler Bass presented to our group.
"Dennesfaschseryel, don't worry, it will all work out…"
Will it? Tentacles. Twists. Turns…
I was grieved by Diana's slides, and grateful to her for sharing them with honesty, hope, and compassion. From there she led us to a different conversation of great hope for what lies ahead for Christ's Church. It takes a lot of faith and courage to lean into the work of incarnation.[1] It's uncomfortable, dangerous, and risky.
Ever have a baby?
Ever watch your wife have a baby?
Ever see a woman having a baby on TV?
Amazing, but it's a scary mess.
The place we are needed the most is not found in history. Memories are important places to visit, but Jesus isn't there.
The place we are needed the most is generally not inside the walls where we feel safe. The comfortable constructs of our tired habits, boundaries, egos, and insecurities won't have room for Jesus to do 'His Thing.'
The future of the church is outside the bounds, 'on the fringe.'[2] Always has been.
Out there, we reach beyond what we thought was possible.
Out there, we find each other because we are forced to ease our grip, for the sake of embracing one another through the change: for the sake of being the Church.
There in the embrace, is that moment when we throw our arms out, and our heads back, to breath, to laugh, and to give thanks for the whole ridiculous truth of the Gospel.
It's one thing to preach the Good News of the Gospel and it's another thing all together to live it.
It's time for us to GET OUT THERE, and BE the Church! Not in the face of death, but in light of a God who refuses to let death have the last word.
Our final night in Scotland was marked by a Scottish ceilidh (mandatory square dance, plaid, drums, accordion, lots of laughing.) We spun until our bellies hurt and our legs ached. Old, young, and in-between, were joyful and convinced by the grace of our Lord Jesus Christ, things may be changing, but it really is going to be just fine.
Dinnaefaschyersel!
---
[1] Diana Butler Bass presented new thoughts and work regarding incarnation.
[2] Diana Butler Bass discussing the way transformation occurs.
Lori Archer Raible is an associate pastor at Selwyn Avenue Presbyterian Church in Charlotte, NC. A graduate from Union Presbyterian Seminary in Charlotte, Lori is passionate about connecting people to one another through faith and community. Married to Rob, they have two children Joe (8) and Maeve (7). Currently her vocational work includes work with the NEXT community and the TRENT National Conference, which is being created in support of pastors in their first 7 years of ministry. Most of her free time is spent running both literally as a spiritual discipline and metaphorically to and from carpool lines. Deep within her is a writer vying for those precious minutes. 
https://media.myworshiptimes31.com/wp-content/uploads/sites/55/2014/09/29180248/LRaible-e1413371056827.jpeg
529
484
marrandamajor
/wp-content/uploads/sites/55/2016/01/NEXT-Logo-FINAL-Horizontal_lato-1030x229.png
marrandamajor
2014-09-17 09:00:21
2016-02-18 14:06:29
Dinnaefaschyersel! (Part II)