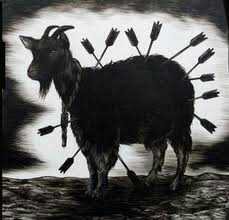 This month, we're sharing reflections from a group of pastors from the US and the Church of Scotland who recently met to talk about being the faithful church in a culture that is becoming more diverse and more secularized. We invite you to offer your thoughts in comments, on our Facebook page, or contact us here. If you like what you read, subscribe to our blog (enter your email on the right sidebar) and receive an email when there is a new blog article. 
By Lori Raible
Scotland's national identity is so deeply rooted in the history of the Reformation, that it is nearly impossible to untangle the two. Except for the fact, most folks in Scotland already have.
Within ONE generation, a profound emptying of the pews has crippled the Church of Scotland's ability to maintain its cultural, societal, and spiritual significance. With 37% of her citizens claiming no religion at all, church membership has declined from 1.3 million in 1957 to just 400,000 today. Not to mention, claiming membership doesn't always equate to going to church. Attendance numbers in Scotland are said to be around 3%.
Secularization. Decline. Mass Exodus. Call it what you will, but it's a grim diagnosis. As townspeople bustle passed the bowing stone kirks with their stretched steeples, folks wonder 'if the future has a church at all?[1]
The truth is this: The Church of Scotland as they had known it, is done.
And another truth: Our US churches face the same diagnosis.
The Holy-rollers, Evangelicals, Catholics, Mainliners, the Mega-Jesus-and-me churches… all of them. In the U.S. 20% claim no religious affiliation.[2] The Presbyterian Church (U.S.A.) has lost 20% of its members over the past decade, and 100,000 last year alone.
Some will say,                     'No kidding, I'm exhausted from the dying.'
Others will say,                  'Not us, we have an endowment.'
A few will say,                     'Not my church, I'm like Jesus. I'll fix it!'
And a few more,                 'Yep, stinks for you, I'll be retired by then.'
Many will shove our fingers in our ears and shout, 'LALALALALA'… lest we hear the truth. Many more out of fear, will polarize and politicize the Church … lest we face the messy work of transformation.
Oh wait, we are already doing that.
The Church just ISN'T going to look the way it has in the past.
So, twelve US pastors hopped the pond, and gathered with twelve pastors from the Church of Scotland to face the truth together, with an ounce of hope, and a pound of honesty.
The Scots are authentic, unpretentious, hardworking, and tenacious. All this, softened with the warmth of radical hospitality and good old-fashioned humor. The first Sunday of our visit, I teetered within the tall wooden pulpit of The Wellesley Church of Methil Parish, where Rev. Gillian Paterson, assured me they could handle the thick twang of my southern accent.
'Dinnaefaschyersel,' she said.
'I'm sorry, WHAT?'
'Din-a-fash-yer-sel,'
'And also with You?' I asked.
"Dinnaefaschyersel, Don't get yourself all worked up, it will be okay,' Gillian assured me with a laugh. Friend for life.
Low on jobs, the social issues impacting the good people of Methil take their toll, but they are the real deal. Tired of dwelling on a long-term diagnosis, Wellesley Church is humble and bold enough to step into the future with God's purpose at heart.
As the product of two congregations who were forced to yoke, Wellesley has something new growing from the fertile ground of what used to be.[3] With hospitality that can only come from a well-seasoned bunch, gaggles of children from the community are showing up on Wednesday evenings, and young families are peeking into worship on Sundays. With bold leadership, intentional planning, and faith, they hope to build a functional community space to support their rebirth.
Besides meetings, programming, teaching, and preaching, Gillian is trusted to provide extensive pastoral care to a community with the complex needs that accompany a very depressed economy. Within her parish (the physical geography surrounding her church), she officiated 73 funerals, countless weddings, and served as a chaplain within the public schools last year alone.
Yes, she is tired.
No, she is not weary.
But, Dinnaefaschyersel?
Rooted by the sanctity of worship and fellowship within communities we visited, our group began navigating the trajectory of western religion with American writer and theologian, Diana Butler Bass, and Rev. Doug Gay from The University of Glasgow.
By mid-week, The Scots shared several other peculiar words. Ignoring a theme that seemed to develop, I kept a list:
Dither:                   Acting confused or unsure.
Bizzim:                   A cheeky girl.
Bletherer:               A chatty person
Hadyerwiish:        Hush it.
I simply could not contain my enthusiasm for our new Scottish friends, the camaraderie of my American colleagues, and of course the important conversation we had been invited into on behalf of The Church.
However, on the second day, Diana Butler Bass, shared a couple of compelling and haunting slides. Numbers projecting our demise. Graphs mapping the polarization of religion. Charts proving just how stupid we can be when we take a good thing for granted, and refuse to budge.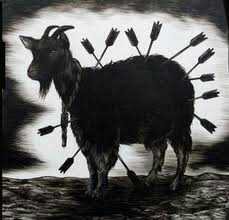 Then there was a photo of a goat.
…with sharp arrows hanging all over it.
No more blethering. We just stared quietly.
It was one thing to visit the realities of Gillian's Parrish. I could even conceptualize the impact this 'decline' has had on our American Christianity at large. But no way was I ready to acknowledge the implications these cultural shifts were having within the intimacy of my own ministry.
How American of me.
I cried.
I cried because I love our denomination for all it does well. Presbyterianism is grounded in the Gospel as expressed by Word and Sacrament. The integrity of our creeds comes to life through creativity expressed in community and mission. The roots are deep.
I cried for Wellesley church, because now in I love them, and I want them to flourish in a new life they had not imagined.
I cried for the members of my church in Charlotte who know little of these worries.
I cried for my colleagues in ministry who are brave enough to help congregations die well.
I cried because instead of paying attention to what is happening to all of us, we are busy fighting, dividing, ignoring, and clenching to whatever we can with hierarchy and antiquated models of power and exclusivity.
I cried because I have children who love the Church, and know of God's love through their baptisms of belonging.
I cried because what we practice as pastors is often sacred beyond a chart or statistic. Who am I really… without the Church?
Dinnaefaschyersel?
---
[1] Rev. Doug Gay. Book info.
[2] Pew Research Center. www.perforum.org, October 9, 2012.
[3] Butler Bass, Diana. In conversation re: letting go and letting come.
Lori Archer Raible is an associate pastor at Selwyn Avenue Presbyterian Church in Charlotte, NC. A graduate from Union Presbyterian Seminary in Charlotte, Lori is passionate about connecting people to one another through faith and community. Married to Rob, they have two children Joe (8) and Maeve (7). Currently her vocational work includes work with the NEXT community and the TRENT National Conference, which is being created in support of pastors in their first 7 years of ministry. Most of her free time is spent running both literally as a spiritual discipline and metaphorically to and from carpool lines. Deep within her is a writer vying for those precious minutes. 
https://media.myworshiptimes31.com/wp-content/uploads/sites/55/2014/09/29180249/006-scape-goat-arrows.jpg
220
229
marrandamajor
/wp-content/uploads/sites/55/2016/01/NEXT-Logo-FINAL-Horizontal_lato-1030x229.png
marrandamajor
2014-09-16 11:01:04
2016-02-18 13:02:32
Dinnaefaschyersel? (Part I)