Each month, we post a series of blogs around a common topic. This month, Jeff Bryan is curating a series reflecting on the 2018 National Gathering in late February. You'll hear from clergy, lay people, community leaders, and others reflect on their experiences of the National Gathering and what's stuck with them since. How does the "Desert in Bloom" look on the resurrection side of Easter? What are your own thoughts of your National Gathering experience, or on what these reflections spark for you? We invite you to join the conversation on Facebook and Twitter! 
by Michele Goff
I come to the NEXT Church National Gathering every year to be reminded that I am one of many church leaders striving to teach the radical healing love of Jesus' Christ.
The ideas I bring back to my church from the National Gathering surprise me, often. This can be some creative element of worship, a particularly insightful phrase from communion liturgy, or the depth of meaning found in one particular scripture preached from insightful and varied perspectives.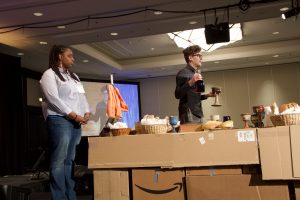 During opening worship, when I dip my bread in the cup, I am blessed with the words: "the cup of liberation." I am floored with humility. AMEN! The intellectual piece of my brain says, of course. But my soul is about to burst from this enlivening kiss from the Holy Spirit. Liberated from sin. Set free to participate in radical love. Loved and unfettered because God's power is compassion, not coercion, as the preacher articulated moments before. I have just participated in a declaration of liberation. Yes, Alleluia!
I notice, more than once, that I am not the only one whose emotions stream down my face as we worship together. Whether we are washing one another's hands or taping prayers to cardboard box "roadside memorials" scattered throughout the space, worship becomes a tactile experience. Worship is traditional and fresh: we break bread as one and in intimate circles around roadside-memorials-turned-communion-stations. And of course there is joyful singing – by those assembled, by the NEXT Church choir, led and shared by special guests, and even performed by the children of the Eutaw-Marshburn Elementary School Choir.
This year's theme of "Desert in Bloom" was particularly fruitful. It unified the workshops and was easy to recognize in teaching, sharing, and art.
The message of finding love for the fool kept surfacing for me. "A highway shall be there … no traveler, not even fools, shall go astray." (Isa. 35:8)
It is easy to witness many people pointing and calling one another fools lately. And I hear myself doing the same thing. As I experienced this text with fresh ears, I heard for the first time that even if I stumble and behave like a fool, God will guide me back to the highway that is the Holy Way. And the "others", the ones I may think are blind or deaf or fearful of the truth – they too can be restored. When God restores them, and corrects my own foolishness, we will be on the Holy Way together.
In the preaching I heard: Billy Honor exhorting us to call upon the Holy Spirit to be the "super" to our "natural." With thoughtful humor, Kathryn Johnston cautions us to be careful where we draw the line [between us and them] because Jesus is always on the OTHER side of it.
There is hope for the fool! This is a blossoming bedrock of hope – an answer to the many fears that threaten and infect the world.
The theme this year successfully zeroed in on the importance of death to bring about the transformative power of resurrection.
I return home refreshed, and open to the ways that divisive and harmful attitudes, traditions and fears may be allowed to die a normal and timely death so that the full glory of resurrection might be realized.
---
Michele Goff is the pastor of Aztec Presbyterian Church in Northwestern New Mexico. After almost 12 years in television production, she graduated from Austin Presbyterian Theological Seminary in 2015 having finally found her true calling. She is an avid Sci Fi fan and a fledgling knitter whose "happy place" is on the sofa next to her husband with her two dogs at her feet.
https://media.mywtenfold1.com/wp-content/uploads/sites/10/2018/04/29173646/featured-monday-communion.jpg
200
398
Linda Kurtz
/wp-content/uploads/sites/10/2016/01/NEXT-Logo-FINAL-Horizontal_lato-1030x229.png
Linda Kurtz
2018-05-09 05:03:57
2018-05-09 20:03:55
Death to Bring About Resurrection