By Rebecca Gillespie Messman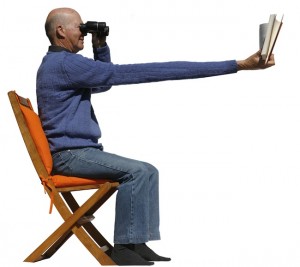 "One in five Americans is now a NONE."  It's a clever word to describe those who when asked their religious affiliation respond simply – none. Not surprisingly, what jumps out to Presbyterians is the decline in mainline Protestantism in the last ten years, especially in people ages 18-35.
We grieve what was. We wring our hands about the future. Presbyterians start sounding like Eeyore, the sad, gray donkey-friend of Winnie the Pooh who always has a rain cloud over his head. It's hard to bear good news when all you talk about, all you see, is bad news.
Do you know the technical term for the eye condition that develops as we age? The one that means you lose the ability to see things that are close?
It's called presbyopia. It means "old eyes."
We, as a church, have developed old eyes, presbyopia.
We see the distant past…when every sermon was masterful and coffers spilled over and there were traffic jams of Dodge DeSotos cramming into church parking lots.
We see the distant future…when we fear moss will overtake pulpits and raccoons will take up residence in the organ.
Grief, fear, difficulty moving forward.  These are symptoms of presbyopia.
The cure for presbyopia, I'm told, is either better eyes or longer arms.
Jesus models both. He focuses on what is near and he reaches out in ways that are uncustomary.
Diana Butler Bass, in her book Christianity After Religion, suggests that within the statistics about those who no longer affiliate with churches are some hopeful signs.
These "nones" appreciate what they know of Jesus and his teachings; they just don't know that much about him.
They claim to pray daily.
They yearn for community.
They value the spiritual life and connect with God in nature, music and art.
Very few of them self-identify as atheists or agnostics.
To cure our presbyopia – first, we need to see them. Then we need to reach out in courageous and creative ways.
Research from the Vital Churches Institute says that the main difference between churches that are thriving and churches in decline is not number of staff or the geographic location. It's not buoyant balance sheets or genius pastors.
The main difference is doing ONE new thing. In the community.
One Thing that draws church into the community.
I have seen that to be true.
I came to serve a church that had been divided by a clergy sexual misconduct case in its history. I came a town that was divided. The immigration "issue" landed the town on the front page of newspapers across the country. The church was caught in the middle. At my second Session meeting one of the elders said, "I think we need to have a lunch here at the church, bring those day laborers here, and I think our new pastor – who speaks Spanish after all – should lead it."
Gasp.
The meeting got pretty stormy.
Folks were concerned that boots from the day laborers might damage the sanctuary carpet.  Folks were concerned that with our preschool… well, folks might not want their kids to go to a church with those kinds of people in it.
One woman took a deep breath and her words changed the conversation: "I wouldn't want my child to go to a church that DIDN'T have those kinds of people in it."
The Holy Spirit moved. It was unanimous. Lunch for the Soul was born. That was seven years ago.
Lunch for the Soul is a ministry of three churches, working together. We feed up to 200 people every week. As a result we have planted a church – 100 people – worshipping every week in Spanish.
There is a man in my church named Dan.  He tears up when he talks about the sacrifices people made at Normandy. He grieves what is going on in our country, in our denomination. He was rabidly against the Day Laborer Center that was at the center of the firestorm that led to the inception of Lunch for the Soul, so you can imagine my surprise when he showed up to help at Lunch for the Soul one day.
I'll admit I was concerned he was scoping out the ministry to find fault… that was my sin speaking out.
I saw swarthy Salvadorans leaving his shiny white Oldsmobile… Dan stood in the back and ducked out early. We debriefed the experience later. While others benignly shared their insights on serving together at Lunch for the Soul, Dan stood up and said, "You all know my feelings about immigration…..[we sighed, yes, we do….] But, if members of our church were HALF as excited to get to church as those men were to come their church… this church… we would not be talking about decline in the mainline."
One Thing that gave us all better eyes and longer arms. It started changing the way we saw ourselves as a church. No longer a divided church, a dying church, but a church that reached out. It was contagious. Folks want to reach out more.
Folks said – you know who else is near? The elementary school across the street. We formed a partnership with them. So, now, we do a coat drive each winter. Folks have signed up to help with tutoring. With mentoring. One lady in our church was laid off and instead of atrophying in front of the computer, she got up early twice a week to take two little girls to school – because their mom works and the bus doesn't come that early. It's an awakening. It changes the story we tell.
Colleen had been a ghost on the church rolls for years. But she is a Fairfax County School teacher, and she heard about this partnership. Now she is at church again. In her gravelly voice, she offered, "What can I say… you came to my doorstep."
We are – each of us – bearers of holy possibility because we see this world through God's eyes. When our arms are long and open wide, we may see what Christ proclaimed: "the people who sat in darkness have seen a great light, and for those who sat in the region and shadow of death light has dawned.  The kingdom of heaven is near."
---

Rebecca Messman is Associate Pastor of Trinity Presbyterian Church in Herndon, VA. Want to learn more about Lunch for the Soul? Listen to the webinar led by Becca and Edwin Andrade.
Image credit: shutterstock/paul prescott
https://media.mywtenfold1.com/wp-content/uploads/sites/10/2013/06/29180646/prebyopia2.jpg
219
562
Jessica Tate
/wp-content/uploads/sites/10/2016/01/NEXT-Logo-FINAL-Horizontal_lato-1030x229.png
Jessica Tate
2013-06-25 06:25:30
2016-05-10 17:51:53
Curing Presbyopia