Each month, we post a series of blogs around a common topic. This month, Deborah Rexrode is curating a blog series called "A New Perspective on Stewardship." We'll hear from some stewardship experts across the country on a wide range of what stewardship means for them. What are ways stewardship can be a spiritual practice? How might we come to a new understanding of the role of stewardship in ministry? We invite you to join the conversation on Facebook and Twitter!
by Adam Copeland
What if a new technology existed that completely changed the way congregations raised funds for mission? What if there was a tool to make difficult-to-fund projects overflow with supportive donations? What if, by using a simple website, a congregation could discover hundreds of new giving units without any trouble at all? Well, I suppose if such a technology existed, we'd all be using it. As far as I know, no such a miraculous tool exists.
Today's post is on crowdfunding and while I believe it has great potential, let me be clear: crowdfunding is no silver bullet. It is not the fundraising savior. Crowdfunding is, though, a relatively new way to think and go about funding specific projects that might be of interest for your congregation. It's also a particular interest of mine and, therefore, the topic of today's blog.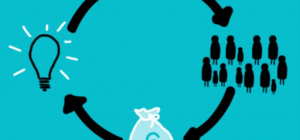 Around 2008, crowdfunding websites like Kickstarter, Indiegogo, GoFundMe, and dozens of others developed a new way to give money to support a particular cause, project, or vision. While there are plenty of ways to raise money online, I define crowdfunding as goal-based fundraising ventures, conducted by groups or individuals using the Internet, that seek small contributions from a large number of people. Beyond that general definition lie several different types of crowdfunding. There are campaigns in which the funder receives rewards or gifts if the project is fully funded. Other campaigns work more like traditional charity fundraisers — people give to the causes they support. Some campaigns are set up in an all-or-nothing way so, if the goal isn't reached, the project does not go forward. In common, though, is the notion that a good crowdfunding campaign seeks to raise money for a specific goal.
Usually, we think of a church budget as a big, bulky mixture of various missional priorities. We might call funding the budget a "macro goal." Crowdfunding thrives on "micro goals:" specific, often time-sensitive, visions of something new. As Perry Chen, a Kickstarter co-founder, has explained, potential backers see a pitch and think, "That's really cool. I want to see it exist in the world."
Crowdfunding is about bringing vision to life or making dreams a reality. Campaign creators describe their vision — what they think the world needs — and they ask the crowd for help. Together, they create something that wouldn't have been possible otherwise. I've come to think of it this way: crowdfunding supporters don't give away money; they midwife dreams.
What does all this pie-in-the-sky description actually look like? Well, for a church plant in Wilmington, North Carolina it meant raising $20,000 to launch a new space. St. Lydia's Dinner Church in Brooklyn, New York has conducted several successful campaigns. For a student at Illif School of Theology, it means raising $1,100 to help her go to seminary. And dozens of faith-related music albums now exist thanks to campaigns like this one and this one. In sum, crowdfunding offers congregations and faith-related non-profits opportunities to share their vision with the world, and ask the crowd for support.
Now, I want to be clear: crowdfunding takes work, organization, coordination, some technological savvy and, most of all, a good idea. I'm really drawn to the crowdfunding world because of the possibilities that it might help the church think differently about mission and funding, but it's no panacea. For that reason, I've written a guide booklet titled "Crowdfunding for Congregations and Faith-related Non-profits" that you can download as a resource. Crowdfunding may not be right for your congregation, but I do think it has potential for some. Who knows, maybe God is doing a new thing. Either way, I think the church has much to learn from the invitational language, compelling videos, and inspirational vision on display in many crowdfunding campaigns.
---

Adam Copeland is Director of Stewardship Leadership at Luther Seminary in St. Paul, Minnesota where he teaches as well as directs the Center for Stewardship Leaders. Having served as a rural pastor, church planter, and college professor, his scholarly interests consider stewardship and generosity, church leadership, rhetoric, and digital culture. His books include Kissing in the Chapel, Praying in the Frat House: Wrestling with Faith and College (Rowman & Littlefield, 2014), and the forthcoming Making Stewardship Whole (Westminster John Knox, 2017). He holds degrees from St. Olaf College, Columbia Theological Seminary, and is a pursing a PhD rhetoric, writing, and culture at North Dakota State University. Find him online at http://adamjcopeland.com or follow his tweets @ajc123.
SaveSave
https://media.myworshiptimes31.com/wp-content/uploads/sites/55/2017/07/29174328/featured-crowdfunding.jpg
200
398
Linda Kurtz
/wp-content/uploads/sites/55/2016/01/NEXT-Logo-FINAL-Horizontal_lato-1030x229.png
Linda Kurtz
2017-07-11 07:29:44
2017-07-26 08:46:42
Crowdfunding Your Congregation