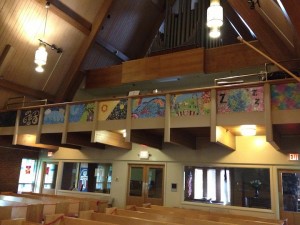 By Teri Peterson
"The first day of the new lectionary, on kick-off Sunday, we're supposed to read the creation story. All seven days." Cue internal pastoral eye-rolling. Haven't I preached all the available sermons on the seven days of creation? With a word…separates…makes order…science and religion… Enter Holy Spirit. "What if, instead of the same creation sermon we've all heard, we create something together? Like, if we enacted the creation by making a creation?" And so the idea was born: to create, as a congregation, a visual representation of the seven days of creation, and to display that artwork in our worship space for the whole program year. It took a bit of convincing to remind the worship committee that it didn't have to be permanent or perfect artwork—what mattered was that we made it together and that it conveyed an ongoing message of God's creative work in community.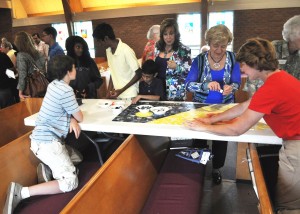 Building on a project I had previously been a part of, we decided to create a mosaic mural. Our sanctuary's balcony has 9 spots that were perfect for mosaic panels.
One person measured each space (because of course they aren't uniform, nor are they perfectly square). We asked a couple of people to help draw. We bought foam core and cut/taped it to the right size for each space (they're all 23" tall, and range from 40-7/8" to 42.75" long), and handed the panels out to artists. Each artist was assigned a day and asked to read the relevant verses and pray about the best way to visually represent that creation in a relatively simple design. The artists drew in pencil, then labeled each section with a color, so that ultimately it was like a "mosaic by number."
A trip to the craft store for 12×12 scrapbook paper in every color we needed (mostly patterns and varieties of the same shade, so the final product would look textured without any actual three dimensional work on our part), a couple of hours at the paper cutter turning 150 sheets of paper into thousands of 1-inch squares, and we were ready to go. Each panel went onto a table laid across the pews, surrounded by labeled bowls of paper squares. Then the hardest work began: two of us spent hours filling in what I call "the fussy parts"—any segment of the design that couldn't be easily done with 1" squares. We cut pointy pieces, wavy pieces, round pieces, and glued them into the design so that each panel had a start. This ultimately meant doing all of panel 1, because the design I had drawn was beautiful but entirely impractical. However, that did give a wonderful visual example for what we hoped they would all look like in the end.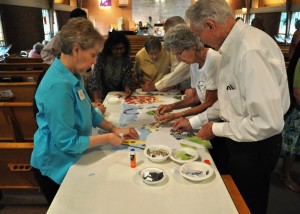 Sunday morning, ten minutes before worship, we sprayed each panel with a heavy dose of spray adhesive, which turned them into huge sticky notes by the middle of worship. During the children's time, we talked about how the very first thing we learn about God is that God is creator, and the end of the story says that human beings are created in the image of God—so to say "I'm not creative" is to say "I'm not made in the image of God!" Since we know that every person is made in God's image, that must mean that everyone has a bit of the creative spirit in them, and today we are letting that spirit flow. I gave the instructions to the kids: where it says yellow, stick on yellow squares. Where it says dark, stick on dark squares. etc.
They continued to work while the scripture was read, and then it was the time when normally I would preach for 12 minutes. Instead, I invited everyone in the sanctuary to join together as the body of Christ, also created in the image of a Creator God, in making a message together. I explained that when the panels were finished, they would make a mural we could see every week, reminding us to take God's creative work with us into the world (they are at the back of the sanctuary). I talked about the importance of opening our minds, hearts, and bodies to encountering God in new ways, and that creating together was one important way we could become aware of the Holy Spirit in our midst. And then we made mosaics together for about 15 minutes.
At the end of 15 minutes, I mentioned a couple of interesting things about the interplay of the text and the experience—that the Hebrew words "tohu-va-bohu" implied an uncontrollable chaos, not unlike 75 people milling around a sanctuary, but that out of that chaos came something that God called good over and over and over. I mentioned that the poetry of the creation story repeats "and God said…and it was so" and that this is something we can remember whenever we look at these mosaics: that with a word, God created, and that we enacted that word and created something too.
After worship, I stayed for a couple of hours and mod-podged all the panels. On Monday afternoon, I sprayed them with a sealant. On Tuesday afternoon I flipped them over and super-glued some ribbons on the back of each panel, and laid all 12 volumes of the New Interpreter's Bible on them to ensure they were as flat as possible. On Thursday afternoon I installed them, tying them to the grate in the balcony railing. And on Sunday morning, one week after they were created, the whole congregation was admiring and remembering and pledging to let the spirit of creativity flourish in our space and in our lives. The behind-the-scenes work was much more time consuming than I originally anticipated, but the experience of creating an ongoing message together is one I wouldn't trade for all those hours spent cutting and gluing. The Spirit was speaking not only to the church, but through the church. Out of chaos, it was good. The seven panels: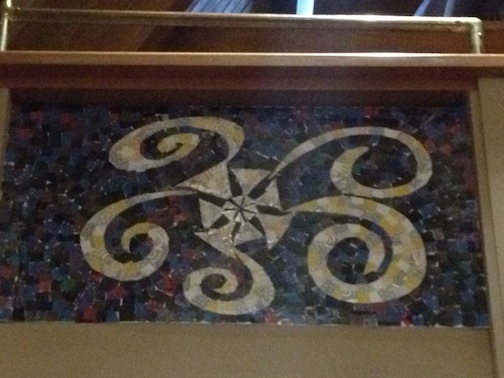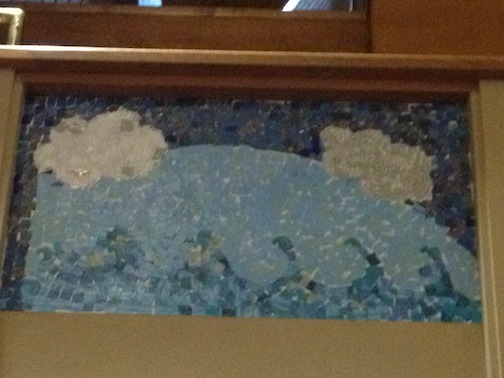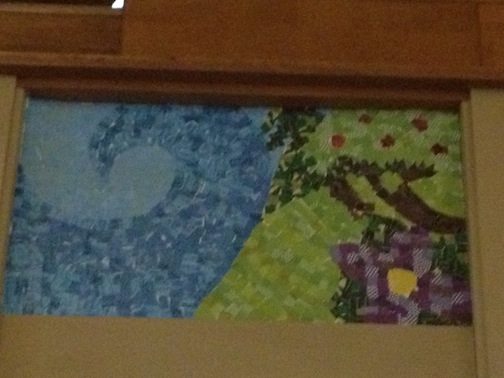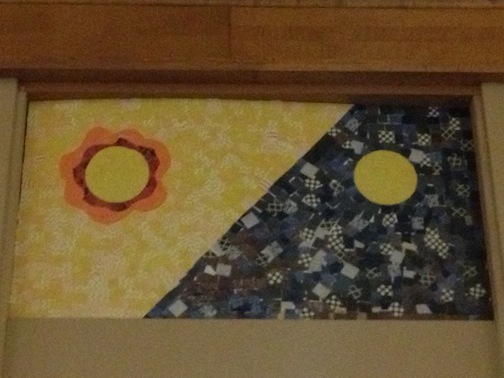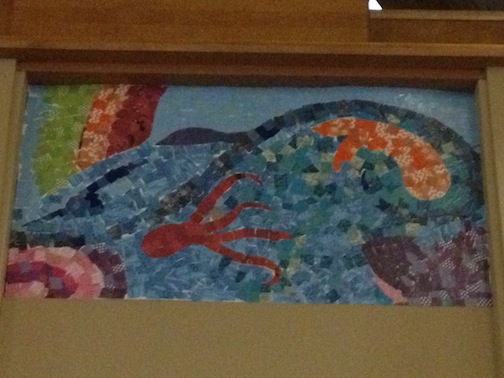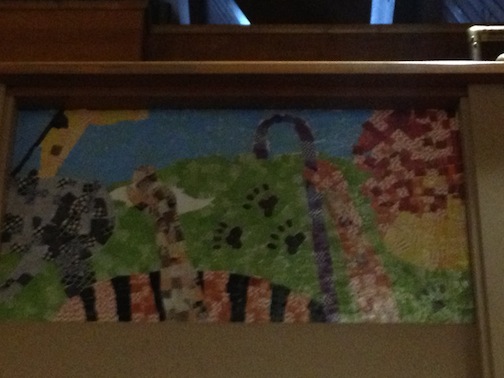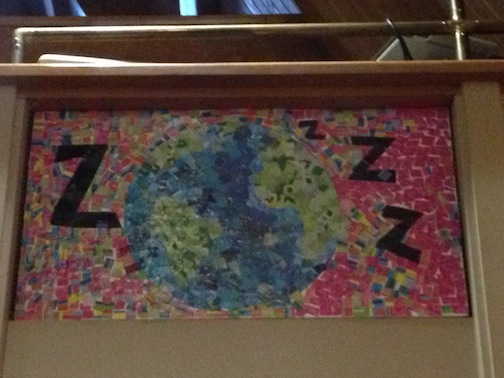 ---

Teri Peterson is a Presbyterian pastor in the suburbs of Chicago. She holds a degree in clarinet performance from DePaul University and an MDiv from Columbia Theological Seminary. She enjoys exploring new cities, being a bit of a music snob, writing, and coming up with creative ideas for worship. Teri co-authored Who's Got Time: Spirituality for a Busy Generation (Chalice 2013), co-founded and contributes to Liturgy Link, as well as her own blog, CleverTitleHere, and is a contributing author to the Abingdon Creative Preaching Annual 2014 and 2015. Teri is a great lover of farmer's markets, reading, Doctor Who, snuggling with kitties, and any TV show made by Joss Whedon.
https://media.myworshiptimes31.com/wp-content/uploads/sites/55/2013/09/29180557/IMG_0946-copy.jpg
378
504
Jessica Tate
/wp-content/uploads/sites/55/2016/01/NEXT-Logo-FINAL-Horizontal_lato-1030x229.png
Jessica Tate
2013-09-25 02:47:11
2016-04-30 17:19:59
Creation Mosaics: Genesis 1, Created by the Congregation