Each month, we post a series of blogs around a common topic. This month, Deborah Rexrode is curating a blog series called "A New Perspective on Stewardship." We'll hear from some stewardship experts across the country on a wide range of what stewardship means for them. What are ways stewardship can be a spiritual practice? How might we come to a new understanding of the role of stewardship in ministry? We invite you to join the conversation on Facebook and Twitter!
by Clayton Smith
How can we best identify several proven stewardship models for ministry that can inspire, innovate, ignite, and improve generosity in your church or faith-based ministry? Every year many pastors ponder this question. It prompted me to do some research and writing. Over my ministry of 40 years, I have used several stewardship and generosity development approaches. Many stewardship models today are outdated and lead to a decline in giving. They are not relevant or they may be poorly executed. But too many look for the latest popular stewardship campaign model or fad and just plug it in. Each model needs to be adapted to fit your congregation so spiritual growth and long term generosity will result.
The challenge is to encourage stewardship leaders who want to learn and grow in the joy of giving, and not to generate feelings of guilt or inadequacy. The opportunity is based on raising the levels of expectation for the pastor, staff, leaders, members, and visitors that fits your congregation. Donor development is a slow but fruitful process.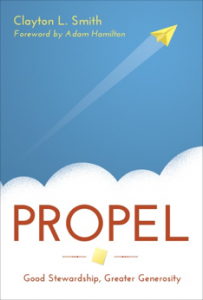 Most local churches function with the typical financial stewardship models that support the annual giving, strategic mission and emergency giving, planned giving, memorial giving, and capital/building giving. In my book, Propel: Good Stewardship, Greater Generosity, I describe six models and how they can help you better develop a culture of generosity. I describe strategic needs to improve your existing stewardship and generosity models as well.
Key Questions
How can leaders inspire vision to raise giving expectations?
How can leaders innovate new ministry models that fit your congregation's needs?
How can we ignite leadership change?
How can we improve stewardship and generosity giving levels?
It is both a privilege and challenge to serve in Christian leadership today. There are areas of ministry that bring joy and those we try to avoid because they are outside our comfort zone. Dean Don Wardlaw of McCormick School of Theology once asked me, "Clayton, what is your greatest challenge in ministry?" I responded that it was a struggle for me to talk about giving money! I know I am in good company: two-thirds of the pastors I have surveyed agree that it is a real challenge for them to talk about money. And yet, stewardship preaching and leadership is one of the top needs of leaders of the church today.
Setting annual goals for your stewardship and generosity ministry is very important to help create focus and energy. Strategic planning can best be developed for three years in mind. Whether it is a one-year plan or a three-year plan, goals need to be specific, measurable, assignable, realistic, and time-related. These goals will need the annual support of the finance team and church council.  Stewardship ministry must be a major priority!
These goals will be a result of a brainstorming session but will need to be refined with those who are going to be executing these goals before final decisions and approvals are made. Ownership is important for best results. Every year it is helpful to evaluate the previous year and then modify your strategic goals for the new year, if necessary.
It is recommended that you limit your strategic goals to three or four per year. Too few goals will not generate the leadership dynamic you need, and too many will be frustrating to all involved. These goals can also become part of the pastor's or staff professional annual goal setting process.
Specific goals can be identified from those areas of your ministry that need improvement. Measurable ways of quantifying the progress or results are essential for evaluation. Assignable simply means who will be responsible for the project. Realistic expectations are important and yet the expectations should encourage risk. Failure should not be punished.  Time-related results keep moving us forward toward completion or at least a sense of accomplishment.
Here are some sample goals from our church's Stewardship and Generosity Ministry:
To teach and interpret the biblical stewardship principles which enable every member to become disciples of Jesus Christ who are theologically informed, spiritually transformed, and daily living their faith.
To celebrate that "God gives to all mortals life and breath and all things," so that in him we live and move and have our being." God is the giver of all good gifts! (Acts 17:25, 28)
To teach Christian stewardship as the faithful practice of systematic giving of our tithes and offerings. Every member is invited to give a percentage of their income with the tithe (10%) as a goal. We seek to find creative ways to become a tithing congregation.
Want to create a culture of generosity in your local church? Begin with one goal at a time!
---

Clayton Smith has served as an Executive Pastor of Generosity at The United Methodist Church of the Resurrection since September 2005. This church has four campuses in the Kansas City area with a membership of 20,000. Clayton gives executive level leadership to ministry areas of stewardship, development, and generosity. He gives oversight and support to Resurrection's giving campaigns for the annual operating budget, capital building funds, special strategic and mission gifts, memorial giving, and planned gifts for their foundation. Clayton enjoys teaching and consulting with local churches and leaders on stewardship programs and financial campaigns. He speaks at conferences across our country to give leadership in stewardship and generosity ministry.  He leads and teaches faith- based programs that assist people in personal financial stewardship and generosity.
SaveSave
https://media.mywtenfold1.com/wp-content/uploads/sites/10/2016/04/29175313/featured-davie-st.jpg
200
398
Linda Kurtz
/wp-content/uploads/sites/10/2016/01/NEXT-Logo-FINAL-Horizontal_lato-1030x229.png
Linda Kurtz
2017-07-05 07:01:23
2017-07-26 08:46:56
Creating a Culture of Generosity