Each month, we post a series of blogs around a common topic. This month, Layton Williams is curating a series we're calling "Ministry Out of the Box," which features stories of ministers serving God in unexpected, diverse ways. What can ordained ministry look like outside of the parish? How might we understand God calling us outside of the traditional ministry 'box?' We invite you to join the conversation on Facebook and Twitter!
by MaryAnn McKibben Dana
This month I enter my third year as a pastor without a congregation.
For my first twelve years of ministry, I served two congregations, following one of the traditional paths of a seminary graduate: associate at a medium-sized church, then a solo pastorate. It was a joy, a challenge, a growth experience, and a chapter I wouldn't have traded for anything.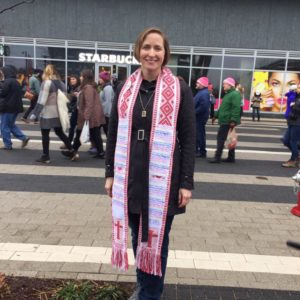 The "typical" next step is to become a head of staff somewhere, right? I certainly thought about it. But sometime during those twelve years, a new element got introduced into my ministry that led my path to diverge from what's typical. I will never know what the decisive element was. Maybe it was when I got asked to write a monthly Bible column, or keynote a conference. Maybe it was the book. Of course, lots of parish pastors write and lead conferences as an adjunct to serving a congregation. But somewhere along the way, those activities became not an add-on to my ministry, but the heart of my ministry. So two years ago this month, I left the solo position at the lovely small church, and struck out on my own as a writer, speaker, and conference leader. Now I write books and articles, I do a little freelance writing for non-profits, and I speak to some eighteen to twenty-four groups a year.
As I pause and take stock of that decision, I think about what has been gained and lost in terms of my pastoral identity.
What I've gained:
Freedom. I never fully glimpsed how much pastors sacrificed until I was no longer doing it. Evenings, weekends, even vacations can be compromised by the needs of the congregation. It's a call that most of us find to be worth the sacrifice, but it's a sacrifice nonetheless.
Our family hasn't settled on a church home yet—we're taking our time. In the midst of our exploring, I can now run an occasional race on Sunday morning without taking a vacation day, or attend the 24-hour Best Picture marathon with my mother, which we'll do in a few weeks. (Nine movies shown back to back. It's a bleary-eyed blast.) I also have freedom to attend and lead worship in a variety of settings. I recently preached and presided at table in a Lutheran congregation; breaking bread at another denomination's table will put you in touch very quickly with what you take for granted in the Eucharist!
Appreciation. With that freedom comes great appreciation for the work of local church pastors. As a writer, I hope my work reaches as wide an audience as possible. At the same time, over these last two years I have come to see my vocation more as that of supporting church leaders. When I preach or lead an event in a congregation, I'm not just sharing what I'm passionate about. I'm serving as a "relief preacher" for church professionals who may be feeling tired or stuck, or who may just need a fresh arm to take over for a while. I pray for my colleagues and check in with them more than I did when I was in the trenches myself.
A new "parish." Pastors like to joke about the fibs we tell when people ask us on airplanes, "So what do you do?" As an introvert, and one whose job it was to provide spiritual counsel for so many years, I often demurred on such questions, rationalizing, "I gave at the office." I no longer shy from claiming my identity, though our Presbyterian terminology trips me up. "Pastors" are tied to congregations, and I am not; "teaching elder" is meaningless to people outside the PC(USA) as well as many people inside it. I've gone with "minister" or "pastor" because it's understandable to most people.
I love my quirky unofficial parish. I've been called upon to pastor people in a whole range of settings: walking the kids home from school with a gaggle of parents, via Facebook message, and even while running—trying to explain the Reformation while running a hilly eleven-miler was a special challenge.  
A highlight in this new free-range ministry was leading a service of dedication of a memorial bench for a friend whose baby died after three days of life. I was called upon to acknowledge the mother's Christian identity while also being expansive in my language to welcome the wide variety of faith traditions of the people present. It's a muscle we all must exercise from time to time in the church, but one we'd do well to strengthen as our culture becomes more and more diverse.  
I rejoice at all of these gains!
What I've lost:
Income. Free-range ministry is a constant hustle, and I've taken a pay cut moving to a "fee for service" model (to say nothing of the lack of benefits and pension). I am constantly trying to balance asking for honoraria that I feel I am worth, while understanding that most congregations aren't exactly flush with cash.  
I also have to name that I can do the work I do because our household expenses are not wholly dependent on steady income from me. I have a spouse whose vocation is one that our culture happens to compensate well. Facebook memories just reminded me of this article, "Sponsored" by my husband: Why it's a problem that writers never talk about where their money comes from. I wrote at the time how I cringed when people said how "brave" I was to strike out on my own. I am in a privileged position, and I never want to sugar-coat that.  
As NEXT Church considers transformation in the church, including alternate forms of ministry, we must always keep this economic piece at the forefront. How can we support people doing good work for the church whose spouses don't work in computer security, for example? Or who don't have a spouse?
Focus. With the flexibility of my new vocation comes a major need for focus. This need plays out in many ways, from deciding which articles I write to what kind of speaking engagements to take. Writers don't make much money from books—the income mainly comes from speaking. Yet books are the engines that fuel the speaking opportunities. So it's a balance.
Further, as we settle into a new presidency, many of us have come face-to-face with the reality that democracy is an active enterprise. We must all do our part to make our values and aspirations known, so that our government may reflect those values and aspirations. I could spend all day, every day on activism if I let myself. I miss having a regular community to provide structure to my work in the world. A church is a ready-made place for such accountability and focus. In lieu of that, I've shepherded the formation of some groups that provide a place for support and common action for the greater good. It's interesting to do so as a pastor. Our gatherings aren't explicitly religious, nor do we want them to be. But there's a general sense of something deeper undergirding our work—even if I'm the only one perceiving things on that level.
Patience. At the same time, the moments when I do dip back into church work I find I have less tolerance for much of the nitty-gritty that consumes the time of a average pastor. Every institution has its necessary maintenance tasks—there's no denying that—but we spend an awful lot of time on items that the rest of the world couldn't care less about.  
After twelve years of ministry, I was thoroughly sold on why the church matters. I remain sold, but I understand much better why many people see little need for it. It's not just the endless committees or the busyness. It's not even the judgmentalism and hate that seem to dominate the headlines. It's also the fact that community, and the opportunity to give back in meaningful ways, can be found in so many different places now.
I don't know how long this chapter of my life will last. Like the aspiring improviser that I am, I'm taking things one step at a time, without needing to know what's coming down the road.
---

MaryAnn McKibben Dana is a teaching elder in the PC(USA) whose ministry consists of writing, speaking, and freelance writing/consulting with non-profit organizations on their social media needs. She is a member of the NEXT Church strategy team. Connect with her at her website, The Blue Room.
https://media.mywtenfold1.com/wp-content/uploads/sites/10/2017/02/29174707/featured-mamd-protest.jpg
200
398
Linda Kurtz
/wp-content/uploads/sites/10/2016/01/NEXT-Logo-FINAL-Horizontal_lato-1030x229.png
Linda Kurtz
2017-02-13 07:45:18
2017-02-12 18:15:21
Confessions of a Free-Range Pastor