by Angela Williams
When I was discerning a second year in the Young Adult Volunteer (YAV) program, I felt called to focus on activism, advocacy and community organizing. At the time, I did not know that working with NEXT Church would dip my toes into the world of community organizing. I did not know that splitting my time with NEXT and New York Avenue Presbyterian Church would place me in direct contact with pastors who have been organizing for more than 25 years. I did not know that I would become a part of a core team of leaders in the church organizing with Washington Interfaith Network (WIN), an affiliate of the Metro Industrial Areas Foundation. I did not know that this would be my perfect placement.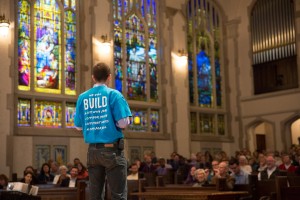 In the past seven months, I have learned practical and applicable skills to work in the world as it is in order to help transform it into the world as it should be. In the church, we use language like "redemption" and "reconciliation" to describe how God is working with us here and now to create the world as it should be. As resurrection people, we see many cases of injustice, indecency and death in the world around us, but we have faith in the good news of Jesus Christ that tells us God is not done working to reconcile, redeem and resurrect every part of Creation. Because of this truth, we must continue to have hope that God is working to make all things new, to make the world as it should be.
Together, as a community of beloved children of God, we are called to do our part in reconciliation and redemption efforts. Baltimoreans United in Leadership Development (BUILD), a sister organization to WIN, shared some of their organizing story at the 2016 National Gathering, which continues to inspire me. Their leadership illustrated what is possible when faith leaders, community members, governments and businesses, representing all colors and creeds, come together to improve the community. However, Alison Harrington reminded me, the nitty gritty work is not sexy, nor does it make headlines. Often, it is difficult, mundane and frustrating. Still, I remain committed to the idea that organizing is a necessary and essential part of creating the world as it should be. If you missed Alison and BUILD at the National Gathering, I encourage you to check out the videos of their time at the National Gathering, as well as all of our other challenging, yet inspiring speakers.
I invite you to join me on this weekly blog journey of the day-to-day work to organize and create positive social change in my community. Perhaps you may find possibilities to act in your own context.
---
Angela Williams is currently walking alongside the good folks at NEXT Church and New York Avenue Presbyterian Church as a Young Adult Volunteer in Washington, D.C., after serving a first YAV year in the Philippines. She finds life in experiencing music, community organizing, cooking any recipe she can find, making friends on the street, and theological discussions that go off the beaten path.
https://media.mywtenfold1.com/wp-content/uploads/sites/10/2016/04/29175337/featured-andrew-build-back.jpg
200
398
Linda Kurtz
/wp-content/uploads/sites/10/2016/01/NEXT-Logo-FINAL-Horizontal_lato-1030x229.png
Linda Kurtz
2016-04-15 08:18:19
2016-06-13 19:09:21
Community Work, Transforming the World