Each month, we post a series of blogs around a common topic. This month, Andrew Kukla is curating a series on officer training. We'll hear from various perspectives about how churches might best equip those they call to the ministry of ruling elder for that service. How might we feed, encourage, and enable the imagination of our church officers? How can we balance the role of officers as discerners of the Spirit alongside church polity? How might we all learn how to fail — and learn from it? We invite you to join the conversation on Facebook and Twitter!
by Robert Williamson Jr.
When it comes to officer training, I imagine reading the Bible is pretty far down the list of tasks most of us consider urgent. There are issues that seem more pressing, like understanding our polity, or evangelism and church growth, or balancing the budget. Besides, we often think of pastors as the only "legitimate" interpreters of the Bible, leaving church officers and members to tend to other, more practical matters.
Yet the stories of the Bible are foundational to everything else we do. The Bible teaches us the language of the faith. It shows us how to be the people of God, living in the world and yet refusing to be conformed to it. It exposes false narratives that would keep us enthralled to Pharaoh. It declares the good news of resurrection life made possible in Jesus Christ, who came to let the oppressed go free and to declare the year of the Lord's favor. In short, the Bible reminds us who — and whose — we are.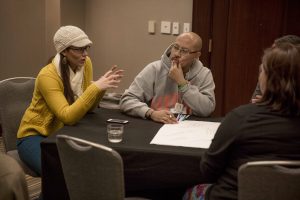 As such, immersion in the Bible is imperative for the life of faith. Without it, we cannot know what it means to be the church. We cannot understand the greater purpose that animates our polity, our budgets, our worship life, and our participation in God's mission. We — all of us — need to become interpreters of the Bible.
All of Us Together
Our church structures can communicate that interpreting scripture is a task reserved for pastors and scholars. Too often, we hear the Bible read and proclaimed from the pulpit for 20 minutes on Sunday and scarcely think about it the rest of the week. But, properly understood, biblical interpretation is the work of the whole community, permeating our life together. We all have something to contribute and something to learn. While pastors and scholars have specialized knowledge that can illuminate the Bible in certain ways, each of us has our own experiences, insights, and questions that can enrich our common reading of the Bible in other ways. We read better when we read together.
In my work with Mercy Community Church of Little Rock, a 1001 New Worshipping Community whose members are mostly homeless, we engage together in Bible studies that invite that insights and experience of every reader in the room. We spend about 45 minutes to an hour reading the week's lectionary passage. We read slowly, paying attention to the details of the text, asking whatever questions occur to us, and finding the places where the text connects to our own experience. We open it up and walk around inside it just to see what we might see.
For instance, one afternoon we studied the story of Jesus healing the Gerasene demoniac as told in Mark 5:1-20. As a biblical scholar, I wanted to focus on the political implications of the demons calling themselves "Legion," a term for a Roman military cohort. My Mercy friends, by contrast, related personally to the demon-possessed man. They understood what it was like to be inhabited by demons, though theirs had names like "Addiction," "Depression," and "Post-Traumatic Stress Disorder." They understood what it felt like to be cast out of society and left to wander among the tombs.
Reading the story together helped us all to understand it—and each other—more deeply. I came to know more about what it's like to struggle with demons. I even came to identify some of the demons that animate me in destructive ways — demons with names like Comfort, Success, and Prestige. In turn, my Mercy friends thought more about how their demons may themselves be manifestations of the political and economic structures of our time.
More than that, reading the Bible together helped us imagine what it means to be the church together. Like the Gerasenes, we have too often been taught to marginalize, shackle, and abandon those who struggle with their demons. Yet Jesus immediately set the man free, despite the protests of those in the community who were more concerned for their financial well-being than for the man's restoration to wholeness. Like Jesus, we decided, the church should show compassion for the marginalized, even if it means being banished by those invested in the status quo.
But my Mercy friends saw something else in the passage that I had missed. They recognized that Jesus refused the newly-healed man's request to follow him, instead sending him off to proclaim the good news among his own people. They suggested that those who have "been down through it" and have come out the other side have a special mission. As the healed man could proclaim the Gospel in a region where Jesus could not go, so too could my homeless friends witness to the good news in places and among people who would not listen to someone like me.
Becoming Communities of Interpretation
I tell this story simply to say this: reading the Bible with each other can change us for the better. It can help us see the world differently. It can help us to understand ourselves differently. It can shape us more fully into the people of God, bearing witness to resurrection life in a world too often shrouded by the shadow of death.
As church leaders — whether pastors, scholars, ruling elders, or deacons — we owe it to ourselves and to our communities to be immersed in the world of scripture on a regular basis. We need to find ways of reading the Bible together, letting the words of Scripture shape our sense of ourselves and our conception of what it means to be the church. As communities of faith, we need to live in the stories of the Bible, and we need the stories of the Bible to live in us.
---

Robert Williamson Jr. is associate professor of religious studies at Hendrix College and founding pastor of Mercy Community Church of Little Rock, a multi-denominational worshiping community welcoming all people, especially those who live on the streets. His latest book is The Forgotten Books of the Bible: Recovering the Five Scrolls for Today (Fortress Press, 2018).
https://media.mywtenfold1.com/wp-content/uploads/sites/10/2017/04/29174441/featured-tasha-group-table.jpg
200
398
Linda Kurtz
/wp-content/uploads/sites/10/2016/01/NEXT-Logo-FINAL-Horizontal_lato-1030x229.png
Linda Kurtz
2018-08-08 08:22:04
2018-08-08 10:30:44
Communities of Interpretation