by Jessica Tate
NEXT Church is committed to diversity within our network and church — diversity of theology, race, age, geography, gender identification, stage, role, ability, church size, wealth, political views — all of it. We are committed to creating community amidst that diversity, even when that proves difficult.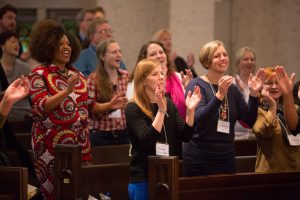 We are committed to creating such community in diversity because our theology instructs us to do so. The apostle Paul teaches us that the Body of Christ is, by nature, diverse. Jesus's way in the world seems to suggest diversity too. Clarence Jordan notes Jesus' choice of inviting both Simon the Zealot and Matthew the Publican to be his disciples was, by all common measures, a terrible idea. How in the world can those two be in the same room? And yet, when the two of them walk down the street, both followers of Jesus, people could see that something different was afoot among the followers of Jesus.
The Belhar Confession clearly calls us toward diversity in community stating,
We believe that unity is, therefore, both a gift and an obligation for the church of Jesus Christ; that through the working of God's Spirit it is a binding force, yet simultaneously a reality which must be earnestly pursued and sought: one which the people of God must continually be built up to attain. (10.3)
But this is not just a nice idea from a relatively new confession. The Apostles' Creed calls us to belief in the holy catholic church and the communion of saints. The Westminster Confession states, "All saints being united to Jesus Christ their head….and being united to one another in love, they have communion in each other's gifts and graces, and are obliged to the performance of such duties, public and private, as to conduce to their mutual good, both in the inward and outward man." (6.146)
We are committed to a community of diversity for practical reasons, too. There is strength and energy in a broad coalition of people and congregations, and with that comes possibility for change. Wisdom comes when different points of view challenge one another, strengthen weaknesses, help us take the logs out of our own eyes, and smooth out rough edges. Diversity requires us to practice the fruit of the spirit, to have integrity with our stated beliefs.
A community of diversity sounds beautiful in theory. In practice, it is hard. The NEXT Church leadership teams have had many challenging conversations about who makes decisions for our organization, who we want to give platform to speak at our conferences and on our blog — and what those decisions communicate about our commitment to diversity. We've certainly made our share of mistakes and we are coming to understand just how difficult it is when people (rightly) perceive things differently. We've had to confront one another (in love) about those mistakes and help raise consciousness about perceptions and realities behind those perceptions. Inevitably, it's more complicated than I could have imagined at the outset. It can make you want to throw up your hands in defeat and drill down into like-mindedness for the sake of prevention of harm or for a sense of righteousness. But we don't.
We don't, because we believe that diversity in community is a challenge that is borne of the gospel.
Though almost all of our congregations could be more diverse, we experience some type of diversity in most of our churches. Here's what I mean. Congregations are one of the only intergenerational communities in public life today. They are a place where people of different professions and backgrounds come together. Congregations are places where people of different political views gather together by choice. Occasionally, congregations are places where people of different races or different economic status or different cultures intermingle. Holding that diversity together is challenging.
We see the challenge of holding community together in diversity writ large in the United States right now. There is heightened anxiety everywhere — fear, anger, assuming the worst about one another. And, too often, those characteristics are taken to the extreme in forms of hatred and violence that cause real harm when unchecked. As individuals and collectively, we must condemn hatred and violence, and I pray our faith compels to us be equally critical of the more mundane fear, anger, and assumption of the worst in others that creeps into our lives on a daily basis — and to be particularly quick to confess those tendencies in ourselves.
Our anxiety and reactivity is fracturing us. I spoke to a young woman recently who hasn't been able to talk to her parents since the 2016 election. Spend any time on Twitter or reading comments on articles and you see just how quickly people are resorting to name-calling, overgeneralizing, and acting defensively. We are seeing heightened reactivity in our congregations as well. Sermons are (or are perceived to be) unfairly political. Emails are sent in ALL CAPS. There is increased pressure for leaders to make public statements for or against and backlash when we don't and often if we do. Different generations write each other off as out of touch and lacking in commitment. We are mimicking the culture in our polarization from one another.
And yet, we are called to find ways of living amidst diversity. At a NEXT Church regional gathering a few years ago, Diana Butler Bass suggested that the quandary at the heart of much of the current debate in religious denominations today is the question of community. How big is the table we, as Presbyterians, can set? Who gets to set it? And, what will the conversation around the table be? At the core, do we belong to one another or are we just a collection of individuals?
The NEXT Church blog this month will reflect experiences of living in diverse community. These stories told will reflect the difficulties and the beauty, the investment and the resilience. Over the course of the month, we'll notice practices that enable diverse communities to thrive and we'll reflect on the promise of Christ in whom there is no Jew nor Greek, no male nor female, no slave nor free and what that promise means for our lives today. And we will pray for that day to come on earth as it is in heaven.
---

Jessica Tate is the director of NEXT Church. She lives in Washington, DC.
https://media.mywtenfold1.com/wp-content/uploads/sites/10/2017/09/29174217/featured-diverse-community.jpg
200
398
Linda Kurtz
/wp-content/uploads/sites/10/2016/01/NEXT-Logo-FINAL-Horizontal_lato-1030x229.png
Linda Kurtz
2017-09-05 11:12:40
2017-09-05 17:44:20
A Commitment Borne of the Gospel