Each month, we post a series of blogs around a common topic. This month, Andrew Kukla is curating reflections on being evangelical in the church. Have we connected our congregations to resurrection life? Have we taught them how to talk about it?  How to live it? How to connect others to that life-giving, life-abundant power? We invite you to join the conversation on Facebook and Twitter!
by Irene Pak Lee
I need to start this by naming up front that I am uncomfortable with being tagged as evangelical. I get it. I know it's broader than the stereotypes and that it really means that we are to share the good news of Jesus, life, grace, hope, justice and peace. But it still comes loaded and I do not know that I would comfortably name myself as an evangelical, even as a teaching elder who dares to share this good news on a regular basis.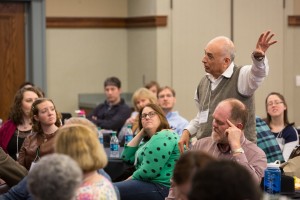 That said, one of my favorite random lines in scripture is when Jesus is out "recruiting" disciples. All those whom he calls drop everything and follow him because maybe they sense a special charisma or maybe Jesus has a halo around him that indicates you must follow this man. Whatever it was, they go. In the gospel of John, Jesus' invitation is as simple as, "Come and see."
That's not my favorite line. My favorite line comes a few verses later when Philip, who has already started following Jesus, goes to his friend Nathanael to evangelize to him about Jesus. Philip starts telling him all about Jesus and Nathanael's honest response is, "Can anything good come out of Nazareth?"
Yep. That's it. That's one of my favorite lines in scripture. It's one of my favorites because it's so honest. It names his biases about a place honestly, indicates his skepticism about a person associated with it, and also demonstrates a friendship that is close enough where he can ask questions without fear.
Having the ability to ask questions, name your biases, and have a safe space and people to ask those questions is what I think it takes and what is at the heart of evangelism in these days. At least it does for me in my Silicon Valley, west coast, full of skeptics of the church setting.
Because the truth is, I think many people are asking, "Can anything good come out of being a Christian?" It's a question I ponder especially when I see how Christianity is portrayed. Same with the word evangelical. And it seeps deeply into the best of us, making us resistant to share the good news in fear that it will align us with those who are outwardly demonstrating a hateful or oppressive kind of faith.
I always pray that the people who walk through the doors of the church I serve will find a space where they can ask questions, name their biases, and find people to engage in the tough and real questions that they have.
After Nathanael asks Philip, "Can anything good come out of Nazareth?", Philip responds simply, "Come and see." And perhaps that's what we really need to be saying as the invitation. Come and see for yourself. Come check it out. It does not provide answers or spouts rules or theology. It's an invitation and leaves the doing on the part of the invited.
I love this form of evangelism because it invites someone to come and see for themselves without trying to explain away terminologies or giving reasons that people do not always understand or that come loaded with baggage about church. Instead, an invitation to "come and see" hands the ball to the receiver and invites them to take a shot.
Our "doing part" or task, then, continues to be creating and providing a space and place where those who are invited to come and see, actually come and see a place where God's love and grace and justice are lived out. How are our environments and our places and our outreach into the community ready for those who have been invited to come and see? That's where the hard work lies. Will those who are invited to "come and see" come and see a place where God's love and life are lived? Will they find a space to ask questions, have doubts, and be welcomed just as they are? Are there people who are willing to befriend the doubters and the believers?
We are not perfect and we have areas where we can grow in this, but we are trying. And we name these beliefs and hopes to each new member class and in our preaching and worship.
But you know, I think that's exactly what draws people in. It's not the certainty, but it's the questions. Because the good news we share is about a God who loves us so much, sent Jesus to connect with us on a human level, that dares to go to the cross where all the muck and pain of our world reality lies, and then gives us life again and again. And if you don't believe me, well, come and see for yourself.
Come and see what God has done: God is awesome in God's deeds among mortals. Psalm 66:5
---

Irene Pak Lee serves as the associate pastor at Stone Church of Willow Glen in San Jose, California. She blogs at irenepak.wordpress.com and can be found on Twitter @Ireney07.
https://media.myworshiptimes31.com/wp-content/uploads/sites/55/2016/04/29175350/featured-come-and-see.jpg
200
398
Linda Kurtz
/wp-content/uploads/sites/55/2016/01/NEXT-Logo-FINAL-Horizontal_lato-1030x229.png
Linda Kurtz
2016-04-11 14:20:14
2016-06-13 19:09:21
Come and See