Each month, we post a series of blogs around a common topic. This month, Kate Morrison is curating a series featuring reflections on Advent and Christmas from our 2018 National Gathering workshop and post-Gathering seminar leaders. Over the course of the month, we'll hear what this season means to them through stories, memories, and favorite traditions – and how they see the themes of Advent connecting with the work of NEXT Church. We invite you to share your own memories and stories on Facebook and Twitter!
Editor's note: Paul is co-leading a post-Gathering seminar (a 24-hour opportunity to dig deeper into a topic, new this year!) called "Manna for the People: Cultivating Creative Resources for Worship in the Wilderness." It will take place from Wednesday afternoon through Thursday morning following the 2018 National Gathering. Learn more and register! 
by Paul Vasile
It's a gift to catch glimpses of God-with-us in workshops and planning gatherings I facilitate for pastors, musicians, and worship leaders. As we read, sing, and improvise with scripture and liturgy, the Word takes on flesh in unexpected and beautiful ways, often with refreshing directness and authenticity as individuals bring their voice and story into dialogue with sacred text.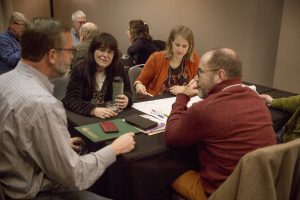 This fall, leaders of a newly bi-lingual congregation gathered for a day of worship, reflection, and worship planning. We used the morning to strengthen community through practices of listening and discernment then divided into small groups, each assigned an Advent lectionary Psalm and a part of the liturgy to create (call to worship, community liturgy, prayer petitions, etc). There were a few anxious asides as we began but energy and ideas quickly flowed in Spanish and English. Twenty minutes later, we reconvened to share the thoughtful, hand-crafted pieces of liturgy they created together. A feeling of mutual support and care was tangible, as was the joy of making something specifically for their community.
Wholeness and beauty are found in creative spaces like these, where individuals and groups create space for new ideas and visions to bubble up and out of our imaginations. There is also something profoundly risky and anxious about it. Creating is vulnerable work and can be chaotic and unresolved. Sometimes we take what we've created, set it aside, and need start over. It's humbling.
But there are profound gifts to be found in creating collaboratively, especially for leaders of faith communities. How might our ministry shift as we practice being in the present moment, as we deepen our listening skills and trust our God-given instincts, and as we shift from an often-obsessive focus on product and outcome to appreciation for (and even delight in) the process? How might we learn to dialogue with voices of judgement or critique that often lead us to shut doors that need to be left open or even walked through?
This is what we'll explore at our National Gathering post-Gathering seminar "Manna for the People." We'll burrow into Eastertide scripture passages through improvisation, singing, and play, with lots of space for individual and group reflection. We'll create a gracious, generous space where our creative instincts are welcomed and affirmed, where we stretch and grow into new ways of leading and living. And we'll find joy and pleasure in making something together, as we offer our voices and ideas to shape worship for our faith communities.
Like Mary, who welcomed unknown possibilities with a bold "Yes," we'll use the phrase "Yes, and…" in our improvisation work and see what unfolds. Like the shepherds watching their flocks, we'll hear the proclamation "Do not fear!" and reflect deeply on ways the love of God liberates us from judgement and anxiety that prevent us from taking creative risks. Like the Wise Ones, we'll listen to our intuition, trusting the wisdom of God and the community to take us where we need to go.
As the mystic Meister Eckhardt wrote, "We are all meant to be mothers of God, for God is ever waiting to be born." We hope you'll join us at the NEXT Church National Gathering in February as we make space for the Holy One to be known in our work and play. Join us for an extra day of exploration, growth, and collaboration, and discover new skills and practices to enrich your ministry. It will be a renewing, life-giving experience!
---

Paul Vasile is a freelance church musician, consultant, and composer based in New York City. A multitalented musician and dynamic worship leader, he is committed to building, renewing, and re-shaping faith communities through music and liturgy. Paul brings over twenty years of ministry experience to his work as a consultant, workshop facilitator, and teacher. He is excited to help congregations broaden their repertoire of sung prayer and praise, and to demonstrate how participatory music and liturgy can energize and unify worshippers from varied backgrounds, cultures, and traditions.
https://media.mywtenfold1.com/wp-content/uploads/sites/10/2017/08/29174245/featured-metrics-numbers.jpg
200
398
Linda Kurtz
/wp-content/uploads/sites/10/2016/01/NEXT-Logo-FINAL-Horizontal_lato-1030x229.png
Linda Kurtz
2017-12-28 07:52:44
2017-12-24 15:02:58
Collaborative Creation