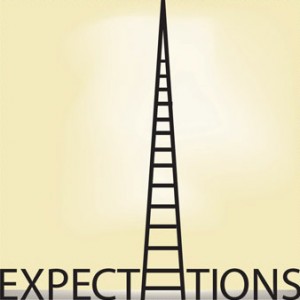 By Bob Harris
I think it's very important to regularly develop mutual expectations for a pastor's top priorities. To do that you need to try to figure out what congregational members expect, but most importantly, clarify what board members expect of you and each other. How varied are the expectations? And how realistic? Are there common wishes, hopes, and needs?
Many pastors get into difficulty because they don't take time to have a good conversation with leaders about mutual expectations and top priorities. Pastors blissfully follow their particular interests, ignoring what key leaders think is really important. If you don't take time to clarify expectations, then you are bound to disappoint a number of key members. They will then lose trust in their pastor. Conversely, when the board and pastor are clear on priorities and communicate the priorities to the congregation and the pastor spends time and energy in accordance with these priorities, then trust will build. You will be seen as a leader who both has strong character and is competent.
So, how do you clarify expectations? Here is an approach to clarifying priorities I have used for clients and for myself. It is best done in a half-day retreat or meeting involving both board members and other key leaders. You might invite a coach or consultant or judicatory staff member to lead the retreat. (this is adapted from my nearly completed book aimed at pastors new to a parish so it is written directly to pastors)
1. Open with prayer and a trust building exercise. (15 minutes)
2. Ask participants to individually list what they expect you to do and to note roughly how many hours/week they expect you to spend on that task. You might give them your job description or what was developed in the pastor search process or a denominational list of pastoral responsibilities. (5 minutes)
3. Quickly compile the results and estimate the total number of hours per week their expectations would require you to work. When I've done this, the total hours often top 100! (5 minutes)
4. Discuss what you see in their list, and then invite them to describe what they see. Note similarities and variations in their expectations. (10 minutes)
5. List 10 to 15 responsibilities, each on a separate sheet of 11″x17″ paper, and tape these on a wall. I suggest that you prepare around 8 to 12 sheets in advance identifying typical expectations (for example, sermon and worship preparation, leadership, teaching an adult Bible class, evangelism). Also add expectations that were on the congregational profile that was prepared for the pastor search process and any you heard several identify as you interviewed leaders using the Eleven Curious Questions. Invite the leaders to add other expectations to the sheets on the wall. Post them too. Invite participants to reflect on the array of expectations before them. Invite questions for clarification about the meaning of specific expectations. I encourage you to limit the sheets on the wall to no more than 15. Be sure to summarize and combine expectations that are similar. It's better to post one sheet saying "sermon and worship preparation" than two sheets with "sermon preparation" on one and "worship planning and preparation" on the other.(20 minutes)
6. Instruct the participants to each indicate what they think the top six priorities should be for you in your first year by writing their name on six of these sheets. I suggest that you tell them that after they make their selections, they may take a ten-minute break.
7. In the total group, review the voting and identify the top four to six priorities, and have a conversation about why these are most important. If the congregation did a mission/vision study during its search process or has done one recently, reflect on how study findings correlate with the priorities the board just identified. Discuss what these top priorities likely mean you will and won't do in the next year (recognizing that surprises always happen). Invite conversation about how board members will respond when members complain about something they think you should be doing.
For example, Mr. Jones may have expected you to visit his home-bound wife monthly, but the board and you agree that quarterly visits are sufficient, since other members are visiting her. Instead of visiting home-bound persons so frequently, you and the board have agreed that, in an effort to welcome newcomers, you will visit every newcomer to worship. Or perhaps you and the board determine that you should spend eight hours a week with musicians and a contemporary worship planning team to begin a new service or strengthen an existing one. Most important, you and board members agree that if members complain that you haven't met their expectations and in fact you have been meeting these mutually agreed expectations, the board supports your focus and use of time. (30 minutes)
8. Discuss how your focusing on these priorities directly affects how you will work with leaders and various committees. For example, previous pastors may have been expected to attend every committee meeting. These priorities might mean that you won't normally attend the property committee meeting but that the chair of the committee will talk with you about plans and any issues they are dealing with. Perhaps you and they will explore having an all committee evening at which you will attend portions of the meetings as necessary. If there has been staff dissension and the board wants you to spend significant time strengthening staff relationships, then you might not have time to teach an adult class, and so the education committee will have to arrange for someone else to teach that class. Take time to be clear about what you expect of each other. (20 minutes)
9. Clarify how achieving these top priorities will be measured. For example, if you are fairly new to the congregation, board members and you might agree that the most important thing is for you to talk with most of the church members as soon as possible. Together you might set a goal that by the end of your first year, you will have had conversations with 75 percent of the active members. (20 minutes)
10. Request that the board pass a motion naming these priorities and that the appropriate lay leaders communicate these priorities to the congregation through varied media (e.g., newsletter, email, oral announcement). Also request that the Personnel Committee adapt its appraisal instrument to reflect these priorities. If you take time to develop mutual expectations with the board and communicate these priorities clearly, then members know what to expect, thus building trust as you meet the expectations.
---
Robert A. (Bob) Harris is a semi-retired pastor now serving as a leadership coach and consultant. Over his career he was called pastor in five congregations; he also served four churches as Interim Pastor. A Professional Certified Coach member of the International Coach Federation, he is especially interested in helping pastors who are new to their church get off to a good start. An outcome of that passion is a book due to be published by Alban Institute: Entering Wonderland: Tips and Tools for Pastors New to a Congregation. This article is adapted from his current draft.
https://media.myworshiptimes31.com/wp-content/uploads/sites/55/2013/09/29180555/expectations-1.jpg
338
338
Jessica Tate
/wp-content/uploads/sites/55/2016/01/NEXT-Logo-FINAL-Horizontal_lato-1030x229.png
Jessica Tate
2013-09-25 03:02:47
2016-05-10 20:58:01
Clarifying Mutual Expectations–A Workshop