Each month, we post a series of blogs around a common topic. This month, Lee Hinson-Hasty is curating a series identifying books that Presbyterian leaders are reading now that inform their ministry and work. Why are these texts relevant today? How might they bring us into God's future? We invite you to join the conversation on Facebook and Twitter!
by MaryAnn McKibben Dana
I have a lot of friends these days who are reading books about the rise of fascism in Germany. I will leave it to the reader to consider the reason for consuming such reading material, and any resonances between that time period and our modern day. (For now, I am content with occasional binges of The Man in the High Castle on Netflix, which imagines a world in which the Allies lost World War II, and a small band of dissidents imagines a better, more peaceful and compassionate world. They call themselves the Resistance.)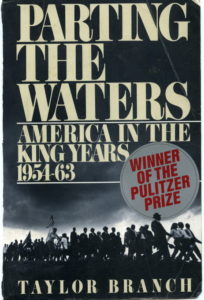 Rather than fill my Kindle and nightstand with the history of Nazism, I've decided to focus my heavy reading on the civil rights era in America. At the beginning of the year I resolved to read Taylor Branch's three-volume series, beginning with the 1,000-page Parting the Waters: America in the King Years 1954-1963.
Some time after undertaking this project, a friend informed me that there's a summary book that condenses this history into one volume. But I've committed at this point. As for how long it will take me to read almost three thousand pages? I can only promise that it will be less time than the 14 years that comprise the movement Branch chronicles.
At last year's NEXT Church National Gathering in Atlanta, I heard loud and clear our call as an 89% white denomination to undertake conversations about race and racism, however uncomfortable these conversations may be, and however much some may push back at us for "dwelling on the past rather than moving on." As I read Branch's careful accounting of the ills of white supremacy, I consider today's travel bans and border walls, and Iowa Congressman Steve King's odious comment that "We can't restore our civilization with somebody else's babies." Meanwhile many of us carry signs and risk arrest, and we rejoice when the judicial branch puts a check on bigotry through legislative executive order. And I marvel at the truth of the words, attributed to William Faulkner, that the past isn't dead — indeed it isn't even past.
Like many of us, I knew much of this history only in the most cursory way. We studied civil rights in school, and I remember my AP Government teacher arranged for after-school showings of the magnificent documentary Eyes on the Prize. (He felt it so important for a bunch of white suburban smartypants to see it that he offered two additional points on our entire semester grade if we watched the whole thing. In retrospect, it was so wrenching and transforming I would have done it for free.)
I did not know, or perhaps didn't remember, that Martin Luther King Jr.'s first major troubles with the law came when the state of Alabama tried to get him on charges of felony tax evasion related to his work with the Southern Christian Leadership Conference. What ultimately saved him was his incredibly meticulous record-keeping; attorneys and accountants working on his behalf were stunned at the painstaking way he kept track of his expenses. I think about my haphazard financial records and how they would not hold up to such scrutiny. And I recall how African-American friends talk about learning from a young age that they must always, always "be better."
I also offer my own confession, prompted by a section about the 1957 Civil Rights Act, signed into law by President Eisenhower. The bill was watered down as to be almost useless (though that didn't stop Strom Thurmond from filibustering it for some 24 hours). Many civil rights leaders refused to support it because it was so weak. Yet King and other civil rights leaders ultimately signed on. As Roy Wilkins put it, "If you are digging a ditch with a teaspoon and a man comes along and offers you a spade," he said, "there is something wrong with your head if you don't take it because he didn't offer you a bulldozer."
As I read this section, I remembered King's injunction that justice delayed is justice denied — and yet here he was, putting his stamp of approval on an almost useless bill. Here is the confession: I felt welling up in me a sense of self-righteous "gotcha-ism": See! Even a civil rights icon acknowledges that progress is slow, and sometimes you take what you can get rather than hold out for real justice. Take that, Letter from a Birmingham Jail!
Except there's a big difference at work here: I am white, and King was black. Yes, in the struggle for civil rights, sometimes the progress is slow. But there's no way for me as a white person to push for baby steps and partial measures without getting tangled up in my own motivations: Am I really on the side of the angels, or am I trying to preserve my own sense of comfort? As an ally, it is my call to listen to the voices of people of color and follow their lead in terms of strategy. When they say it's time to turn up the heat, we do. When incremental change is called for, they alone drive that, not my desire to placate white America.
When my kids come home from school every January with photocopied handouts about Martin Luther King Jr., I like to ask them if they knew what his profession was. The older ones are used to it by now, and sigh as they say, "He was a preacher, Mom, like you." In my defense, I want them to know that the struggle for civil rights — whether it's justice for the descendants of enslaved Africans, or the right of transgender people to use the bathroom with which they identity — is work we do in light of our Christian faith, not independent of it. But it's also a sinful pride, I admit: a desire to hitch my wagon to one of the great heroes of the 20th century simply because we share a common vocation.
Reading Branch's book, I catch a glimpse of King's frail humanity as well as his gifts for ministry (prodigious beyond my own though they were). He soared and he struggled. He felt a strong sense of God's call, and he wasn't always sure which strategy was best. In that way, he resembled all of us who have had heavy hands laid on our head and shoulders, who try to do God's will yet often muddle our way through.
The struggles of 2017 are different, yet frustratingly similar. King was a pastor, like me. But that also means I am a pastor, like King. And it's time for me — for all of us who lead Christ's church — to make that real.
---

MaryAnn McKibben Dana is a frequent retreat and workshop leader and has written for a variety of books and publications, including her website, The Blue Room. She served as a congregational pastor for 12 years. She and her husband Robert Dana have three children. MaryAnn is the recipient of the 2016 David Steele Distinguished Writer Award from the Presbyterian Writers Guild.
https://media.myworshiptimes31.com/wp-content/uploads/sites/55/2017/03/29174526/featured-parting-waters.jpg
200
398
Linda Kurtz
/wp-content/uploads/sites/55/2016/01/NEXT-Logo-FINAL-Horizontal_lato-1030x229.png
Linda Kurtz
2017-03-23 08:49:22
2017-03-29 10:31:08
The Civil Rights Movement: Important History, but Not in the Past