by Jessica Tate
We speak of "calling" a lot in the life of the church. We believe that God calls us into particular vocations. The root of the word vocation comes from the Latin vocare, to call. Synonyms for vocation include calling, life's work, mission, purpose, function.
Most often, we think of being called into ordained ministry, but that is much too narrow for the God who created the universe. We can be called into any kind of work, based on the gifts we've been given and the affirmation of the community: We are called to be parents, lawyers, teachers, public servants, accountants, janitors, pastors, doctors, construction workers, scientists, farmers…. there are so many ways God uses us to share good news in the world.
Martin Luther, father of the Protestant Reformation, said, "If you are a craftsman you will find a Bible placed in your workshop; it teaches and preaches how you ought to treat your neighbor. Only look at your tools, your needle, your thimble, your beer barrel, your articles of trade, your scales, your measures, and you will find this saying written on them… 'My dear, use me toward your neighbor, as you would want him to act towards you with that which is his.'"
Everything we do, in all aspects of our lives, with whatever tools available to us, is a response to the call of God.
I love that God can use different parts of us in different ways. I recently met a woman at a weekend retreat who spent her time that weekend teaching and playing with the children. We chatted over lunch and I asked her what she did when she wasn't at church playing with children. I fully expected her to say that she was a teacher or pediatric nurse. She told me she was an accountant for her paying work, but tends to the children in the church nursery on weekends. She's using her variety of gifts in a variety of ways to answer God's call to her.
At a NEXT Church regional gathering a couple years ago, David Lose, president of Luther Seminary in Philadelphia, talked about the reality of decline in many of our churches. Faithful, active members are fading away from the church. One such family made a conscious decision to leave the church and when asked about it said, "The church isn't helping us become the people we want to be."
I might like to quibble with their phrasing, but I take the sentiment to heart. Is the church – are we as the church – helping people become the followers of Christ they are called to be? Are we helping them live the fruits of the Spirit? Are we helping them exhibit the kingdom of heaven in their lives? Are we encouraging them to live out their God-given vocations?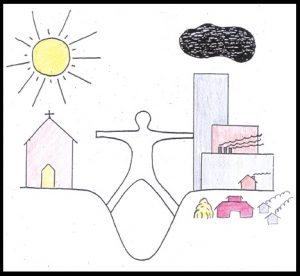 One of the observations David Lose made was that Sunday has become THE DAY in church life. The unintended consequence of Sunday as THE DAY is that we have devalued the other days of peoples' weeks. He shared with us an image that a business leader drew about his faith and vocation. In it you see a man straddling the church and the world. His body is literally a bridge between the church and the "real" world. The sun shines over the church building because "we know our presence there makes God happy." The question David Lose asked of us is, "Have we trained our people to see God anywhere other than where we expect God to be?" Or put another way, how are we helping people see God out in the world and to use their gifts out in the world to answer God's call?
This month, the NEXT Church blog will feature reflections on vocation, offered by people who are engaged in ministry and work OUTSIDE the church. Their pieces will invite us to think about God's calling on our lives outside the walls of the church. They will explore what is difficult about being a Christian in the working world and where faith informs their work. They will explore how the church might equip the saints more fully to be Christians, not just on Sunday morning, but every day of the week.
---

Jessica Tate is the Director of NEXT Church. She lives in Washington, DC. 
https://media.myworshiptimes31.com/wp-content/uploads/sites/55/2016/10/29174949/featured-lose-vocation.jpg
200
398
Linda Kurtz
/wp-content/uploads/sites/55/2016/01/NEXT-Logo-FINAL-Horizontal_lato-1030x229.png
Linda Kurtz
2016-10-04 06:55:25
2016-10-04 19:08:59
Being Christian Every Day of the Week