Children's Church is the Church
By Rodger Nishioka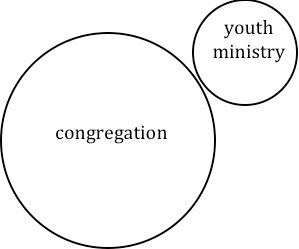 In their book, The Godbearing Life, which has now become a youth ministry standard, Kenda Creasy Dean who teaches at Princeton Theological Seminary and Ron Foster, pastor of a United Methodist congregation, identify one of the most problematic models traditional youth ministry as the "one-eared Mickey Mouse."  In their description, the congregation and its ministry form the head of Mickey Mouse while youth ministry forms one ear that, like the Mickey Mouse image, is barely attached to the head.  The problem, they say, is that young people grow up with an understanding that youth ministry is only tangentially connected to the life of the whole church if it is connected at all.  They view youth ministry as something that is separate.  This view ends up reinforcing the natural egocentrism of adolescence and while that may suffice for a while, when young people grow up, they find themselves bereft of any understanding of church and the whole church's ministry and their part in it.  That is when they drift away.  Tragically, we set them up for this by locating their ministry as something apart from the rest of the church.  This analogy is potent as we consider the place of children in the church.
In too many congregations, our children are "dismissed" to go to "children's church" or something like it either a few minutes into the congregation's worship or in place of being present in the congregation's worship at all.  As far as I can tell, this is a 20th century phenomenon.  In reviewing session minutes from Presbyterian congregations in the archives here at Columbia Theological Seminary, this action of sending children out of worship began in the 1950s at the height of the post-war baby boom.  Prior to this, no such thing existed.  Children were in the whole of worship with their families.  But in the years following the second world war with the tremendous influx of newborns, congregations began looking for immediate and cost effective ways to gain more space in the sanctuary to accommodate all these young families and their children and some inventive pastor or church educator thought about sending the children out to make more space for adults and thus, the phenomenon of "dismissing" children from worship was born.  If a generation runs approximately 20 years, then we are into our third generation of this experience and it has become normative for us all.  Indeed, when I have preached in congregations where there is now plenty of room for all ages to worship together, church after church still sends children out of worship because "that's what we have always done."  The truth is, that is NOT what we have always done and even more, we are now reaping what we have sown.
We have sown three generations of children leaving or never worshipping with us, and it is no wonder that so many find worship boring and incomprehensible when they come of age and are expected to join us.  Further, when I suggest that children remain with us during the whole of worship, some of the loudest objections come from some young parents who want worship to be a time for them when they do not have to worry about their child's behavior.  My own sense is that this reflects the current belief among developmental theorists that adolescence is extending well into young adulthood and what else is a true sign of adolescence but the primary focus on one's own needs over others.  And after all, these parents of young children experienced the pattern of a separate "adult worship" and "children's worship" when they were young so is not that what church is supposed to be like?
Here is the greatest problem I find in separating our children from us in the worship of God.  In Matthew's gospel, he relays the story also found in Mark and Luke about Jesus encountering little children.  Parents are bringing their children to Jesus because they want their daughters and sons to meet him, but the disciples turn them away.  Jesus tells the disciples to , "Let the little children come to me, and do not stop them; for it is to such as these that the kingdom of heaven belongs."  (Matt. 19:14).  Readers of Matthew know that the gospel writer often uses the words "kingdom of heaven"  euphemistically for "God."  Given the quote from Jesus, he seems to be telling us all that God belongs to children.  This is unique, truly.  I can find no other place in the gospels where God is said to belong to anyone.  It seems that there is something about children that they alone are named as the ones who possess God.  For me, then, the question of children and the church is first and foremost a theological one.  If we are called as the body of Christ to worship God and to glorify God and to enjoy God (as the Westminster divines tell us in the catechism), then does it not make sense that those to whom God is said to belong, our children, should at least be present among us?   In fact, should not our children be leading us in this endeavor for which we were created?
There is no "children's church" separate from the "church."  Children's church IS the church.  Amen.
---
Rodger Nishioka is the Benton Family Chair in Christian Education at Columbia Theological Seminary in Decatur, GA.
https://media.mywtenfold1.com/wp-content/uploads/sites/10/2013/10/29180541/one-eared-mickey.jpg
249
299
Jessica Tate
/wp-content/uploads/sites/10/2016/01/NEXT-Logo-FINAL-Horizontal_lato-1030x229.png
Jessica Tate
2013-10-28 15:01:16
2016-05-10 21:13:41
Children's Church is the Church