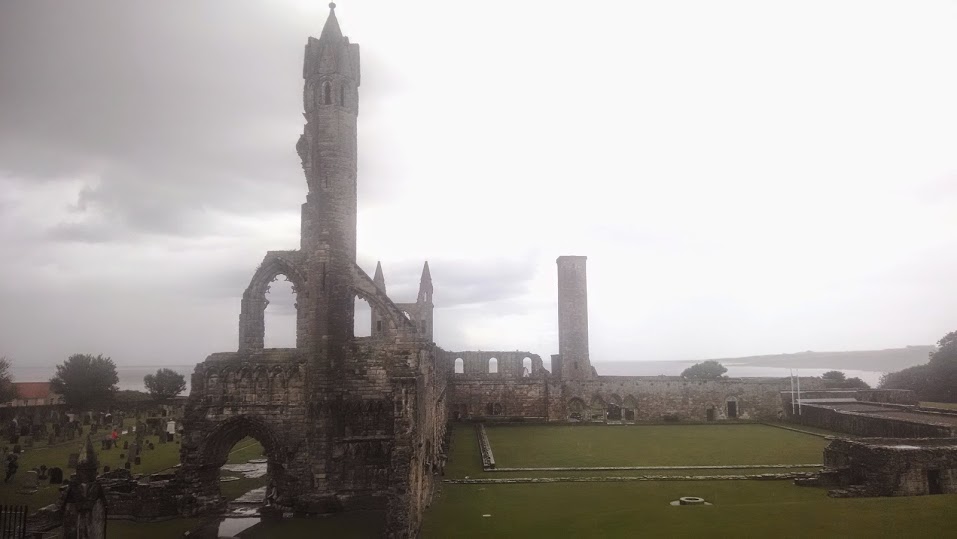 This month, we're sharing reflections from a group of pastors from the US and the Church of Scotland who recently met to talk about being the faithful church in a culture that is becoming more diverse and more secularized. We invite you to offer your thoughts in comments, on our Facebook page, or contact us here. If you like what you read, subscribe to our blog (enter your email on the right sidebar) and receive an email when there is a new blog article. This reflection is reposted with permission from Robert's own blog, Lighthouse/Searchlight Church. 
By Robert Austell
For three days in lovely Kirkcaldy, Scotland, 12 PCUSA pastors and 12 Church of Scotland pastors met with authors and practical theologians, Diana Butler Bass and Douglas Gay, to talk, think, and share about changes in church and culture. Three days is a lot of content, especially with two theologians and 24 pastors, but here is my biggest takeaway…
Change is Death
We talked about whether what we are seeing in Scotland and U.S. culture is "secularization" or "transformation," but I think we agreed it was change. We talked about the process of groups undergoing change and I recognized much of the stages of grief, not unlike what one might experience as one approaches death, not least of which is the realization that "this is the end of _____ as we've known it" (or more short-sighted, just "this is the end of ____.")
We also talked about what was on the other side of institutional/structural death, including whether to call that "new life, revival, awakening, or transformation." And we recognized that, like it or not, we and our churches and our neighbors and communities are facing the change.
We talked about institutional failure and innovation out of community; we talked about letting go, carrying (some things) with, and letting come… all parts of the journey, not TO death, but THROUGH death. We also touched on the extreme resistance to that reality of death (of something).
Today I'd like to highlight one observation I had in response to this thought-provoking content. Tomorrow I will share three examples from life in the Presbyterian Church (USA) that illustrate three different approaches to the reality that change is death.
OBSERVATION(s)
Even as we think in the mist of crisis about institutions failing, new visions being envisioned and lived out in fresh expressions of community, and a transformation on the other side of the change-which-is-death, I believe there are underlying questions we must ask ourselves. And perhaps these are the "bits of tradition we carry with us" that Diana Butler Bass mentioned, though I don't think "bits of tradition" quite gets at the root importance of these questions. 
As those created, loved, redeemed, called, and sent by God in Jesus Christ through the Holy Spirit…
Who are we?
Why are we here?
What are we doing and why?
To whom is our allegiance?
I am drawn to questions like those because institutions are just place-holders, structures that have for a time sustained us in asking and answering questions like those.
New visions, if they are anything more than clever human novelties, are fresh understandings of old, old questions.
And communal innovation and transformation (whether of church or culture) is new life at work answering those kinds of questions, eventually in search of new place-holders and structures to sustain the asking, answering, and living out of questions like those.
Or so it seems to me. Our stimulating discussion of the transformation process and even historic realities like the Great Awakenings leaned toward the WHAT, WHEN and the HOW… good points, important points. But we must also take notice of the WHY (and the One the biblical witness recognizes as the WHO behind the WHY).
Said another way…
Of course change is death. Everything we make and touch is dying, encased in the only structures and shells we humans know to construct to house what is from God. But we should also not be surprised to find God at work, bringing life from death and hope from ashes. That's the good and hopeful Word to which we cling in faith.
---
Robert Austell is the pastor of Good Shepherd Presbyterian Church in Charlotte, NC. He blogs regularly at Lighthouse/Searchlight Church.
https://media.mywtenfold1.com/wp-content/uploads/sites/10/2014/09/29180255/IMG_20140814_132747275.jpg
539
957
marrandamajor
/wp-content/uploads/sites/10/2016/01/NEXT-Logo-FINAL-Horizontal_lato-1030x229.png
marrandamajor
2014-09-22 09:00:15
2016-02-18 14:06:06
Change is Death