This month, strategy team member MaryAnn McKibben Dana is curating a series of posts on our most recent National Gathering. Now that we've been back in the trenches of ministry for a while, what ideas have really "stuck"? What keeps nagging at us, whether in a positive or challenging way? How has our view of or approach to ministry been impacted by what we experienced? What continues to be a struggle? We invite you to join the conversation on Facebook and Twitter!
by Beth Merrill Neel
One of my colleagues on the church staff loves to remind all of us that "change is constant, growth is optional." My experience at this year's NEXT Church National Gathering confirmed the first part of that statement, and has challenged me with regards to the second.
This was my third National Gathering. I find these events a helpful and invigorating use of my time and a great way to reconnect with old friends and colleagues. This year was no different, but as I left Kansas City I realized that I left feeling old and very white – but in a growth-producing way.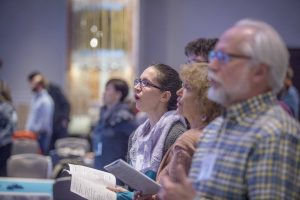 It was clear to me that the leadership of NEXT Church is getting younger, and that is good. While my friend Lee Hinson-Hasty has looked at the numbers and has warned us that there will be a pastor shortage down the line, the pastors and leaders who are young now are faithful, and creative, and talented. That is great news for the PCUSA and for the world. But as a 50-something pastor, I felt a little put out to pasture. Why weren't we singing more hymns? Don't my 20+ years of experience count for something? Does anyone else here remember when we used to mimeograph the Sunday bulletin?
Change is constant and often hard. My growth into old age is constant. I am challenged to consider how I might give up positions and opportunities that come my way so that someone younger might have the chance to do something. I am also challenged to think about how I might mentor a younger pastor or leader, and how I will continue to learn from a younger pastor or leader.
Harder, and more serious, is my coming to terms with my own racism and the ways the NEXT Church National Gathering challenged me to continue to do that. I'm a quarter Swiss. I serve a congregation in Portland, Oregon, the whitest city in America. I have privileges out the wazoo because of the color of my skin. NEXT Church is helping me identify that privilege, helping me understand what happens to those who do not have the privilege of pale skin color (or education, or a decent pay with benefits, or a particular sexual orientation or gender identity, or so many other things), and helping me confront my own fears and insecurities about speaking out against racism in its many forms.
In particular, I continue to think about Paul Roberts' workshop and how I can work on reflecting and building up the Beloved Community in my own context. His sermon, along with Alonzo Johnson's sermon, was stirring and truth-telling – how can my preaching be the same, given that we come from such different places? Soong-Chan Rah's presentation continues to encourage me to think about how I can lead the congregation in the present to be prepared for a church that will look very different, because of changing demographics, in the future.
I have come to terms with the fact that I am getting older, and I continue to need to confront my own racism and the racism around me, especially in the church. I am grateful to NEXT Church, and its leaders who give so much of their time and energy, to the endeavor: you encourage me to grow amid so much change.
---

Beth Merrill Neel serves as Co-Pastor of Westminster Presbyterian Church in Portland, Oregon.  She blogs at www.holdfasttowhatisgood.com, and she is excited about turning 53 in July.  When not at church she enjoys baking with her 11-year-old daughter and coloring as meditation.
https://media.mywtenfold1.com/wp-content/uploads/sites/10/2017/05/29174438/featured-singing-17-gathering.jpg
200
398
Linda Kurtz
/wp-content/uploads/sites/10/2016/01/NEXT-Logo-FINAL-Horizontal_lato-1030x229.png
Linda Kurtz
2017-05-02 07:16:44
2017-06-28 19:38:42
Change is Constant, Growth is Optional