On Fridays, we are posting entries for a weekly blog journey by Angela Williams, our Young Adult Volunteer, of the day-to-day work to organize and create positive social change in her community. We invite you to join the conversation on Facebook and Twitter!
by Angela Williams
When a group tries to bring together people from many different backgrounds, it can be unwieldy… and beautiful. Washington Interfaith Network (WIN), my local community organizing affiliate, has over 50 member institutions, including labor unions, Protestant and Catholic churches, a mosque, a synagogue, and community organizations representing thousands of DC residents. With such a broad base of people bringing their different perspectives to the table, it is definitely challenging to focus energy around a specific cause or plan of action. In these days of extreme polarization, one may ask how it is possible to build consensus or find common ground on anything. From my experience, inviting so many to the table is one of the most difficult parts of this work, but it is also one of the most essential. To lose any part of that broad base is to lose power, or, as organizing defines power: the ability to do something.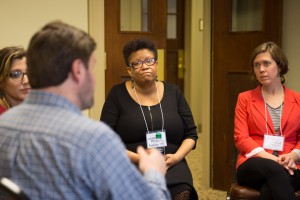 WIN meetings are some of the most diverse spaces of my week, but with that diversity comes different theologies, political ideologies, genders, races, sexual orientations, ages, values, and ideas. Maintaining focus on a given campaign or keeping interest in a particular method of action can be incredibly difficult. I greatly admire organizers who can read a room and smoothly run a meeting while respecting the voices of all at the table. I am committed to that broad base and keeping as many voices at the table as possible because I believe that's how Jesus Christ lived. Our society is still segregated by race and class, but when we all join around a table, we live out the body of Christ. I see glimpses of heaven, the world as it should be, when we are in community around a table discussing door knocking, phone calls, listening sessions, and planning an action. I feel closer to this city and closer to God when I am in the room with folks I may have never met had I not been involved with WIN.
However, we all know situations when sitting around a meeting table felt more like hell than heaven, when one person derails the entire meeting to go on an irrelevant tangent, when not every person is on the same page regarding the agenda or planned method. Meetings can be particularly difficult for folks who are just getting a taste for organizing (an experience not unlike walking into our sanctuaries for the first time!). Maybe this is their first organizing meeting and a friend invited them to come, or maybe they are simply fed up with not having a voice in community changes. Perhaps this is the first time they are engaging with a particular issue agenda, and they are lacking the background context. Maybe this is the first time they have sat at a table and had real discussion with folks who do not look, think, or act like them. Just as it would be impossible to give 500 years of history of the Reformed order of worship at the beginning of every service, trying to cram all the philosophy of the organization and history of the issue into the first five minutes of every single meeting is impossible. Unfortunately, not every person connected to WIN comes with a background knowledge of community organizing and jargon dictionary at the ready. Often, they come in with a friend, some questions, perhaps some anger or agitation, and a desire to make change.
So, how do we welcome people into a movement? How do we welcome others into a conversation and community that is already in progress and will continue when they are gone? How do we invite others to the table to be the body of Christ with us? How do we invite them to make the world as it should be with us? How do we live out Christ's call to love each other as we love ourselves? I think each of us could learn a bit about how to expand the we to include folks who may not have had a voice in the meeting and a seat at the table before.
What I have learned from organizing is that it is all about the relational quality of the gathering. Every organizing meeting begins with a rounds question, just so we all know who is in the room, a bit of where each person comes from, and what they are bringing to the table. Giving each person a voice at the beginning of the meeting can help those uncertain to speak the confidence to share their voice again later.
What are some practices that you have experienced that help to welcome people into a new institution so they feel involved and integrated quickly?
---
Angela Williams is currently walking alongside the good folks at NEXT Church and New York Avenue Presbyterian Church as a Young Adult Volunteer in Washington, D.C., after serving a first YAV year in the Philippines. She finds life in experiencing music, community organizing, cooking any recipe she can find, making friends on the street, and theological discussions that go off the beaten path.
https://media.mywtenfold1.com/wp-content/uploads/sites/10/2016/03/29175413/featured-right-room.jpg
200
398
Linda Kurtz
/wp-content/uploads/sites/10/2016/01/NEXT-Logo-FINAL-Horizontal_lato-1030x229.png
Linda Kurtz
2016-04-29 11:39:47
2016-06-13 19:09:20
Challenges of Organizing a Movement