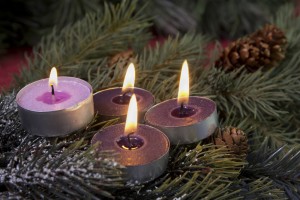 by MaryAnn McKibben Dana
One of the gifts of being in the NEXT Church is the opportunity to examine everything—literally everything—we do as people of God, to see whether our practices are still a faithful witness to Christ in the 21st century.
One of the challenges of being in the NEXT Church is… the very same thing.
I have thought for many years about the church's observance of Advent—those four weeks leading up to Christmas. Don't get me wrong, I get the importance of Advent themes. Spiritual preparation helps us not get carried away in a wave of kitschy detritus and overconsumption. There's something important about not jumping the gun. There's something lovely in letting the moment ripen. In an instant gratification culture, the discipline of waiting and watching could not be more vital.
On the other hand, it's a challenge for the church to begin the celebration of Christmas on December 24. By that time, most people have been binging on yuletide cheer for several weeks and are ready for Christmas to end. We're cranking up the Christmas carols when people may be sick of hearing them thanks to so many mall PA systems.
When we in the mainline church insist on Adventen purity (no Christmas music until X, no tree until Y), when we hold Christmas back with a whip and a chair, because it's good for us, darn it!… then we are out of step with the world around us.
Maybe we're out of step in an important, prophetic way. But I wonder. Some years ago I heard Tom Are of Village Presbyterian Church in Kansas City name this dynamic: "I just don't think the church gets to tell the culture what time it is. Maybe in Christendom we could do that, but no more."
In fact, there have been years when the people I serve seemed so desperate for the incarnation, so starved for good news, that it seemed downright cruel to withhold the message that the Lord is come. Is come, now, in early December, amid the shopping and the hustle and the stress. Other years, it seems appropriate to hit Advent themes more strongly. I wonder if pastors might plan their Decembers based on the rhythms and needs of the communities they serve first, rather than the dictates of the Revised Common Lectionary.
One of the arguments for Advent is that it provides space for people to grieve. Advent gives permission for people not to be jolly. But that's a question of mood, not of message. Advent is about preparation and expectations unfulfilled. which can bring pain. But Advent waiting can also be deeply joyful (think of the hymn "People, Look East"). By contrast, the incarnation of Christ is cause for rejoicing, but Christmas can also be wistful and brooding ("In the Bleak Midwinter.")
In other words, yes, Advent can be a corrective to the jingly jangly cheer that's so jarring—even hurtful—to people who just aren't feeling it. But Christmas can be that corrective too. There are ways to minister to the brokenhearted while also preaching Christmas. True Christmas, not the store-bought version.
Over the years I've thought about other reasons we might observe Christmas in December, specifically through the singing of Christmas carols. Some, I will admit, are more weighty than others:
1. The dramata-liturgical reason. (I think I made that word up.) Rather than erecting a rigid wall between the seasons, many of us see the boundary between Advent and Christmas as a semi-permeable membrane. The longing for Christmas blooms over the four weeks. This happens in many churches visually, with decorations growing more elaborate throughout December. It could happen musically as well.
So on Advent 1 we might sing all Advent hymns. Advent 2, we might do two Advent and one Christmas–one of the more obscure ones. Advent 3, same ratio, but we might break out with a well-known carol, e.g. "It Came Upon the Midnight Clear" or "What Child is This?". And so forth.
2. The numerical reason. Advent is twice as long as the Christmastide, yet there are twice as many Christmas hymns as Advent ones (at least in the current PCUSA hymnal—we'll see what Glory to God offers us!). Why would we limit ourselves liturgically in December? It would be like planning worship with one hand tied behind our back.
3. The pedagogical reason. In the bygone years of Christendom, children learned and sang Christmas carols in school. I'm only 40, but even I remember this from my childhood. The shift in our culture means it's our job—church and family—to teach Christmas carols to our children. I want my kids to know all three verses of "Hark the Herald Angels Sing." I want them to know both tunes for "Away in a Manger" and "O Little Town of Bethlehem."
4. The musical reason. As pastor of a small church, I agree with David R. Ray, who urges small-church pastors to choose songs that their people know how to sing—even if those hymns may be a bit old-fashioned or have some iffy theology. In a large church, you've got a big choir or a critical mass of people who can carry an unfamiliar hymn. Not so in a small church. A beloved hymn well sung is a more joyful noise to the Lord then a theologically impeccable hymn that people fumble their way through. And few hymns are as familiar and beloved as Christmas carols. (That's not to say that we don't teach new ones, but the familiar ones are the spoonful of sugar that help the new ones go down.)
5. The pastoral reason. Life is difficult. Folks are hassled, grieved, cranky. It costs me so little to choose Christmas carols in December, and people genuinely appreciate it. Not because they are spiritually shallow and impatient, and "If only they got Advent they would love it as much as we clergy do!" But because they know the carols well and singing them brings them joy. Because Christmas hymns connect them with loved ones long gone. And the words can be powerful. The "dawn of redeeming grace" never fails to give me goose bumps.
In short, it is not necessarily kowtowing to culture to sing Christmas carols when people long to sing them. It is pastorally sensitive. (I'll take the "kowtowing to culture" argument a lot more seriously when I hear about churches singing "Frosty the Snowman.")
6. The evangelistic reason. December is a well-attended month of the church year. People want to be in church. It's a good time to be attentive to guests. As such, it's an act of hospitality to choose familiar hymns. Newcomers may not know what the heck a doxology is, and darn it, the church does a different version of the Lord's Prayer than the one they know, but whew!, they can join in on "Angels We Have Heard on High."
There you go… I've made my best case. Let's hear from you now. Hit me with your best shot in the comments or on our Facebook page.
---

MaryAnn McKibben Dana is pastor of Idylwood Presbyterian Church, a small and growing congregation in Falls Church, VA. She is the author of Sabbath in the Suburbs: A Family's Experiment with Holy Time, selling like hotcakes on Amazon and Chalice Press. She writes about "beauty, ideas, creativity, and the life of the Spirit" at her website, The Blue Room. She is on the strategy team of NEXT Church and a co-editor of the NEXT Church blog.
And she looks forward to singing "Good Christian Friends, Rejoice" this Sunday in worship.
https://media.myworshiptimes31.com/wp-content/uploads/sites/55/2012/11/29180803/shutterstock_8789978211.jpg
667
1000
Jessica Tate
/wp-content/uploads/sites/55/2016/01/NEXT-Logo-FINAL-Horizontal_lato-1030x229.png
Jessica Tate
2012-12-14 09:44:47
2016-05-12 21:16:18
We Need a Little Christmas, Right This Very Minute: On Singing Christmas Carols During Advent