by Heidi Vardeman
I am writing this from my home in Minneapolis, half a mile from the Third Precinct police station that burned on Tuesday night and a block from a neighborhood bar that is still smoldering.  Military helicopters fly close overhead.  The air smells of tear gas and smoke. Images swirl in my head.  Guilt weighs heavily on my heart.   I worry about where we go from here.  
Images, sounds, smells—Day #1 The horrible video of George Floyd's murder.  His black body face down on the pavement, his neck crushed by a white cop's knee.  For eight minutes and 46 seconds. The policeman stares at the camera with a terrifying calm. Other cops press down on his body.  We watch George Floyd die.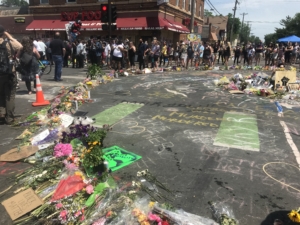 Day #2:   The Third Precinct building goes up in fire. Protesters heave shopping carts into the conflagration.  The crowd chants, "No justice.  No peace." Over and over again.  Sirens, shouts, smoke, teargas, gunshots. 
Day #3:   Looted buildings, including a public library, health clinic, charter school, a Wendy's and a Target, two grocery stores, countless small minority-owned businesses on Lake Street.   Sirens and helicopters. 
Day #4: In the daytime, people wearing masks walk by our house with brooms and garbage cans to help with the cleanup.  Late at night a car without license plates drives slowly down the same street. White supremacist websites have called for people to come to Minneapolis.
Feelings–I am tired, teary and have a strong sense of guilt. I and my fellow white Minneapolitans know that the Minneapolis Police Department is racist. We have known for years that there are white supremacist elements in the police, but since it did not inconvenience us, we did little if anything at all.  Despite Minneapolis' liberal reputation and self-congratulatory self-image, there is a terrible racial gap in education, health care and home ownership. My neighbor, who is African-American and about my age, tells me he is bone weary of this bullshit that has gone on and on and on.
As my emotions swirl about, today I recognize a new element in the mix of things: a feeling of fear.  Late last night I watched a car stripped of license plates drive slowly down my street. Authorities tell us that bottles with accelerant are being stashed in alleys in order to set fires.  As I note this feeling of fear for  my personal safety, I wonder:  is this how my black and brown neighbors feel whenever the police drive slowly down their streets?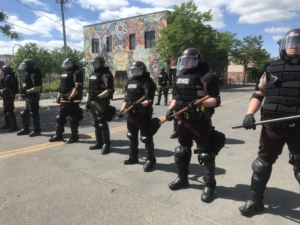 Where do we go from here?  One police officer has been  arrested and charged with the murder of George Floyd, but what of the others?   No justice, no peace: no peace in the irenic sense of peace and quiet nor in the biblical sense of justice and well-being.  Jesus wept over Jerusalem.  Today we weep over Minneapolis.  
I don't know where we go from here, but I do know that we can begin to make a start with prayer.  
Gracious God, help us white people in Minneapolis to go beyond superficial clean ups and food drives to pause, to ponder, to examine our political and economic structures and our complicity in their brutality and inequality.  Help us not to be distracted by fear for our personal safety and selfish interests, for you are our refuge and strength, our very present help in trouble.  Keep us focused on what started this mess:  the sin of racism in both its systemic and individual manifestations.  Deliver us from our blindness to white privilege and our easy toleration of discrimination and inequality. Wipe us clean of our sin so that we may be made fresh and new—today, and then again tomorrow, and again and again. we have left undone so many things that we ought to have done.  Ever cognizant that we will again fall into easy racism, strengthen us in our endeavors, inspire us with your spirit and gird us with your hope. 
Forgive us for our complicity in the death of George Floyd and the murderous brutality of the Minneapolis police.  
In the name of Jesus Christ we pray.
Amen. 
---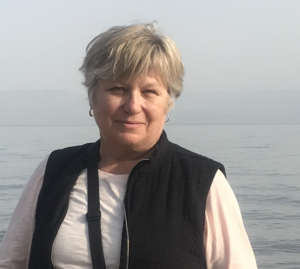 Over the course of her 40+ years in ministry, Heidi Vardeman has served Latino, African-American, and white congregations in the Northeast, South, and Midwest, ranging widely in size and economic standing. She has also done faith-based justice work both in D.C. where she was a national executive for United Methodists lobbying for peace during the Reagan administration and in Tampa, where she helped found the Tampa AIDS Network during the height of the AIDS epidemic. Additionally, she has done doctoral work both in speech communications and theology. She currently serves a tiny church in the suburbs of Minneapolis that nearly closed due to conflict prior to her arrival. The grandmother of three and the mother of two grown daughters, Heidi lives with her husband Frank and his service dog Zest in a diverse urban neighborhood of Minneapolis in a very old house that is always falling apart. Her hair is often highlighted with grout, plumbers putty or paint.
Heidi is also a member of the NEXT Church blogging cohort, and her writing generally focuses on how our religious tradition (Reformed Christianity) is relevant in a postmodern/post-Constantinian world. 
https://media.mywtenfold1.com/wp-content/uploads/sites/10/2020/06/03102034/IMG-2476-scaled.jpg
1920
2560
Layton Williams
/wp-content/uploads/sites/10/2016/01/NEXT-Logo-FINAL-Horizontal_lato-1030x229.png
Layton Williams
2020-06-03 10:25:18
2020-06-03 10:25:18
From My Neighborhood in Minneapolis