NEXT Church has been operating virtually for the past 7+ years, so we are super familiar with meeting online! Mostly, we have used Zoom, so we refer to that platform here, but we hope these tips will translate across different platforms.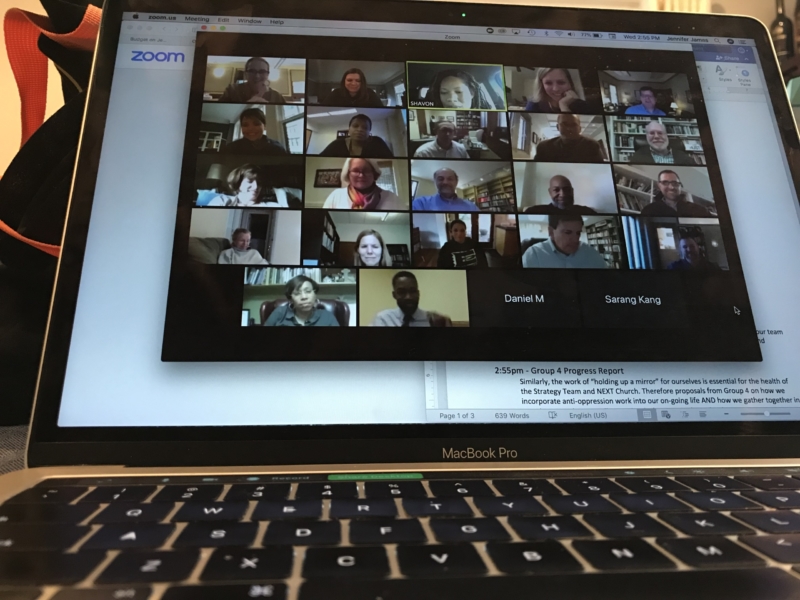 Create a clear agenda.

As you are creating the agenda, be very clear about what type of activity or response you need from the group (e.g., vote, discussion, FYI). People need more clarity when online than they do in the room. 

Intentionally assign roles.

It is harder to multi-task on a screen than in person. For instance, have someone host. Have someone run tech. Have someone take notes. Have someone record attendance or vote-counts. If you do introductions at the top of a meeting, it works best if the host invites people to share. That way everyone doesn't jump on top of each other. 

Welcome people!

Greet people as they come on, just like you would in a room. If you are getting together with people you've not met, introduce yourself. Chat until the meeting gets started or let people know if you need to run and refill your coffee while things get moving. If people come in late, welcome them, but don't rehash everything you've already done. And don't forget to do a bit of extra narration for those on the phone only, who can't see what's happening on video.

Some silence is ok.

As the facilitator, you'll be tempted to fill all the space. Don't. Give a longer beat of silence when you ask a question or start a discussion than you would in the room. It's also ok to check in about silence. "Does the lack of response mean you all agree? Or you are unsure? Or you didn't hear me?"

Discussions feel different

over video than they do in a room. If the group is small and comfortable with each other, it will probably go fine. If it is a larger group or folks don't know each other, often, only a few voices will get heard. So, see #5.

Use breakout rooms!

It's like a turn to your neighbor feature. It's great for relational things, prayer partners, small group discussion, or even committee meetings during a larger meeting. 

It's harder to read body language

online than in the room.

If the first few voices agree with an idea, it's a good idea to ask something like, "does anyone have a different opinion?" It's also helpful to remind participants that they will need to be responsive. If someone asks a question like, "Are we ready to move on?," it's helpful to give a thumbs up or actually say "yes."

Practice all the good facilitation skills you use in person.

Ask the most frequent voices to give some space. Invite less frequent voices to share their thoughts. Intentionally check with the people on the phone who don't have the advantage of the video to know when and how to break into the conversation.  

Time management is key.

60-90 minutes is MAX over video and shorter is better. Consider adding time frames to your agenda.

People logging in from their own space is a gift.

Enjoy it when children pop onto the screen to say hello. Chuckle at the dog who jumps up on a lap. Ask about an interesting book on a shelf or poster on the wall or the orchid growing in the background. It's a chance to get to know people in a different way. 
https://media.mywtenfold1.com/wp-content/uploads/sites/10/2020/03/17122241/Strategy-Team-scaled-e1608493044907.jpg
600
800
Jessica Tate
/wp-content/uploads/sites/10/2016/01/NEXT-Logo-FINAL-Horizontal_lato-1030x229.png
Jessica Tate
2020-03-19 06:58:12
2021-04-22 19:18:03
Ten Facilitation Tips for Meeting Online