by Mary Harris Todd
As we discern what's next for the church, let's take time to visit our ancestors in faith who struggled to discern what God had in mind for them next.  Let's revisit our mothers and fathers in scripture, and let's also take another look at church history and our congregations' histories.  Here is a story from Kirk O'Cliff Presbyterian Church, the small congregation in which I grew up.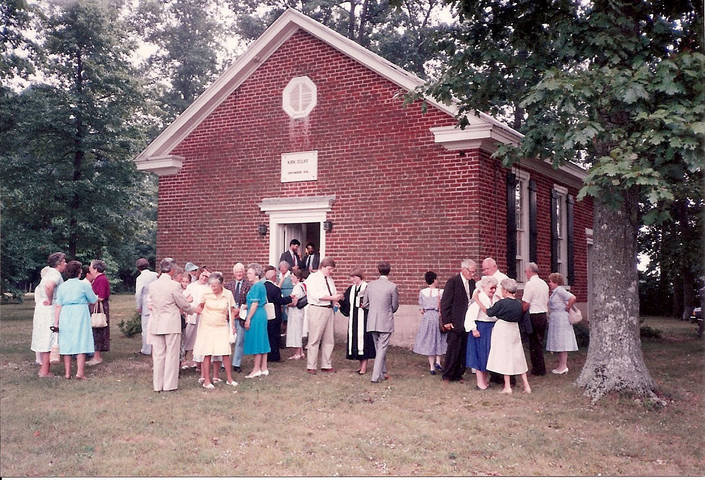 When the church was founded in 1876, the Kirk's building was literally perched on a cliff in Spotsylvania County, Virginia—hence the name. By the dawn of the twentieth century, however, the congregation had migrated away from the community in the neighborhood of the building. It would still be years before cars made rural travel easier. And since people still depended on horses and buggies and their own feet to get to church, the people of the Kirk had a problem.
What did they do? The congregation decided to move the building closer to where the people actually lived. In 1911 new land was given, and they went to work. They dismantled the church building piece by piece, loaded it onto horse-drawn wagons, moved it to its present location and reassembled it. With the exception of some bricks and a few boards, every piece survived intact. The congregation more than survived. Today the church is still called Kirk O'Cliff even though the cliff is ten miles away and covered by the waters of Lake Anna. As I think about the passion, the commitment, and the sheer sweat that dismantling, moving, and rebuilding required, I marvel.
When it comes to what's next for the church in the twenty-first century, I wonder what God is planning to "dismantle," "move," and "assemble" in a new way now. People who need the embrace of Jesus have in many ways moved out of range of the church, so we are now called to move. Knowing where and when and how is going to require prayerful passion, prayerful commitment and prayerful sweat.
If you're looking for more stories from our great cloud of witnesses who discerned what was next in their day, I recommend Diana Butler Bass's book A People's History of Christianity: The Other Side of the Story.
There you can visit with some well-known folk like Augustine, Luther and Calvin.  But more importantly, you can also visit with a host of lesser-known witnesses, many of whose names are unknown, who simply did the best they could to follow Jesus, loving God and neighbor in their place and time.  For example, you can begin to get to know the Beguines and Beghards of the late 1100s, Spirit-led women and men who formed semi-monastic communities whose purpose was to care for the poor and people with infirmities.
Let's dig into the church's stories and mine them for more examples of people exercising imagination and courage to move in faith towards what was next.  We are here now because a great cloud of witnesses along the way asked, "Gracious God, what's next?"  Thanks be to God for them, and for the opportunity that is now ours.  New stories of faith are developing every day.  Let the wagons roll!
---
Mary Harris Todd  has been a Presbyterian all her life.  She grew up in one small congregation, Kirk O'Cliff Presbyterian Church  near Mineral, Virginia, and since 1990 she has served as the pastor of another,  Morton Presbyterian Church in Rocky Mount, North Carolina.  She is amazed at the God whose  foolishness is wise, and whose power is made perfect in weakness.  Visit with her online at The Mustard Seed Journal,  where you can find lots of resources for small church ministry.
https://media.mywtenfold1.com/wp-content/uploads/sites/10/2012/11/29180825/morton-presbyterian1.jpg
480
705
Jessica Tate
/wp-content/uploads/sites/10/2016/01/NEXT-Logo-FINAL-Horizontal_lato-1030x229.png
Jessica Tate
2012-11-05 14:58:02
2016-05-02 22:31:17
Back to What's Next …