Each month, we post a series of blogs around a common topic. This month, Ellen Crawford True is curating reflections on intergenerational ministry. What does it look like for the church to do and be church together? What does it feel like to understand ourselves as vital parts of the body? What can it mean to seek to be faithful as children of God together, no matter what comes next? We invite you to join the conversation on Facebook and Twitter!
by Gretchen Sausville
"It's all about the bread!" – Jack, age 14
"No, it's all about the brownies!" – Kim, age 14
"If brownies were around in Jesus time, he would have been breaking and sharing them!" – Maisie – 15
"Why do we need bread, when we have a bowl of brownies right here, and hot cocoa over there… this is our understanding of communion!"  – Tim age 16.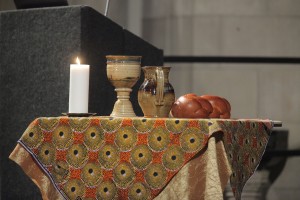 I was 7 years into my call, and my Princeton trained ears perked up. I began reconciling the teachings of my beloved professors and the interpretation of communion through teenagers eyes. I had been classically trained in the formalities of the bread and cup, using the elements that were local to the community gathered. I was also taught that that pop and popcorn does not a Lord's Supper make, but had anyone ever really considered brownies? Luckily for my purposes I had received session approval for this "communion meal." I left it to the youth of my church to plan worship using their own interpretation of traditional practices, as I have always done with youth retreats. After all, communion led by youth on a retreat is not really communion, right?
The next day they were pleased with their worship service, which embraced music, scripture, sermon, prayers, and the most important piece in their eyes, brownie communion! They had spent the better half of a day planning it, and it was a perfect 30 minutes. Then Maisie said, "It's not like they would actually let us do any of this in church, like church church. 8:30 maybe, but definitely not 10:30!"
My heart sank! These young adults had just created and led worship, using all the same pieces they see in the sanctuary on Sunday, but felt their expression of theology would not be accepted or permitted by the congregation they were exploring membership in. This is when I challenged them. If they could tell me what they wanted in worship on a given Sunday and the theology behind why they would do it differently, then they could speak knowledgeably and confidently to to session about the possibility of brownies for communion.
Soon, their fears were replaced with smiles, and I had an arsenal of information to take to session of worship and music committee. Six weeks later, after they were confirmed, we passed the "piece of Christ" in response to the rite of Confirmation. The confirmands came to the communion table and took the over flowing plates of brownies they had made and passed them out to the congregation in worship, as an act of worship. It was sweet and spirited, and enjoyed by all. There were no complaints to be had, only requests from the octogenarians to do that more often!
The brownies on Pentecost four years ago led to a shift in how we welcome not only young ones, but everyone into the worship life of the church. The brownies on Sunday lead to "Hearty Feasts" being prepared for certain communion Sundays. A hearty feast table is filled with fruits and nuts, honey and olives, sweet and savory breads, including brownies, and drinks of all kinds. At the table generations mingle together, speaking and sharing and eating the sweet and savory pieces of life.
We have moved our Fat Tuesday pancakes to Ash Wednesday so that we may break bread together and share communion around tables as an act of worship. Maundy Thursday has become a service of communion at one continuous triclinium table. It is not a seder, but a simple service, around a simple meal rooted in sacrament and scripture. Liturgy is said, prayers are prayed, bellies are filled, and God is glorified.
We still hold the traditions of generations passed and generations present together. We have also found balance, giving ears and voice to the younger generations, the reformers of the future. The shift has brought forth new language in the liturgies of baptism, communion, and confirmation based on our congregation's understanding of ancient words for a modern day. A thesaurus has become a welcomed and well used addition to my book shelf.
Worship has the power to unite us, and when we focus on the community, the communion with one another and God comes naturally. Jesus had bread and wine, we do too.  We also have brownies and hot cocoa; pancakes and orange juice; and challah and merlot. The same God is glorified through all.
---

Gretchen N. Sausville serves as Associate Pastor at Westminster Presbyterian Church in West Hartford, CT.  A graduate of Princeton Theological Seminary, she is passionate about preaching and creative worship, helping people think about faith outside the box, and developing interfaith conversations and partnerships between Presbyterian and Jewish communities.  When not at work she is often performing on stage, traveling abroad with her backpack, cooking, or practicing yoga. Gretchen lives in West Hartford with her puppy, Beaken, and blogs at thestandbyetraveler.com.
https://media.myworshiptimes31.com/wp-content/uploads/sites/55/2016/05/29175138/featured-2015-communion.jpg
200
398
Linda Kurtz
/wp-content/uploads/sites/55/2016/01/NEXT-Logo-FINAL-Horizontal_lato-1030x229.png
Linda Kurtz
2016-05-18 08:16:55
2016-06-13 19:07:51
Sharing the Piece of Christ