Each month, we post a series of blogs around a common topic. This month, Sarang Kang and Lynn Turnage are curating a blog series on faith formation. We'll hear from various people who are involved in faith formation personally, professionally, and perseveringly. How has your faith been formed? How has your faith formed you? We invite you to join the conversation on Facebook and Twitter!
by Vickie Caro Dieth
In a family where juggling meetings and appointments and practices and laundry and meals is no small feat, it's easy to forget things… especially when they happen only once a year. Luckily, my children were born on New Year's Eve and Valentine's Day, so their birthdays are easy to remember. The anniversaries of their baptisms? Not so much. The time of year is helpful, as one was baptized on Mother's Day and the other, the first Sunday in Advent. But remembering the actual dates of their baptisms has been difficult for me and I'm most grateful for the reminders my phone gives me each year as the days near.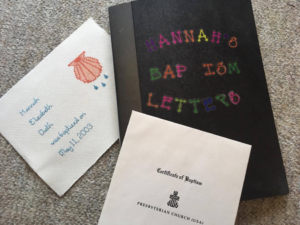 When my first child was born, my husband orchestrated what has become one of the most significant faith-sharing events for our family. Unbeknownst to me, he asked friends and family to write letters to our child about her baptism. As he collected the letters, he put each one into its own manila envelope, sealed it, and slipped it into a notebook where they would all be kept together.
In his planning, my husband requested enough letters to allow for one letter to be opened every year on the anniversary of our daughter's baptism until she reached the age of confirmation. In the spring of this year, she completed our church's confirmation process, and we read the last letter.
Some years we've done better at honoring the day than others. Some years there were cupcakes and some years the letters were read a few months late. But every year we've read a new letter.
It's always a fun surprise to open one of the letters. I was never told who was asked to write to my daughter, and several years and two moves later, my husband doesn't remember who responded, but they were all significant members of our own faith family. There were notes from the pastor who led the service and the elder who poured water into the baptismal font. My father's letter shared his appreciation for the congregation that promised to nurture his granddaughter in her faith in God. There were letters from members of the youth group and their families. Some people chose to include pictures of themselves so she would know who they were. Each message spoke of the gift of belonging to the family of God.
Pastors and church educators are often telling us, "Remember your baptism," but in a denomination that baptizes infants, this can be difficult to do. We encourage parents to share with their children the stories of the big day, but sometimes the family luncheon afterward or the heirloom gown worn by the baby claims the bulk of the memories, rather than the theological significance of the event. I am grateful for this collection of letters that reminds us of the promises made the day our faith community recognized Christ's claim on our daughter. It is my prayer that it will help her make connections between her baptism and the day she claims the Church's faith as her own.
I don't really know what this notebook means to my daughter. She only knows or remembers some of the people we talk to her about. But to me, it is one of the most special gifts she will ever receive. Each year when we gather around the book of letters, we laugh and we remember. Each year we get to learn a bit of someone else's faith story. Those who contributed took the time to reflect a little about their own faith and what it means to welcome a child into the church family. In their letters, people shared with our daughter their adult faith. The fact that she doesn't know some of these folks reminds us of the universal nature of the baptismal vows we make. And every time she opens the book, my daughter is reminded that there has never been a time when she hasn't been part of a faith community, that there are people other than her parents who love her, and that she is a child of God.
---

Vickie Caro Dieth is a Director of Christian Education and ruling elder at Christ Presbyterian Church in sunny Tallahassee, FL. Her doctoral work at Columbia Theological Seminary addressed teaching emotional intelligence as a tool for faithful discipleship. She is married to Rev. Danny Dieth and they have two daughters, Hannah and Abby.  
https://media.myworshiptimes31.com/wp-content/uploads/sites/55/2017/01/29174754/featured-baptism-letters.jpg
200
398
Linda Kurtz
/wp-content/uploads/sites/55/2016/01/NEXT-Logo-FINAL-Horizontal_lato-1030x229.png
Linda Kurtz
2017-06-12 07:22:15
2017-06-28 19:26:03
Love Letters: The Intentional Practice of Remembering Baptisms