by Don Meeks
Turning and turning in the widening gyre
The falcon cannot hear the falconer;
Things fall apart; the centre cannot hold;
Mere anarchy is loosed upon the world,
The blood-dimmed tide is loosed, and everywhere
The ceremony of innocence is drowned;
The best lack all conviction, while the worst
Are full of passionate intensity.
(The Second Coming – W.B Yeats)
These immortal lines, penned nearly a century ago in the tragic aftermath of the first world war, seem eerily prescient of our current moment in American culture. Things are falling apart in front of our very eyes. Or so it seems.
Racial injustice. Income inequality. Theological division. Political acrimony. The list could go on.
Can the center hold? Can we bend just a little further without breaking? Can we find our way through this wilderness? Can we bridge what divides us?
Or even more modestly, can we even talk about all this?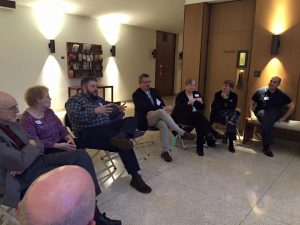 A few of us in National Capital Presbytery have begun a project that is far easier said than done. Aware of the many divides that impact our churches, we have asked ourselves one simple question: Can we talk? That is to say, can we reach across one of the aisles that divides us – the theological aisle – and actually have a meaningful conversation as evangelicals and progressives?
Can we honor each other, in the name of Jesus Christ, as sisters and brothers? Can we listen deeply and attentively to one another? Can we affirm the best in each other's theological tradition while honestly confessing the weaknesses of our own?
The catalyst for this conversation came from an event hosted by one of our sister churches in the presbytery during the run-up to the 2012 presidential election. The event featured a panel discussion on Christian civility between Richard Mouw, then president of Fuller Seminary, and Ross Douthat, columnist for the New York Times.
Mouw noted in passing the common practice in political conversation for one camp to put their very best up against the worst of their opponent. Naturally. This is how the game works. In short, demonize your opponent and you never need engage in substantive debate on the issues.
Driving away from that event, I wondered aloud to myself, "What would happen if we turned this thing on its head? What if I chose to openly acknowledge the worst of the evangelical tradition and practice, and chose to affirm the best of what I see in the progressive tradition? And…can I find a progressive to join me and do the same?"
I call this a "thought exercise," for it requires a fair amount of thinking. Some hard thinking. Some counter-intuitive and counter-cultural thinking. (Trust me – it gets easier).
In time, I posed the thought exercise to one of my presbytery colleagues, Jeff Krehbiel, and thus began what we now call a modest attempt at an uncommonly gracious conversation among colleagues who differ on matters of conscience.
Jeff and I have co-moderated an on-going Open Space dialogue prior to presbytery meetings for the past two years. We modeled this conversation at the NEXT Church National Gathering in Atlanta last February. And most recently, we led a panel-discussion and officiated communion in presbytery plenary meeting.
Can the center hold? Can we find others to join us in this modest and gracious conversation?
Jeff and I have been asked to curate this month's NEXT Church blog in hopes that we might widen the conversation and bend it toward reconciliation and bridge-building across the theological and other divides. We invite you to join us as conversation partners and ambassadors of reconciliation in Jesus' name.
---

Don Meeks is the senior pastor of Greenwich Presbyterian Church in Northern Virginia. He is active in the Fellowship Community within National Capital Presbytery.  His vision for ministry is to invite people to experience and express Christ-likeness in all of life. He is an avid golfer, psalmic intercessor and songwriter.
https://media.mywtenfold1.com/wp-content/uploads/sites/10/2016/11/29174926/featured-ncp-safe-space.jpg
200
398
Linda Kurtz
/wp-content/uploads/sites/10/2016/01/NEXT-Logo-FINAL-Horizontal_lato-1030x229.png
Linda Kurtz
2016-11-01 10:59:27
2016-11-01 14:06:57
Can the Center Hold?