Each month, we post a series of blogs around a common topic. This month, Brandon Frick is curating a series about the Sarasota Statement, a new confessional statement in response to the current state of the church and world. The series will feature insights from the writers and conveners of the group. What are your thoughts on the Statement? How might you use it in your context? We invite you to join the conversation on Facebook and Twitter!
by Layton Williams
I sometimes struggle to figure out where I belong in the church. I am an openly bisexual woman and a strong advocate justice for those the church has historically neglected. At times, I dream of being one of those unapologetically radical liberal Christians, who pull the church forward by refusing to compromise their ideals. But over and over, I find myself at the table instead, trying to remain true to my convictions and bring people along at the same time. It's a role I can't seem to get away from, though I am not always comfortable with it.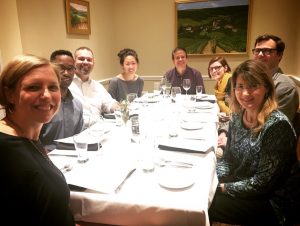 So, when Jessica Tate reached out to me last November and asked if I'd be interested in joining a task force to work on a new statement of faith in response to our current reality, I told her I needed to think about it. And then, I immediately sent a message to my friend Brandon, who Jessica had told me was the person who had sparked the idea. I asked Brandon, "Can you promise me this isn't just a statement to force unity or appease people? Can you promise we're really going to dig into the hard stuff and wrestle to figure out what our faith is saying?"
Brandon said yes, he could promise me those things. So I said yes to Jessica too.
The reason for my hesitation is pretty simple, and when — on our first group call — we explained to each other why we had signed on to work on this statement, my reason for hesitating was also my explanation for why I said yes. I told the others on the team that I had seen the church fail to show up when it really counted on more than one occasion and this time, I wanted to be a part of the church doing better and really showing up.
On the far end of this experience, with the Sarasota Statement making its way into churches and conversations, I am proud of our efforts to show up in the way I had hoped we would. It was not easy process, and the statement is an imperfect document, but I know that it was the result of hard faithful wrestling between people of different perspectives.
At one point, I told one of my colleagues on the team that I had never been so aware of both my privilege and lack thereof as I was during this process. My race, gender, and sexual identity combined with my traditional Presbyterian education and my untraditional non-parish job placed me uniquely and intensely in the midst of the various identities represented in the group.
I was acutely aware of the need for those who were people of color in our group to be heard, respected, and trusted. I knew, too, that it is unbelievably rare for a bisexual voice to represented in a conversation about the church, faithful living, and justice. I found myself constantly pushing for us to be more outspoken that we were entirely comfortable with; I kept saying I wanted the document to be "an equal opportunity squirmer." Meanwhile, I spent much of my energy in the group helping folks keep dialoguing, reframing, hoping, and trusting that we would find our way forward together — into a document of which we could all be proud.
It was an incredible experience to be a part of this writing team — humbling and encouraging at the same time. It was also as uncomfortable a place as it has always been for me — fighting for us to be bolder and more just while trying to do so in a way that many different people could hear and be convicted by. I suppose it will always be an uncomfortable place — to be at the table — but I'm so glad it's where I'm called to be.
---

Layton E. Williams is an ordained PCUSA teaching elder currently serving as the Audience Engagement Associate for Sojourners in Washington D.C.. Her work combines data analysis, creative communications, new media strategy, and relationship building to grow the Sojourners community in both breadth and depth. She is also a writer, focusing on intersections of faith, justice, politics, and culture with an emphasis on sexuality and gender. She previously served as Pastoral Resident at Fourth Presbyterian Church in Chicago, and received her M.Div from Austin Presbyterian Theological Seminary.
https://media.mywtenfold1.com/wp-content/uploads/sites/10/2017/04/29174454/featured-sarasota-table.jpg
200
398
Linda Kurtz
/wp-content/uploads/sites/10/2016/01/NEXT-Logo-FINAL-Horizontal_lato-1030x229.png
Linda Kurtz
2017-04-10 09:50:11
2017-06-28 19:43:33
Called To The Uncomfortable Place