Each month, we post a series of blogs around a common topic. This month, Jessica Tate is curating a series that will reflect experiences of living in diverse community. Over the course of the month, we'll notice practices that enable diverse communities to thrive and we'll reflect on the promise of Christ in whom there is no Jew nor Greek, no male nor female, no slave nor free and what that promise means for our lives today. We invite you to share your own thoughts on Facebook and Twitter! 
by Kathryn Johnston
On a bright, cold Saturday in early January, the deacons and the session gathered for a combined meeting. The tradition is that as we worship together, the incoming class of officers share the faith journeys that led them to say 'yes' to the nominating committee. This is the culmination of their officer training.
As you can imagine, these testimonies cover a wide array of experiences and delivery styles. Most people speak with notes or at least an outline. Some have a fairly cut and dry story: grew up Presbyterian, stopped going to church in college, came back, now want to serve, glad that they can.
I recognize that story. I am that story. But five years ago, I thought that story was coming to an end.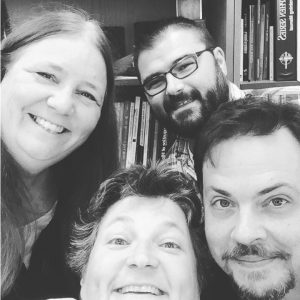 Since high school I have been saying out loud: "God has called me to ministry."  
Over five years ago I finally said out loud: "I am gay."
These were two things that I did not think could be true at the same time. And yet, there I was, torn between wanting to resign from my position as senior pastor/head of staff to spare everyone, including myself, the pain of a coming out process; and knowing that running away from God's call to serve this particular community, without them being a part of the discernment process, would not be faithful.
The coming out process began small – the chair of the staff committee, the clerk of session, two long time members of the congregation, and another ruling elder. I had two questions:
What is best for the congregation?

Where do we go from here?
They encouraged me to stay and we prayerfully and cautiously moved forward; session meetings featuring Bible studies and special speakers, congregational Q&A's, and conversations with church members. Some of the things we did went well. Some of things we did – and didn't do – could have been done better. After a few months, the session informed the congregation that they supported my call as senior pastor/head of staff. Some people applauded the decision, some left, and some people stayed even though they weren't quite sure how they felt about it. I think all of us wondered, "Where do we go from here?"
It was hard to know what would come next for the congregation. The area of the country where the church is located is fairly conservative, with a general approach to controversial topics of "don't ask, don't tell." I held up what I thought was my end of the bargain. I didn't seek out publicity. We just continued to do what God had called us to do: proclaim the love of Jesus Christ through worship and mission.
Of course, word did get around which resulted in more people leaving, but other people started coming. Some of them joined. One of those new members was at that January meeting this year. She stood up to give her testimony. She told us about being called to serve as a deacon at her former church. She told us about meeting her now wife, and how that meant she had to resign from being a deacon. Her eyes welled with tears.
I looked around the room through my own blurry vision. Everyone was transfixed as she shared what it was like to now be in a community of faith where the way she was fearfully and wonderfully made in God's image did not stand directly opposed to the call she felt to be a deacon.
Her testimony ended with thankfulness to those whose courageous decisions led to her not just being welcomed into the congregation, but also being eligible to serve. "Thank you," she said, tears now streaming. The elders and deacons rose as one to embrace her, just as they had done with me five years earlier.
What is best for the congregation? 

Keeping our minds and hearts open to who God is calling us to be.
Where do we go from here? 

Anywhere God calls us, proclaiming the love of Jesus Christ.
---

Kathryn Johnston is pastor of Mechanicsburg Presbyterian Church in Mechanicsburg, PA. A graduate of Eckerd College in St. Petersburg, Florida, Kathryn earned her M.Div. at Princeton Seminary. She and her wife have four children (3 'adulting' out in the world, 1 in middle school), 2 cats and a lively lab mix named Teddy.
https://media.mywtenfold1.com/wp-content/uploads/sites/10/2017/09/29174215/featured-kathryn.jpg
200
398
Linda Kurtz
/wp-content/uploads/sites/10/2016/01/NEXT-Logo-FINAL-Horizontal_lato-1030x229.png
Linda Kurtz
2017-09-06 07:43:49
2017-09-05 23:12:03
Called. And Gay.