Each month, we post a series of blogs around a common topic. This month, Carlton Johnson and Denise Anderson are curating a series highlighting African American Presbyterianism. We'll hear from individuals serving black churches about their ministries and the challenges and opportunities they encounter. How do resolutions or decisions made on the denominational level impact these churches, if at all? What are we going to do as a denomination to address the systemic racism that brought us where we are today? We invite you to join the conversation on Facebook and Twitter!
by Antonio Lawrence
I have come to appreciate something that has become extremely critical in my personal and spiritual development. Any organization that is entrusted to the hands of humans will be flawed and will deal with issues that will keep it from being at is best. The church, especially the Presbyterian Church (USA), is an exception to the rule.
As a Teaching Elder (Minister of the Word and Sacrament) I have seen the church at her best and even at its worse. I have seen the church at its best when she lives her mission to protect and nurture the most vulnerable people in society. A church that has shown the ability to respond to the natural disasters of the world, and working towards long term recovery goals. I have seen a church stand for immigration reform for our sisters and brothers seeking a better life desiring to live out the American Dream. The very things that the church strives to be the best at are many of the same things that make us flawed. This church who actively seeks do justice outside the church must engage in redemptive reflection that seeks to address the suffering of those inside of our church that keeps us from living into the beloved community that we strive to be.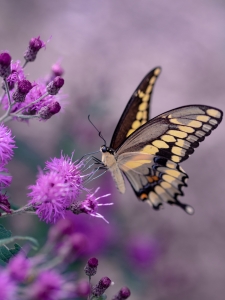 We must learn to wrestle like Jacob at Jabbock with our intersectional sins, known as race, class, and gender, that keep us from seeing the humanity of the individuals for whom we took a constitutional oath to call colleague. If the church is become the loving community God created it to be, we must allow ourselves to embrace the beautiful, yet never ending, struggle of becoming our better selves. In his book Illusions, author Richard Bach whom my late father challenged me understand, "What the caterpillar calls the end of the world the master calls a butterfly beginning." The simplicity of the quote nearly masks the profoundness of its meaning – that all of God's creations are destined to struggle as they try to fulfill their purpose. My desire is for the church to press through the safety and comfort of its chrysalis, much like the caterpillar does as it becomes a butterfly.
I want to see a church that is not afraid to wrestle with the uncomfortable realities of this world, even as we grow in our faith in life everlasting. A church that speaks out against injustice, looks out for the marginalized and disenfranchised, and tries out new ways to embrace our journey through Jabbock. Once the church embraces its butterfly potential, all perspectives and priorities will change. As a church, our vantage points will be more encompassing because we will be able soar to new heights and in different directions. We will impact more lives, save more souls, and be more like Christ. We will no longer be bound to the earthly injustices. As a church, we will be able to do more, because we've been able to experience and know more.
The metamorphosis of a caterpillar to a butterfly is filled with difficult days of struggle and change. Are we, the church, in for difficult days ahead as we struggle? The answer is a resounding, "YES"! And yet, we must take advantage of this golden opportunity. The chrysalis of the church – the thing that is keeping us earthbound – is our inability to be fearless in our pursuit of becoming. As I continue my transformation by tackling injustices large and small that keep black and brown bodies outside of the arms of liberty, justice and the pursuit of happiness. I know that if I start there, I can help others to soar as I go on to reach new heights on my own Christian journey.
My own transformative journey was shaped by an Eastern, North Carolina community that now calls me Pastor. The Rev. Dr. Michael C. Franklin calls the church an "anchor institution that is the bedrock of society" and, "a church that affirms the humanity of people that the world has given up on". I have grown to value of what Dr. Kenyatta Gilbert calls a "relentless hope for the church". It is a prophetic hope that names the reality of where we are, and points with an ethological hope towards a beautiful future. I still have hope. Do you?
---

Antonio M. K. Lawrence is the Senior Pastor of the Faith Presbyterian Church in Goldsboro, NC. Under his leadership with the help of the Lord, Faith Presbyterian Church has become one of the fastest growing racial ethnic churches in the Presbytery of New Hope. He is a graduate of Johnson C. Smith University and Princeton Theological Seminary
https://media.mywtenfold1.com/wp-content/uploads/sites/10/2018/10/29173250/featured-butterfly.jpg
200
398
Linda Kurtz
/wp-content/uploads/sites/10/2016/01/NEXT-Logo-FINAL-Horizontal_lato-1030x229.png
Linda Kurtz
2018-10-22 06:17:21
2018-10-15 22:16:32
A Butterfly Beginning