Each month, we post a series of blogs around a common topic. This month, Suzanne Davis is curating a series highlighting the working relationship between ruling elders and ministers of the Word and Sacrament (or teaching elders). We'll hear from both individuals and ruling elder/pastor partners reflect on the journey in ministry they've had together. How do these two roles – both essential to our polity – share in the work and wonder of the church? What is the "special sauce" that makes this special partnership flourish? We invite you to join the conversation on Facebook and Twitter!
by Sue Williams
This February, when I learned that I may be experiencing another diagnosis of breast cancer, the first person I called was my husband. The next person I told was my Pastor, Rev. Jane Summey Mullennix.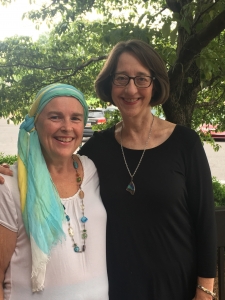 Jane became my go-to person as she offered me pastoral care along this new cancer journey. The trust I had in Jane came from the many times that we worked together in various groups, she as the staff liaison and I as a lay leader.
One committee that we both serve on is the Mission Committee. My heart and passion for mission opportunities is one of the reasons I volunteered to serve on our Mission Committee. In November 2005 and several years thereafter, I joined members of my congregation as we traveled to a Presbyterian Disaster Assistance site in D'Iberville, MS, to help in the recovery and rebuilding of that community after Hurricane Katrina. It was during these experiences that I witnessed firsthand the deepening of relationships not only with those that I served beside but also the people of D'Iberville. I longed to see our church engage in outreach to other communities struck by natural disaster. In the spring of 2017, I shared my desire with Jane and the Mission Committee, and they encouraged me to see what opportunities might be available in my home state of South Carolina.
I had the energy and vision and researched our options. Jane offered her support, and together through collaborative leadership we planned a 2018 intergenerational spring break mission trip to Summerton, SC. We had 12 volunteers planning to go on the trip, ages 11-75, with a wide variety of abilities.
When I learned of my diagnosis in March, only one month before our mission trip, I was concerned that I might not be able to participate. It was around that time that one of our most skilled volunteers discovered that he would not be able to go. Needless to say, I was quite discouraged and thought we might have to cancel the trip. When I found out that my medical care could be put on hold for a week, I spread the word that the trip would still happen! This met with great enthusiasm, especially from Jane.
While on the trip, we shared many memorable moments. Jane led the way in showing us that taking the time to listen to someone share their story brought about a sense of healing and hope. Together we shared laughter, tears and sometimes even frustration. Through God's grace, our humble, enthusiastic group was able to complete the tasks that were assigned to us. I told Jane that our week in Summerton is what I envision the Kingdom of God being like. She responded, "It was a kingdom adventure. In many ways, our group was kind of a representation of the kingdom with all our quirks and differences, but united in our love for God, neighbor, and one another!" We eagerly anticipate an opportunity to return and serve together again.
I attended a workshop at the 2018 NEXT Church National Gathering entitled "Leadership Essentials for Laity." During that workshop the presenter, Dr. Ann A. Michel, stated that "Trust is the foundation of constructive engagement." I believe it was the trust Jane placed in me to plan and organize this trip that has led to a rich and rewarding relationship with her as my pastor. As Jane continues to walk with me on this journey with cancer, I can't wait to see what God has in store for our next adventure!
---

Sue Hicks Williams serves as a Deacon, Stephen Minister, and Mission Committee member at Oakland Ave. Presbyterian Church in Rock Hill, SC. Sue is a Special Needs educator in the Rock Hill School District. She enjoys long walks, reading and spending time with family and friends.
https://media.mywtenfold1.com/wp-content/uploads/sites/10/2018/09/29173322/featured-sue-pastor.jpg
200
398
Linda Kurtz
/wp-content/uploads/sites/10/2016/01/NEXT-Logo-FINAL-Horizontal_lato-1030x229.png
Linda Kurtz
2018-09-26 06:54:54
2018-09-23 19:01:45
Building Relationships through Mission and Pastoral Care