Each month, we post a series of blogs around a common topic. This month, Don Meeks and Jeff Krehbiel are curating "Can We Talk?", a modest attempt at an uncommonly gracious conversation among colleagues who differ on matters of conscience. Can we bridge the theological differences that divide us? Can we even talk about them? Can we affirm the best in each other's theological tradition while honestly confessing the weaknesses of our own? We invite you to join the conversation on Facebook and Twitter!
by Roy Howard
There are bridges that need to be repaired. Some are too worn out to depend on; yet everyday we do. They must be replaced sooner rather than later. Of course, I'm not only speaking about the infrastructure of our country's highways, which we know is in dire need of repair. I am talking about the moral infrastructure of our common life in civil society. The relational fabric of our lives is in deep need to repair, restoration and rebuilding.
The damage of the election cycle is serious and deep. Now that Donald Trump has been elected and Hilary Clinton defeated, there will be a great need to construct new bridges and repair existing ones. The Church that is sustained by the crucified God whose reconciling love for all people was manifest in Jesus Christ can be a witness in these turbulent days, and not by speech alone. Bridge-building is necessary not only in this country but around the world, and it is certainly not the work of Christians alone. The work belongs to all people of faith and good will. One such group is Interfaith Partners for Peace, an organization to which I belong, that brings together Jewish, Christian and Muslim leaders as partners for peace in local communities and on behalf of Israelis and Palestinians.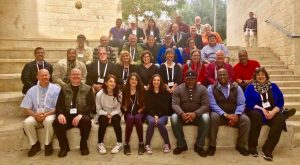 Earlier this month, I traveled to Israel and Palestine with 23 other pastors and rabbis from across the country who are partners in their local communities. Never have I experienced as much hope for the possibilities of repairing relationships as I did on this trip. I cried frequently in response to what we heard. My partner was Rabbi Greg Harris of Congregation Beth El, with whom I've shared mutual ministry for years. The goal of our visit was to listen and learn from Israelis and Palestinians – Jews, Christians and Muslims – as they share their multiple narratives that compete and collide. We especially were seeking examples of people who are building bridges that foster new narratives that allow for hope in the face of despair and paralysis.
It was an extraordinary experience that revealed stark despair, anger and fear countered in stunning ways by people of hope daring to take some risks. I must say, in all candor, no one we met in Israel or the West Bank is optimistic. Yet we met people who are hopeful in the face of the facts. This true hope that runs deeper than sentimental optimism is what gives them courage to do such bold things. It also challenges me to do the same across barriers that are much less daunting.
Here is one example.
Shaul Yudelman is a Jewish teacher and settler who experienced the fear and anger of his local communities as they bury their dead from suicide bombings. He has joined with his enemy, Ai Abu Awwad, a leading Palestinian activist and non-violent freedom fighter, to establish a center in the West Bank near a particularly violent checkpoint, where Palestinian and Israeli families share meals and their stories. They do programs attempting to build relationships with people who both belong to the land that is holy. Neither has abandoned their people's narrative, but both are trying to build a new story; one of reconciliation between avowed enemies, of friendship and compassion.
I found it an astonishing example of God at work for good. As one Rabbi said, "Tonight I stood in front of a man who identified himself as a terrorist and I looked into his eyes and I acknowledged his humanity and he acknowledged mine and I wrapped my arms around him and I felt guilt. I will go back and preach that story and remind people that every human being is capable of redemption, becoming greater than what they are."
They are under threat for doing such work. This is hope against all odds.
Jews call this work, tikkum olam, which means to repair the world. This kind of bridge building calls me to do the same.
---

Roy Howard has served for 16 years as pastor of Saint Mark Presbyterian in North Bethesda Maryland. During that time his congregation has traveled to Israel-West Bank with their partner Jewish congregation and participates in regular interfaith activities. His recent book, Walking in Love, describes his 543 mile pilgrimage along the Camino de Santiago. 
https://media.myworshiptimes31.com/wp-content/uploads/sites/55/2016/11/29174915/featured-roy-group.jpg
200
398
Linda Kurtz
/wp-content/uploads/sites/55/2016/01/NEXT-Logo-FINAL-Horizontal_lato-1030x229.png
Linda Kurtz
2016-11-21 15:59:49
2016-11-21 15:59:49
Building Bridges, Allowing for Hope