Each month, we post a series of blogs around a common topic. This month, Rev. Michael McNamara is curating a series that will explore the theme of Christian contemplative practice, which has been central to the formation and development of Christianity. We will learn from writers exploring spirituality from both the secular and the religious, embracing the paradox within that — a paradox essential to contemplative practice itself. How can this Christian or secular tradition impact today's church? We invite you to join the conversation on Facebook and Twitter.
by Molly Hatchell
My sense of call has centered around bringing the vitality of the Christian contemplative renewal movement to meet the needs of our Presbyterian congregations. This movement is spreading across boundaries of denominational affiliations and geographical regions. It emphasizes the importance of cultivating a relationship with God so people can notice God at work in their lives and respond with a spiritual heart.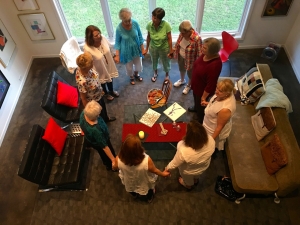 The relational aspect helps people to move away from a transactional response to God grounded on fear and duty towards an intimate, joyful, and grateful response to God. A deeper understanding of God's love is realized. This experience, in turn, guides people in their outpouring of love, not only towards God, but towards others as well.
One pathway for integrating aspects of the contemplative movement into a congregation is to lead weekly contemplative prayer groups using the ancient Christian prayer form of lectio divina. During lectio, we hear the word of God through scripture, silently meditate, reflect, and share how we experienced God during the prayer. This prayer form has been particularly appreciated by Presbyterians new to contemplative practices because of its emphasis on praying with scripture.
I'm encouraged by the reception of the lectio groups I've been involved in.1 Many lifelong Presbyterians were not familiar with this type of "spiritual conversation" and were more accustomed to describing what they knew about God rather than how they experienced God. Yet they reported positive experiences:
"This is life-changing."
"This is transformative."
"You have taught us how to listen to God."
"This is the first time my husband has attended church for years and he wants to keep coming," and
"I really appreciate the connection we have with each other."
The pastors of the churches also expressed value: "This is an area where the church is flourishing," and "Through the contemplative prayer group, you've reached people I could not have reached." The success of these groups are tied to the pastor's support for this "new" type of ministry and the church's discernment that it meets the current congregational needs.
Another way to bring the beneficial aspects of the movement to the congregation is by helping church leaders to experience the practices. When my colleagues who are pastors and church leaders expressed a desire to worship with privacy, yet in community, we started an ecumenical lectio group for leaders. The six-week commitment was renewed through seven months. The leaders expressed a growing sense of God's companionship in their ministry.
The sense of God's companionship in ministry aids a preacher's development of an effective sermon. Backstory Preaching, an educational program for new or experienced preachers, emphasizes the spirituality in sermon preparation and hosts a weekly lectio divina online group for the upcoming lectionary.
Recently I led a clergy retreat on contemplative prayer where leaders enthusiastically swapped stories on how they see contemplative practices inviting new ways to worship together. Many of the seminarians at the Presbyterian seminary where I work are already familiar with the contemplative movement and eager to share the practices with their future congregations. It will be interesting to watch the ways the Holy Spirit will move in communities to help us deepen our faith.
The late Thomas Keating, one of the architects of the Christian contemplative renewal movement, expressed the mission of the church as the need to help one another "to bring into society, into whatever society you are in, an awakening of the great love of God for each human being and God's desire to enter into a personal relationship with each of us." I hope each of us can experience this awakening and guide others, in whatever way we are called, to understand God's desire for relationship.
1My groups are modeled after the contemplative prayer groups designed by Tilden Edwards, an early leader of the Christian Contemplative Renewal Movement.
---
Molly Hatchell is an ordained minister in the Presbyterian Church (U.S.A.) with a ministry focused on spiritual formation. She is certified by Shalem Institute of Spiritual Formation in Contemplative Group Leadership and by Contemplative Outreach as a Commissioned Presenter of Centering Prayer Workshops. Molly serves as a spiritual director at Austin Presbyterian Theological Seminary and as a leader of contemplative prayer groups and retreats in Central Texas.
https://media.mywtenfold1.com/wp-content/uploads/sites/10/2019/08/29172444/featured-contemplative-circle.jpg
200
398
Linda Kurtz
/wp-content/uploads/sites/10/2016/01/NEXT-Logo-FINAL-Horizontal_lato-1030x229.png
Linda Kurtz
2019-08-27 19:28:44
2019-08-27 19:28:44
Bringing Contemplative Practices to the Congregation