Each month, we post a series of blogs around a common topic. During September, Leanne Pearce Reed is curating a month of blog posts exploring stewardship of all creation. Join the conversation here, on Facebook, or Twitter!
by Walter Canter
Patricia Tull's book Inhabiting Eden searches the wisdom of the Old Testament for a way of ideal relationship with God and creation. Tull ends up in Genesis and Isaiah (along with a supporting cast of plenty other texts from across the OT and gospels) basing her approach to the ecological crisis in humanity's identity and prophetic call.
Tull begins with a broad assessment of human relationship with God and creation—she finds that the relationship we have isn't the ideal depicted in Scripture. After the broad overview, Tull assesses the implications of this less than ideal relationship in regards to commerce, food, animal life, and human rights. Inhabiting Eden ends with a hopeful prophetic call to renewed relationship with God and creation through living within the planet's means.
Throughout Inhabiting Eden, Tull challenges contemporary understandings of 'environment.' Environment, to Tull, is not isolated to the nearest wetland, national park or forest. The environment that needs our care and respect in Eden is everywhere. All humans live in an environment and human action affects both the immediate environment as well as the beautiful places of wilderness. The story of creation includes everything, no part of this world is out of God's reach and all parts of this world are loving gifts from its Creator. Using this all-encompassing definition of environment, Tull develops a theology of gratitude.
Within the ordered and fundamentally good creation, humans have the vocation of caretakers. God provides what we need, and in response to that providing, human beings have the task of preserving these gifts. In Tull's words, "We were intended to draw sustenance from creation's bounty. With each breath, we take in God's provision of air; with each drink, the precious water supply; with each bit of bread, the manna for one more day of love and service. We can begin to uphold the world that upholds us by recognizing these gifts with gratitude, especially our place in an ordered world that is full and fundamentally good, and our vocation to preserve the goodness and health of this living, teeming, exuberant world" (30).
Tull, along with the biblical prophets, shapes her call for justice around an understanding of change in the world. The ecological crisis comes out of dangerous change, but hope comes out of an acknowledgement that just as change in human behavior brought danger, a new change in human behavior can overcome that danger.
Tull's writing style and structure is accessible; she dives into current ecological issues and scriptural study with clear and concise language. Tull's accessibility makes it tempting to read quickly, but the depth, poignancy, and relevance of the information often left me pausing to assess my own handling of these sacred texts in relation to my everyday activity. There were even a few moments in Inhabiting Eden where I paused mid paragraph to google things like, "Great Pacific Garbage Patch," hoping that Tull's description of our planet's state was hyperbolic (it wasn't… and ew).
Inhabiting Eden is an excellent read that reminds the reader of the timeless power of Scripture as it challenges the reader to see these old texts in a new light.
---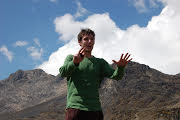 Rev. Walter Canter is pastor of Calvary Presbyterian Church of Big Lick in Crossville, TN. He's an avid soccer fan and enjoys hiking with his wife (and occasionally his dog). Contact him at canterjw@gmail.com.
https://media.mywtenfold1.com/wp-content/uploads/sites/10/2016/03/29175515/featured-books-library.jpg
200
398
Linda Kurtz
/wp-content/uploads/sites/10/2016/01/NEXT-Logo-FINAL-Horizontal_lato-1030x229.png
Linda Kurtz
2015-10-14 14:01:50
2017-02-16 17:13:19
Book Review: Inhabiting Eden: Christians, the Bible and the Ecological Crisis