Each month we ask a different person from the NEXT Church community to assemble a series of posts around a particular theme. This month, Carol Steele is curating a conversation around camp and conference ministry for the NEXT Church. Have ideas or reflections to share? Offer your thoughts in comments, on our Facebook page, or contact us here.
By Bob Tuttle
It was Germany, 1931, and co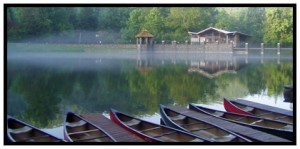 nfirmation classes were nothing at all like what we think of today. In the state church in Germany every child went through confirmation, no matter what they cared about. And most did not… care, that is.
Even though he had been warned by the elderly minister as they trudged up three flights of stairs, the growing racket being made by the 50 waiting boys grew quite alarming to Dietrich. Opening the door, the old man tried to introduce them to the new minister who was going to teach them in the future, Pastor Bonhoeffer, but the boys simply increased their volume so that nothing could be heard. The elderly minister fled the scene in despair, leaving Bonhoeffer standing silently against the wall with his hands in his pockets. Minutes passed. His failure to react gradually drew the boys' attention, and he began speaking quietly so that only the boys in the front row could catch a few words of what he said. Suddenly all were silent. Bonhoeffer merely commented that they had put on a remarkable performance, and then went on to tell them a story. If they listened, he told them, he would share more stories with them next time.  And he let them go.
I find it so interesting that one of the greatest theologians in the 20th century, Dietrich Bonhoeffer, repeatedly found himself involved in ministry with youth and young adults. It wasn't the main focus of his ministry, but he was a teacher at heart, and it was among them that he found students ready to learn. And those students changed him as well: at the end of the school year Bonhoeffer reminisced about those rowdy boys that "the experience of teaching them has been such that I can hardly tear myself away from it."
Those of us who love camps and conference centers know that feeling. One reason we love working in these settings because it is here that the often messy and chaotic ministry that we have with youth and young adults becomes real.
We, too, are teachers at heart, perhaps because we have the opportunity to tell so many wonderful, challenging stories. We lift up old, old stories from Scripture and youth realize their relevance to life today. We allow young adults to engage and dialogue with folks who they might never meet otherwise. We deliberately place them in situations where they are challenged to strengthen their faith and put it into action.
Camps and conference centers have often been described as "thin places." Countless youth and young adults have heard God's call in powerful sermons from the stage, in whispered songs around a campfire, in intense discussions in small groups.  For the first time they realize that theology means something, that what one says they believe about God is so important that it should make a different in one's life. They have returned to their homes and congregations empowered and encouraged to become even more faithful followers of Jesus Christ.
This is the legacy of camps and conference centers and the multitude of volunteers who minister at these sites to God's people each year.
Camps and conference centers need the support of the NEXT Church. Will its leaders look for camps and conference centers as first choices for their meetings? Will they make certain that their children, youth, and young adults benefit from the life-giving and faith-shaping experiences offered in these thin places? Will they say yes when we ask them to come share with us what they are learning? Will the budgets of their congregations demonstrate as much of an interest in sowing seeds for the future as in surviving and thriving in the present?
Camps and conference centers have demonstrated the strength of our legacy. It is the NEXT Church's responsibility to pass that legacy along.
===================
(the story contained in this blog post can be found in Bonhoeffer: Pastor, Martyr, Prophet, Spy by Eric Metaxas)
---

Bob Tuttle is Vice President of the Center for Youth & Young Adult Ministry at Montreat Conference Center. Having served much of his career as a certified Director of Christian Education, he is now ordained as a teaching elder by the Presbytery of Western North Carolina to validated ministry at Montreat.
https://media.myworshiptimes31.com/wp-content/uploads/sites/55/2014/03/29180435/montreat_lake_susan.jpg
208
420
maryann
/wp-content/uploads/sites/55/2016/01/NEXT-Logo-FINAL-Horizontal_lato-1030x229.png
maryann
2014-03-09 22:47:26
2016-05-12 22:03:42
Bonhoeffer, Youth Ministry, and the Present and Future Church