Each month, we post a series of blogs around a common topic. This month, Deborah Rexrode is curating a blog series called "A New Perspective on Stewardship." We'll hear from some stewardship experts across the country on a wide range of what stewardship means for them. What are ways stewardship can be a spiritual practice? How might we come to a new understanding of the role of stewardship in ministry? We invite you to join the conversation on Facebook and Twitter!
by David Loleng
"Do not store up for yourselves treasures on earth…but store up for yourselves treasures in heaven…for where your treasure is, there your heart will be also." (Matthew 6:19-21)  
"Generosity is something we want for you, not from you." I think the church needs to take this phrase to heart.
In their book The Paradox of Generosity: Giving We Receive, Grasping We Lose, Christian Smith and Hillary Davidson state: "Generosity is paradoxical. Those who give, receive back in turn. By spending ourselves for others' well-being, we enhance our own standing." They go on to show that generosity positively affects our happiness, health, life purpose, and personal growth. Generosity is at the heart of discipleship and human flourishing. But here is the paradox: although generosity is good for us, generosity is often elusive in our churches.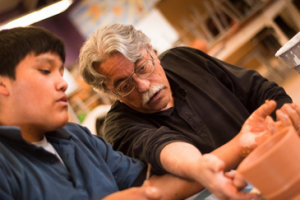 How, then, can our churches form generous disciples? We tend to turn to technical fixes and best practices as the answer. Things like narrative budgets, e-giving, revamped stewardship campaigns, and talking about stewardship throughout the year are important and impactful, but I believe they are not enough to bring about lasting transformation in people and in the culture of the church. The real paradigm shift is from focusing on funds development to people development. To put it another way, we need to measure our success not by the quality of our programs but by the quality of our people.
I believe the way to form generous disciples of Christ is by creating habits and practices that will truly begin to change our beliefs and behaviors. It's not just the occasional generous act but sustained practices, disciplines and a lifestyle of generosity that will have a transformative and lasting effect on individuals and our faith communities.
My question is this: what are some spiritual practices that will help cultivate generosity and Christ centered stewardship in the lives of those in our churches? I want to briefly share two spiritual practices that have become important for me recently as I have thought about how to be a generous steward of my, time, talent and resources.
First is the spiritual discipline of simplicity. Simplicity helps us to let go of our inordinate attachment to things (possessions, experiences, achievements) and our insatiable desire for more.  It is uncluttering our lives of excess and practicing things like frugality, contentment, thankfulness, and graciousness.
Richard Foster describes the importance of simplicity in his book Freedom of Simplicity: Finding Harmony in a Complex World. He writes, "The complexity of rushing to achieve and accumulate more and more threatens frequently to overwhelm us… Christian simplicity…brings sanity to our compulsive extravagance, and peace to our frantic spirit. It allows us to see material things for what they are – goods to enhance life, not to oppress life. People once again become more important than possessions…it is the Spiritual Discipline of simplicity that gives us…a strategy of action that can address this (poverty and hunger) and many other social inequities." Simplicity helps us to re-calibrate our lives back toward God and God's will. It frees us to be more generous with our money and resources and become more mission-focused.
The second is connected to simplicity. It is creating margin in life. As Dr. Richard Swenson describes in his book Margin, it is like the margins on a piece of paper: there is no text on the top, bottom, and sides; just empty space. As James Bryan Smith writes in his book The Good and Beautiful God, "We add so much to our schedules that we have no 'margin,' no space for leisure and rest and family and God and health."
Creating margin means uncluttering our schedules, our time, and our lives. When we have more margin in our lives, we can be more generous with our time and our talents. Creating margin positively affects our relationship with God and others, our health, and our ability to join in Christ's mission in our communities and world.
The spiritual disciplines of simplicity and margin not only help to cultivate a culture of generosity, but help form people in our churches who are growing as generous disciples of Jesus Christ, with a greater impact on our communities and world.
---

David Loleng is the Director of Church Financial Literacy and Leadership at the Presbyterian Foundation (PCUSA). He is the co-author of the Engage (Gospel, Discipleship, Mission) Curriculum. Loleng is leading the effort to assemble a body of educational materials and tools for effective financial church leadership and administration and make them available to both pastors and lay leaders. Loleng most recently served as Associate for Evangelism in the Presbyterian Mission Agency.
https://media.myworshiptimes31.com/wp-content/uploads/sites/55/2017/07/29174319/featured-stewardship-margin.jpg
200
398
Linda Kurtz
/wp-content/uploads/sites/55/2016/01/NEXT-Logo-FINAL-Horizontal_lato-1030x229.png
Linda Kurtz
2017-07-17 07:12:42
2017-07-16 21:36:59
Being Generous