Each month, we post a series of blogs around a common topic. This month, Jan Nolting Carter is curating a mosaic of perspectives on the art of transitional ministry. How do we work with people and systems in the midst of change? What does transitional ministry look like inside and outside of the church? We invite you to join the conversation on Facebook and Twitter!
by Jan Nolting Carter and Paul Rhebergen
Picture two people coming together in a conversation. We have met before, even related as teacher and student in the past, but only enough to appreciate each other in that setting — only now we have been brought together by a third person to work together in teaching a class. From that evolves a growing conversation, no, an improvisation if you will, that has led to new ways for us to understand and teach what it is we do.
It occurs to us that an emerging relationship between individuals mirrors developing a relationship with a congregation in transition. For us, reflecting on how relationships evolve is informing the development of new curriculum for transitional ministry.
We are two intentional transitional pastors who have served in a variety of congregations, in a variety of communities. Paul offers twelve transitional ministry experiences and years of Transitional Ministry Education Consortium (TMEC) teaching experience. He brings stories and history to the conversation. Jan brings a Masters in Education, high school teaching experience and six transitional ministry experiences. Together, we embody different generations of theological education, different Myers-Briggs types and multiple intelligences. The diversity that we bring to our conversation inherently helps us to think differently about teaching transitional ministry. We are transitional pastors because we have recognized our calling to consciously work with the elements of change that are impacting the congregations we serve. We have come to understand that we are called to particular congregations, at a particular time, to serve with them as they move into the future that Christ holds for them. This may mean working as an interim pastor, assisting a congregation in discerning the talents, skills and abilities needed in the next pastor that will serve it. More and more it means working with congregations that are realizing that what was, is past and gone, and that is scary. It means engaging a congregation in the multi faceted conversation that listens to those who are tied to that past, while listening with those who call the church into the future.
Out of a shared first experience of teaching The Art of Transitional Ministry Week 1 at Pittsburgh Seminary was the initial comfort of falling back on what we knew and what we had already experienced in our own history. We tried to figure out the roles we were supposed to fill, and worked to make sure we covered the basics of the traditional curriculum for interim ministry. As we talked with one another and the participants, however, we began to question whether the traditional approach is enough.
Dialogue led to exploration of new understandings, new images, and new metaphors for the ministry we share. We believe that interim ministry is not a holding pattern. We hold a conviction that transitional pastors are called to assist congregations in recognizing the intersection of the past and necessity of change to move into the future, working to remove blocks that hinder moving into future that is not our own, but the future that God prepares for us.
Our current focus is developing Week 2 of The Art of Transitional Ministry. The core of Week 2 is writing an LLC, a case study of an issue relating to one's transitional ministry. Much of the conversation has been and will continue to be around using systems theory to analyze a congregation and help it to move from where it is to where God is calling it to be. We have wondered together, however about integrating elements into the curriculum that help participants to think with different lenses.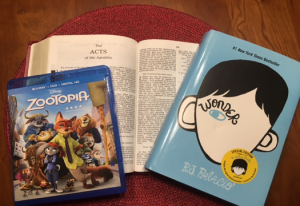 We have discovered, along with our friend and site coordinator, Helen Blier, that we hope to create an evolving curriculum for transitional ministry that serves as a bridge from the "way church has always been" to "the way church is being called to be." We have tried to think about new and whimsical ways to consider the more traditional curriculum elements of transitional process tasks and developmental focus points. To help participants develop and hone their ability to think outside the box, we have identified nontraditional materials as our preparation. Students will watch Pixar's Zootopia to think about entering a system and working through the tasks of identity, history, mission and creating a new identity. Our group will also read Wonder, a fictional tale about a boy entering a new school, to engage in conversation about one's own identity in a system and how relationships can develop over time. Our conversations will be undergirded by reading Acts, the scriptural account of ministry in constant transition. Students will also be invited to think about developing their own metaphor for transitional ministry that we believe has the possibility to strengthen their understandings of the elements we teach, as well as support them in the movement of the work we do. We hope our design will invite creative conversations about context, holy listening, and working intentionally to invite congregations to think about and move through intentional change.
Like working with a congregation, our conversation reflects both an on-going dialogue and an evolution of thinking. It has led to thinking about transition in new ways and has opened our imaginations to new approaches to teaching and training for the ministry of change that we are share.
---


Paul Rhebergen serves Ewing Presbyterian Church in Ewing, NJ as its transitional pastor. Jan Nolting Carter serves St. James Presbyterian Church in Mechanicsburg, PA at its interim pastor. Together, they form the teaching team at Pittsburgh Theological Seminary for the Art of Transitional Ministry, Week 2, and are trying to imagine a curriculum that reflects the on-going changes we all are experiencing in church and society.
https://media.myworshiptimes31.com/wp-content/uploads/sites/55/2016/07/29175029/featured-zootopia.jpg
200
398
Linda Kurtz
/wp-content/uploads/sites/55/2016/01/NEXT-Logo-FINAL-Horizontal_lato-1030x229.png
Linda Kurtz
2016-07-25 07:04:08
2016-07-22 15:17:19
Becoming the Curriculum