Each month, we post a series of blogs around a common topic. This month, Jan Nolting Carter is curating a mosaic of perspectives on the art of transitional ministry. How do we work with people and systems in the midst of change? What does transitional ministry look like inside and outside of the church? We invite you to join the conversation on Facebook and Twitter!
by Bill Lawser
"How people perform correlates to how situations occur to them;" and "How a situation occurs arises in language;" are two of The Three Laws of Performance as outlined by Steve Zaffron and Dave Logan in their book by that title. When I served in several interim pastor and an interim presbytery position in the 1990's and later became part of one of the teams offering interim pastor education for our denomination, there was an ethos and a language about interim ministry that defined this type of ministry. It made sense and had correlation to the view of how the situation of churches generally occurred.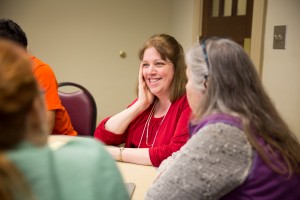 There was specificity to interim ministry with rules, norms, and practices that presented a difference to other forms of parish and governing body leadership relationships. One way to picture this was to see a congregation with an installed pastor as a place with stability. The interim's job was to help the congregation prepare for a new installed pastor and a time of stability. Developmental tasks which were the work of the congregation and process tasks as the work of the pastor guided this interim time. (These tasks are still helpful in providing leadership focus for congregational leaders.) So the model looked like stability –> interim –> stability.
However, as we all are aware, the rapid pace of change surrounding both church and society questioned our ideals of stability. Just helping congregations examine its ministry and move through an interim time to the call of a new installed pastor no longer seemed to be enough. Our ideas of stability had most likely been becoming more of a fantasy for a longer period of time than we as a church were ready to admit, so this challenged interim ministry in the way we defined it. At the same time the practice of interim ministry by those so engaged was evolving.
Language and correlation in evolving practice both lead and follow one another. The language change to transitional ministry is and was a part of changes in how the situation for congregations is and was changing. One way to illustrate the change is stability/installed leader –> transition –> faithful ministry in a time of change with appropriate leadership.
Like all transitions, language change is only part of the process. We change our language as the way the situation occurs to us changes as at the same time the change in language helps to change how the situation occurs. The next process is to see what needs to change behaviorally so that our performance correlates with how the situation now occurs. This is the fertile ground for new growth and possibility. This is also the place where even though we are using new language if we still perform out of old views of church and ministry conflict both personal and corporate may arise.
As I have embraced, promoted, and sought to grow as a transitional leader, what began in the arena of interim ministry has expanded to a view of all ministry in this 'season' as transitional. We are all called to transitional ministry whether as an installed transitional pastor who is a head of staff or associate; transitional leader in a temporary relationship either part time or between installed pastors or mid council or national leadership positions; transitional leader who only leads worship or moderates a session; or _____.  Transitional Ministry Education has not been stagnant and its ever evolving components can be a part of growing leadership abilities. I am also fascinated by the many other areas in which transitional leaders are exploring ways to grow and enhance their leadership. Improvisation, art, dance, worship and liturgy styles, use of buildings and facilities, social media, use of media and technology, and creating networks for study and action.
How do church and future possibilities occur to you?  What language do you use to express how this occurs?
---

Bill Lawser has been a Teaching Elder in the Presbyterian Church (USA) for thirty-seven years. Since 1998, Bill has focused on congregational transformation and leadership development, consulting congregations, pastors, and mid councils. He has taught interim ministry training as part of the Transitional Ministry Education Consortium and served as a New Beginnings facilitator. He works with pastors, congregations and governing bodies in sharing his enthusiasm for new possibilities for ministry during times of change.
https://media.myworshiptimes31.com/wp-content/uploads/sites/55/2016/04/29175331/featured-good-news-women.jpg
200
398
Linda Kurtz
/wp-content/uploads/sites/55/2016/01/NEXT-Logo-FINAL-Horizontal_lato-1030x229.png
Linda Kurtz
2016-07-06 07:25:11
2016-06-30 16:17:08
The Art of Embracing Change