Each month, we post a series of blogs around a common topic. This month, Jessica Tate is curating a series that will reflect experiences of living in diverse community. Over the course of the month, we'll notice practices that enable diverse communities to thrive and we'll reflect on the promise of Christ in whom there is no Jew nor Greek, no male nor female, no slave nor free and what that promise means for our lives today. We invite you to share your own thoughts on Facebook and Twitter! 
by Pete Peery
NEXT Church is committed to diversity within our network and church — diversity of theology, race, age, geography, gender identification, stage, role, ability, church size, wealth, political views — all of it. We are committed to creating community amidst that diversity, even when that proves difficult.
That is what Jessica Tate, director of NEXT Church, declared in her blog post to kick off this current series. And I believe it is true. NEXT Church knows deeply the eschatological reality declared by Luke, "people will come from east and west, from north and south, and will eat in the kingdom of God." (Luke 13:29).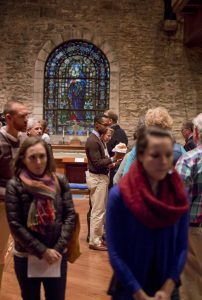 Yet NEXT Church strives to reflect this reality within the sea in which it swims, within the Presbyterian Church (U.S.A.). And for all our talk about diversity, here is the reality of this communion we love and to which we are committed:
The Presbyterian Church (U.S.A.) is 93% white, 3% African-American, 2.3% Asian, 1.2% Hispanic, .2% Native American.

The Presbyterian Church (U.S.A.) is the fourth most financially successful religious group in the USA. In 2016, 32% of Presbyterian (U.S.A.) households had incomes of $100,000 or more. In the Christian Church, only the Episcopalians are richer (35% of their households are at $100,000 or more). The top richest religious groups in the country are first, Jews, and second, Hindus.

In the Presbyterian Church (U.S.A.), 64% of adults members are college graduates and 26% have post graduates degrees, one of the most educated communions on the planet.
My experience in this communion for seventy years — forty-three of those years serving in ministry of Word and Sacrament — is that as much as we talk of diversity, when one enters a Presbyterian (U.S.A.) congregation, little diversity is evident.
Congregations certainly are one of the only intergenerational communities we experience today. They are also a place where people of different professions and backgrounds gather. But I wonder how often in our communion do we see a sign of when people of different races or economic status or cultures intermingle. I have seen that it is so. I have rejoiced when entering a congregation where I have found that to be true. But I have only seen that very occasionally.
I wonder how comfortable is it for a person who is of very modest means, of limited higher education, of a different racial/ethnic background than the vast majority of the members of a particular Presbyterian (U.S.A.) congregation to enter into worship and fellowship in our communion? How high stands the emotional threshold to our congregations?
If we are serious about reflecting the eschatological reality of the church, I believe we have to take very seriously the present reality of our communion. We have to take this present reality seriously even as we love, deeply love, the actual people within our congregations right now. Thank God they are there! Yet, even as they are there, how are we nudging the body toward the reality of the church God has in mind?
I'd love to hear a discussion about ways, practical ways, leaders in our communion are facing these two different realities of the church: the eschatological reality and the present reality within the PCUSA.
A couple of teasers I share in conclusion about such ways.
First, hymnody. Instead of primarily singing hymns by WDEM (white, dead, European men) or by 1970's or 1980's Christian rock groups (again, mainly white) sung so often in the genre of so called "contemporary services," how about reflecting in the hymns we sing the eschatological reality of the church? Our new hymnal Glory to God has a vast number of hymns, choruses, and responses from many cultures in this country and around the world.
Second, staff. When the time comes for a search for a senior staff person — pastor, associate pastor, educator, church musician, youth, or children's ministry director — dare we press to reflect on our church staff a glimpse of the eschatological reality of the church?
If out of faithfulness to the Lord of the church we are serious about striving for diversity, let us be serious about it not just on boards and agencies of the church. Let us be serious about it in the very congregations of which we are a part — for the glory of God.
---

Pete Peery is the relationship developer for NEXT Church. He formerly served as president of Montreat Conference Center and pastor of First Presbyterian Church, Asheville, NC.
https://media.mywtenfold1.com/wp-content/uploads/sites/10/2017/05/29174433/featured-communion-people-17ng.jpg
200
398
Linda Kurtz
/wp-content/uploads/sites/10/2016/01/NEXT-Logo-FINAL-Horizontal_lato-1030x229.png
Linda Kurtz
2017-10-03 09:08:55
2017-10-03 13:39:31
Are We Serious?