Each month, we post a series of blogs around a common topic. This month, Rev. Michael McNamara is curating a series that will explore the theme of Christian contemplative practice, which has been central to the formation and development of Christianity. We will learn from writers exploring spirituality from both the secular and the religious, embracing the paradox within that — a paradox essential to contemplative practice itself. How can this Christian or secular tradition impact today's church? We invite you to join the conversation on Facebook and Twitter!
by Rev. Mark Greiner
Please take a moment to notice your breathing.
For a full minute, simply enjoy breathing. What do you notice? Before reading further, what you do notice about your own breaths?
Is the breathing more slow or more fast? Is it deep into your belly or more in your chest? What sounds come with your breathing? Is there any congestion, or are you breathing freely? While noticing your breathing, do any emotions arise? Do the qualities of our breathing shift as we pay attention?
Our physical body speaks all the time, and we can listen.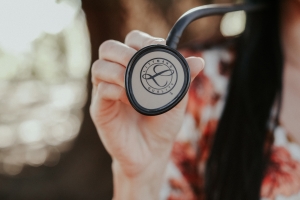 I'm an acupuncturist as well as a pastor. As an acupuncturist, I help people listen to their own bodies. Our bodies speak, responding to the food we eat, what we drink, how we move, and more. Listening to our bodies helps us become skillful. As we become aware of what give us life, we can cultivate those qualities. Daily, we are our own primary care physicians.
"Mindfulness" is a wonderful set of awareness practices. (For an excellent guide, see Peace Is Every Step: The Path of Mindfulness in Everyday Life by Thich Nhat Hanh.) We can also have more than mind-fulness. We can have bodyfulness – a rich and ongoing awareness of our physical selves.
We are, all at the same time, body AND mind AND spirit.
The Gospel of John proclaims of Jesus: "The Word was made flesh, and dwelt among us." (John 1:14) What an amazing affirmation of our bodies. Not only did God delight in making creation, God entered creation in Jesus' flesh!
Of any faith tradition, ours especially is about the flesh, about being embodied. Embodied faith flowers beautifully in both an outer journey and an inner journey.
All the time Jesus cared about people's concrete, physical needs: being hungry or thirsty or needing a safe haven or healing. Following Jesus means embodying care in very tangible ways. The outer journey is about cultivating and safeguarding others' well-being.
The inner journey cultivates and safeguards our own well-being. Jesus embraced the whole of his own humanity in body, mind, and spirit. So can we. We are minds, and more than minds. We are enfleshed temples of the Holy Spirit.
The inner and outer journeys are one in prayer. Jesus modelled regularly withdrawing to pray. As our own life in God deepens, we can become aware of more and more. Investing time in solitude increases our intimacy with ourselves, with God, and our capacity for intimacy with other people.
So we return to the simplest prayer of all: our breath. It's said that the names root names of God are breathing itself. Jesus related to God as Abba ("daddy"). Breathing through the mouth, "Ab" is like the sound if an inhalation. "Ba" is an exhalation.
Let us breathe, and know God.
---

Pastor Mark Greiner focuses on healing and spirituality. Along with 25 years serving Presbyterian congregations, he sees patients as an acupuncture intern at the Maryland University of Integrative Health in Laurel, MD. His wife works with the Interfaith Partners for the Chesapeake, and they have a daughter in college.
https://media.mywtenfold1.com/wp-content/uploads/sites/10/2019/08/29172521/featured-breathe-doctor-stethoscope.jpg
200
398
Linda Kurtz
/wp-content/uploads/sites/10/2016/01/NEXT-Logo-FINAL-Horizontal_lato-1030x229.png
Linda Kurtz
2019-08-06 17:51:58
2019-08-11 21:21:16
An Opportunity to Practice