by Ellen Crawford True
If I close my eyes I can see the hallway of my home church. The linoleum tiles are slick under my 3-year-old feet as I run to hug my best friend by the choir room. In the blink of an eye, I see the loving exasperation on my confirmation class teacher's face. I'm too busy chatting with her son to listen to her celebrating the legacy of John Calvin whose serious face stares at me from the slide on the screen behind her. Blink again and I hear basketballs dribbling on the gym floor on a chilly Thursday night in January while my patient coach urges us to run a little faster and play a little smarter. (They can't cut you from a church team, even if you have a non-existent vertical leap and are five feet tall on a good day.) I can feel the air swirling around me as four other classmates and I dance in the sanctuary while the choir sings a Christmas cantata. Another blink, and I am walking down that aisle to say my marriage vows moments after the church ladies–armed with safety pins and stain remover–have finished fussing over me and making sure everything is just so. Two years later I am kneeling in that same aisle to feel hands pressed on my head and shoulders while prayers are lifted at my ordination. It is the same place where we celebrate the resurrection at my mother's memorial service, the same place where the church welcomes my daughter at her baptism.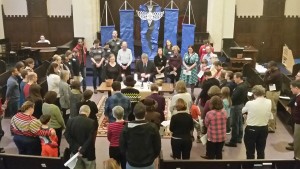 In each of these moments I see the faces and hear the voices of men, women, and children who have been church. At its best, my experience of faith has always been an intergenerational one, long before such a notion was trending. There were coaches, parents, Sunday school teachers, nursery workers. There were preschoolers and junior highs, circle leaders and the men's bible study that gathered every so often on Friday mornings in my family's living room. That was church for me. In many ways, it still is.
In recent years there has been an intentional move to recover this intergenerational emphasis in the church. Some of this movement has grown out of necessity: it doesn't make sense to have Sunday school divided into too many different age groups when there are only a few children, one youth, and a handful of young adults present on Sunday mornings, so we look to be and do church all mixed together. But the more powerful motivation has been to regain something that gets lost in the larger world. Just as we are too often segmented and separated by gender, class, race, orientation, and ability, we are divvied up by age. As is the case with every division, something crucial and sacred is lost along the way, at least for me. My faith is deepened when I get time to color with three-year-olds. My heart is lifted when I laugh and pray with seventy-year-olds. I am challenged and encouraged when I hang out with and worship alongside people who don't know the same eighties movie references I do, people who couldn't name a single Prince song until just a few weeks ago. Something sacred happens when we do church together. I see holiness when I watch those three-year-olds and those seventy-year-olds color, laugh, pray, and tell stories together. In those moments, I catch a glimpse of the kingdom of God.
In the coming weeks, we will hear from a variety of voices from across the church as they reflect on intergenerational ministry. Like every other buzzword in church circles, it's not about a one-size-fits-all program. It's not a silver bullet that will solve all of our problems or alleviate all of our anxiety. But in their reflections, we will hear hope. The posts will be written by pastors, seminary students, educators, and church members about what it looks like for the church to do and be church together, what it feels like to understand ourselves as vital parts of the body, what it can mean to seek to be faithful as children of God together, no matter what comes next.
---

A native of Nashville, TN, Ellen Crawford True graduated from Davidson College and Union Presbyterian Seminary. She has served churches in North Carolina and Pennsylvania. She's a fan of grits, biscuits, running, dancing, and Steph Curry. She lives in Camp Hill, PA with her husband Dave, their daughter Abby, and their dog Homer. She serves as Pastor and Head of Staff of Christ Presbyterian Church, also in Camp Hill.
https://media.myworshiptimes31.com/wp-content/uploads/sites/55/2016/05/29175250/featured-ellen-intro.jpg
200
398
Linda Kurtz
/wp-content/uploads/sites/55/2016/01/NEXT-Logo-FINAL-Horizontal_lato-1030x229.png
Linda Kurtz
2016-05-03 07:41:46
2016-06-13 19:07:51
An Intergenerational Experience of the Church